MLB MVP 2014: Mike Trout, Clayton Kershaw Win After Signing New Contracts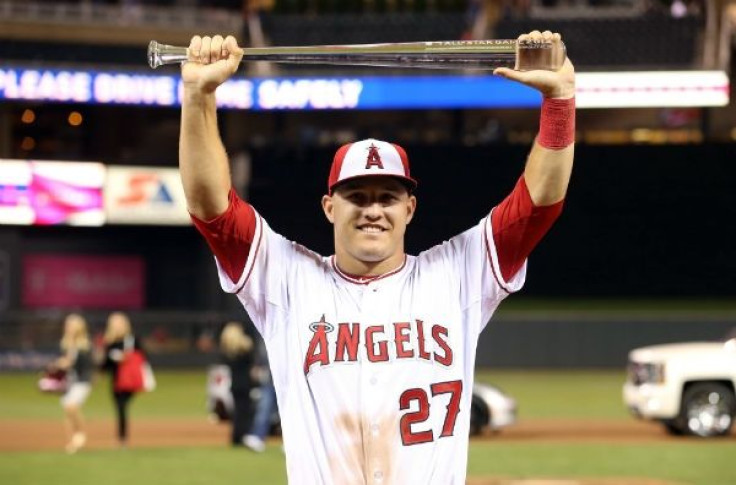 Signing a player to a blockbuster contract can severely hurt a baseball organization, especially if he underperforms. It doesn't look like the Los Angeles Angels and Los Angeles Dodgers have that problem with Mike Trout and Clayton Kershaw, considering they were named MVPs of the American League and National League, respectively, for the 2014 season.
Trout, 23, was finally able to win the award after finishing second in the voting for two straight years. Kershaw, 26, becomes the first pitcher to win the award since Justin Verlander did it in 2011, and the first NL pitcher to be named MVP since Bob Gibson was given the honor in 1968.
Perhaps the most impressive fact about the two L.A. players is that they won their awards in a season when they had their least incentive ever to perform like superstars. Both Trout and Kershaw signed lengthy, nine-figure contracts in the offseason, guaranteeing them more money than most baseball players have ever made over the course of their careers.
While Trout was paid $1 million this past year, he signed a contract just days before the start of the regular season, guaranteeing him $144 million from 2015-2020. Kershaw made $22 million in 2014, in the first year of a seven-year, $215 million deal.
Not only was Trout the best hitter in 2014 (.938 on-base plus slugging percentage), but considering his salary, he was one of the best bargains in all of baseball. With a win above replacement (WAR) of 7.9, according to baseball-reference.com, the Angels had to pay the outfielder $126,582 for every win he was worth. Victor Martinez, who finished second in the race, made over $2.26 million for each win.
Because Kershaw made his debut in 2008, the Dodgers had no choice but to pay the pitcher a salary of eight figures per season. With a $22 million price tag, he cost L.A. more than $2.93 million per win. While runner-up Giancarlo Stanton was a better value at $1 million for each win above replacement, Kershaw was the best bargain among all 22 MLB players who made at least $20 million.
The Angels ranked 10th in the league in payroll, and Trout accounted for less than 0.8 percent of the team's combined salaries. Kershaw's salary was more than 9 percent of the Dodgers' league-leading payroll, but the team went 23-4 in the games that he started and just seven games over .500 during the rest of the season.
It's quite rare for a player to sign a nine-figure contract and play even better the next season, but Trout and Kershaw did just that. Trout finally got by Miguel Cabrera in the voting after he was awarded his big contract, failing to do so in 2012 and 2013. Kershaw's 2014 ERA (1.77) was the best of his career and the best by any starting pitcher since 2000.
Cabrera's extension after his second consecutive MVP season gave him the richest contract in sports history, but his .895 OPS was lower than .999 for the first time in five years. Alex Rodriguez signed the second-largest contract ever in 2007, and he saw his WAR drop from 9.4 to 6.8. After signing a $240 million contract before the 2012 season, Albert Pujols posted an .859 OPS, following 11 straight years with an OPS of at least .906.
© Copyright IBTimes 2023. All rights reserved.