MLB Playoff Schedule 2015: TV Channels, Start Times, Predictions For All Columbus Day Games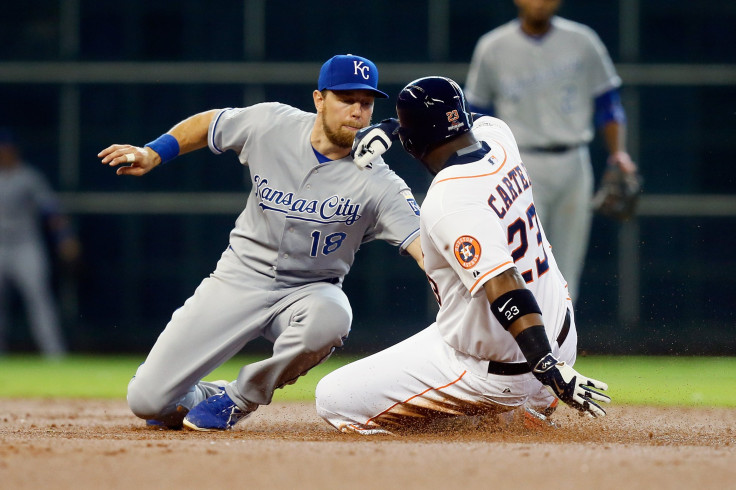 Two teams hope to stave off elimination, while two others hope to build a 2-1 series lead, as a four-game MLB postseason slate starts Monday afternoon on the Columbus Day holiday.
First up, the Houston Astros own a 2-1 lead over the defending American League champion Kansas City Royals in their division series. The Royals turn to starter Yordana Ventura to keep their season alive while Houston will have rookie Lance McCullers on the mound. In one start against the Royals, McCullers, 22, allowed just one run over seven innings.
Meanwhile, the Toronto Blue Jays already fought off the Texas Rangers' first elimination attempt with a 5-1 victory in Game 3 on Sunday, but may need starter knuckleball pitcher R.A. Dickey to come up big against the Rangers' Derek Holland in Game 4 in order to tie the series and bring it back to Toronto. Holland had one outing against the Blue Jays and allowed four earned runs over six innings in a loss.
Over in the National League, the Chicago Cubs managed to even their series in Game 2 against the St. Louis Cardinals. The Cubs will have ace Jake Arrieta on mound after his dominating performance against the Pittsburgh Pirates on Oct. 7 in the NL Wild Card Game. Michael Wacha, who has a 6.86 earned-run average against the Cubs in four starts this season, is on the hill for the Cardinals.
In the last game of the night, the New York Mets host the Los Angeles Dodgers in Game 3 of the NLDS amidst some controversy over whether starter Matt Harvey will retaliate for Chase Utley's nasty slide that cost New York second baseman Ruben Tejada. The Dodgers will start 10-9 Brett Anderson after their stars Zack Greinke and Clayton Kershaw split the first two games.
ROYALS AT ASTROS, GAME 4
Time: 1:07 p.m. ET
TV Channel: Fox Sports 1
Live Online: Fox Sports Go
Prediction: Astros over Royals, 3-1
BLUE JAYS AT RANGERS, GAME 4
Time: 4:07 p.m. ET
TV Channel: Fox Sports 1
Online: Fox Sports Go
Prediction: Blue Jays over Rangers, 7-5
CARDINALS AT CUBS, GAME 3
Time: 6:07 p.m. ET
TV Channel: TBS
Online: TBS Online
Prediction: Cubs over Cardinals, 5-1
DODGERS AT METS, GAME 3
Time: 8:37 p.m. ET
TV Channel: TBS
Online: TBS Online
Prediction: Mets over Dodgers, 4-3
© Copyright IBTimes 2023. All rights reserved.