MLB Rumors: Dodgers To Release Cody Bellinger? Blue Jays Eyeing Former MVP
Just a few years ago, the idea that the Los Angeles Dodgers might release Cody Bellinger seemed unthinkable. But due to a lack of production the past two seasons, there is a real chance that L.A. could see their homegrown star leave through free agency.
The Dodgers have until Friday to tender Bellinger a contract for the 2023 MLB season. Team president Andrew Friedman may decide the Dodgers are better off parting ways with the 27-year-old than paying a hefty salary in hopes he can regain his form.
If the Dodgers tender Bellinger, he will enter arbitration one final time. After making $17 million for the 2022 season, Bellinger is likely to get a raise in arbitration next season. Since winning the 2019 NL MVP award, Bellinger hasn't played like someone worthy of an $18 million salary.
Bellinger's potential remains unclear due to various injuries. In 2021, he entered spring training after surgery to repair a dislocated shoulder. Bellinger later suffered a hairline fracture to his left leg, which sidelined him for nearly two months, and he also dealt with a hamstring injury. A mild left adductor strain was another impediment.
Bellinger was one of baseball's least productive hitters in 2021. The two-time All-Star hit .165/.240/.302 with 10 home runs in 95 games two seasons ago. Bellinger improved in 2022, but he still only hit .210 with a .654 OPS in 144 games.
Los Angeles might choose to spend its money elsewhere in free agency. Shortstop Trea Turner is without a contract and could command a deal that approaches $300 million.
The Dodgers reportedly might replace Turner with Carlos Correa, who is also expected to sign one of the richest contracts in recent years.
The Toronto Blue Jays could pursue Bellinger in free agency, according to MLB Network's Jon Morosi. Toronto is in need of an outfielder after trading Teoscar Hernandez to the Seattle Mariners. Free-agent New York Mets outfielder Brandon Nimmo is another option for the Blue Jays.
Toronto or another team could take a chance on Bellinger, hoping that a change of scenery will help him regain his old form. Bellinger seemed primed to be one of baseball's best players for years to come when he was named the NL MVP at just 24 years old.
Bellinger hit .305/.406/.629 with 47 home runs and 115 RBI in 2019. Two years prior, Bellinger won the NL Rookie of the Year award by hitting 39 homers in 137 games.
It's also possible that the Dodgers will tender Bellinger a contract and look to trade him.
The Dodgers won a franchise-record 111 games in the 2022 season before being upset by the San Diego Padres in the NLDS.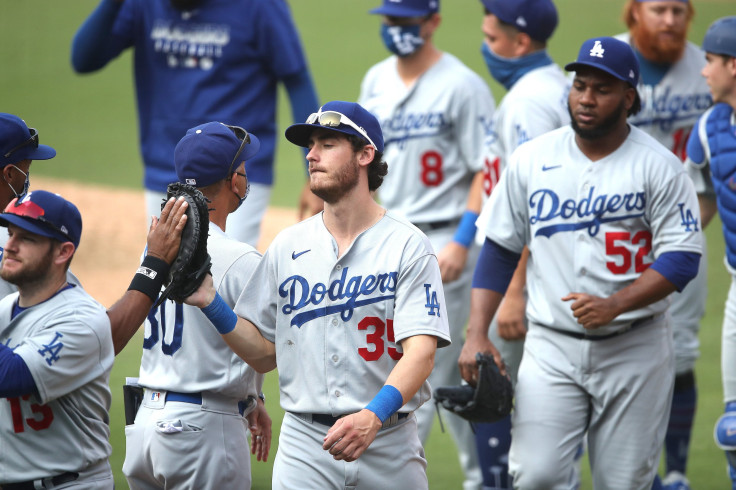 © Copyright IBTimes 2023. All rights reserved.