Moammar Gadhafi Dead: Libyan Rebel Claims in Video, 'I Killed Dictator' [GRAPHIC VIDEO]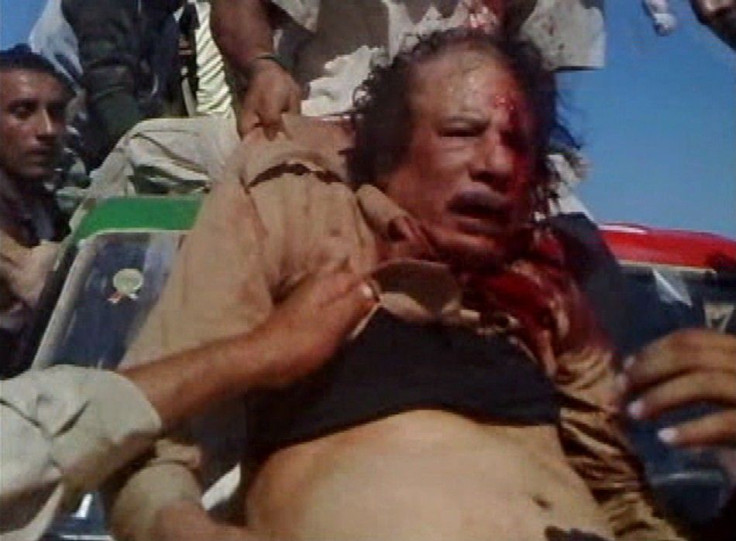 The mystery behind the death of former Libyan dictator Moammar Gadhafi has a new twist, following a leaked video that shows a Libyan revolutionary fighter claiming he killed Gadhafi.
The young rebel, Senad el Sadok el Ureybi, said that he couldn't bear the thought of taking Gadhafi alive and that's why he shot the tyrant, the Daily Mirror reported.
We grabbed him and I hit him in the face, Ureybi says in the video, Some of the others wanted to take him away and that's when I shot him, twice - in the face and chest.
After making the claim, Ureybi shows a bloodstained shirt and a gold ring; the property, he claims, of Gadhafi.
The video has emerged at a time when a lot of other graphic images have crowded the Internet, showing the deposed leader being savagely beaten after his capture. With the sound of rifles firing in the background, a helpless Gadhafi is shown being dragged across a patch of wasteland into a waiting truck.
Meanwhile, another video shows one of the Libyan rebels who captured Gadhafi allegedly sodomizing the former leader with an object just after he was detained. In the video, obtained by GlobalPost, a rebel was seen jabbing Gadhafi in the rear with some kind of knife.
The rotting body of the former leader had been on public display for four days in the town of Misrata before being buried on Tuesday at a secret place in the desert, the new government said.
A number of foreign governments and non-governmental human rights groups have demanded a thorough investigation of the conditions that led to the severely wounded Gadhafi's death after his capture. Humanitarian campaigners have also demanded an independent inquiry after the decomposed bodies of 53 Gadhafi loyalists were discovered at a deserted hotel in Sirte on Monday.
Some had their hands tied behind their backs when they were shot, the Daily Mirror quoted Peter Bouckaert of Human Rights Watch as saying, If the NTC fails to investigate this crime it will send a signal that those who fought against Gaddafi can do anything without fear of prosecution.
Take a look at the video in which Ureybi claims to be the killer of Gadhafi.
© Copyright IBTimes 2023. All rights reserved.