Mother Patricia Krentcil Takes 5-Year-Old Daughter To The Tanning Salon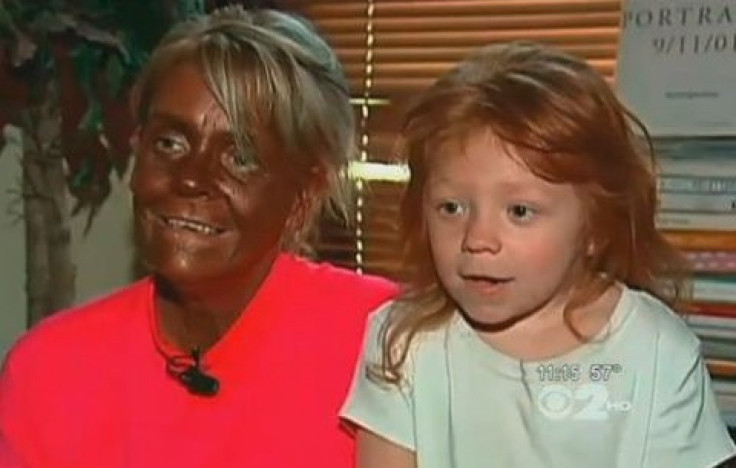 A New Jersey mother has been arrested and charged with second-degree child endangerment after being accused of taking her five-year-old daughter to the tanning salon.
Patricia Krenticil has not denied that she took her redheaded five-year-old daughter to the tanning salon with her, but she did attempt to blame the child's burn and rashes on the outdoor sun, ABC News reported.
This whole thing has been blown out of proportion, Krentcil said on The TODAY Show on Wednesday morning. I'm not going to bring my little daughter into a 90 degree bed, I mean, that's not normal... It's traumatizing for a little girl who did nothing wrong but got a little sunburn.
Krentcil insisted that her daughter's burn was from being out in the yard.
The pediatrician said that she's got a little sunburn, but it was that only weekend we were out doing the gardening, Krentcil, 44, said.I never once in my life let me daughter, especially at that age, go into a tanning booth.
The five-year-old, named Anna, had developed a rash and the school nurse took notice of it. She asked Anna what had happened and the young girl revealed that it happened after going tanning with her mother. The school nurse then notified the authorities, reported ABC News.
Patricia Krentcil described the burns as not severe and said that she was told to put over-the-counter stuff on the rash.
Authorities believe that Krentcil took her five-year-old daughter into the tanning booth without the salon's knowledge. The name of the Nutley, N.J., salon has not been revealed, according to ABC News.
The little girl went to school and reported she had these burns and that caused the school to contact authorities, Katherine Carter, spokeswoman for the Essex County Prosecutor's Office, said.
New Jersey law states that no one under the age of 14 is allowed to use a tanning bed. Teenagers over 14 but under 18 may use such facilities, but only with parental approval.
The investigation is ongoing. Patricia Krentcil is currently out on $25,000 bail; Anna is in the custody of her father.
Skin cancer is on the rise amongst young adults, according to a study published in early April as reported by the New York Daily News.
Between the years 1970 and 2009, the rate of melanoma shot up eightfold among women and quadrupled among men, according to the research by Mayo Clinic. Researchers studied the medical records of a county in Minnesota over that given timespan.
Lead investigator Jerry Brewer, M.D., a Mayo Clinic dermatologist, noted the dramatic rise in women in their 20s and 30s.
We anticipated we'd find rising rates, as other studies are suggesting, but we found an even higher incidence than the National Cancer Institute had reported, he told the NY Daily News.
Ultraviolet lights in tanning beds are particular dangerous, as UV light can damage DNA and cause mutations as well as cancer, according to ABC News.
There's really no excuse to take a young child to a tanning salon, New York dermatologist Doris Day told ABC News. We often consider going to a tanning salon the equivalent of smoking for the skin and the younger you start, those affects are cumulative.
© Copyright IBTimes 2023. All rights reserved.