Myanmar: Sectarian Violence Underscores Repression Of Rohingya Muslim Minority
ANALYSIS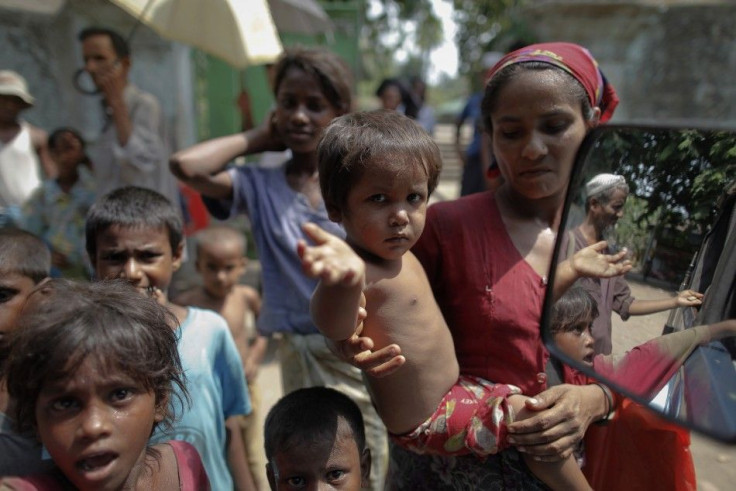 Sectarian violence in westernmost Myanmar between the majority Buddhists and minority Muslims has prompted the United Nations to temporarily move nonessential staff members to the capital city of Rangoon until tensions ease.
Authorities in Myanmar, also known as Burma, have imposed a state of emergency in the Rakhine province after at least seven people have been killed in ethnic unrest. A Buddhist woman was murdered following the massacre of Muslims on a bus by Buddhist vigilantes. The unrest has spread from the town of Maungdaw to the state capital Sittwe and into surrounding villages.
The emergency order is believed to be the first such declaration undertaken by the nominally civilian government of President Thein Sein, who assumed power in March 2011.
Mizzima, a Burmese news agency based in India, reported that since the eruption of violence, 500 houses have been burned or razed in the region, while 5,000 people have become homeless.
The United States has expressed its concern over the turmoil.
"We are monitoring the situation and urge an immediate halt to violent attacks, said Victoria Nuland, spokeswoman for the State Department, in a statement.
We also encourage the government to pursue an investigation in an expeditious and transparent manner that respects due process and the rule of law.
Bangladesh, which borders Rakhine, said it has prevented dozens of Burmese from fleeing to the country by sea vessels and also tightened security to stop any potential larger exodus.
The ethnic unrest comes at a particularly sensitive time for Myanmar, which is seeking to implement democratic reforms and attract more foreign investment. However, the United Nations and other international agencies have long condemned Myanmar's treatment of its ethnic minorities – a major concern among western democracies which still maintain some sanctions against the country.
Rakhine has a significant Muslim community, comprised chiefly of the Rohingya, a people that the UN and other groups have called the most persecuted people on earth. In Myanmar, the Rohingya are stateless and considered illegal immigrants.
Muslims officially account for 4 percent of Burma's 60 million population, although the actual figure may be much higher. About 750,000 Rohingya are concentrated in the northwestern parts of Burma, including Rakhine state.
Bangladesh, which already houses tens of thousands of Rohingya on its soil in refugee camps, does not want any more Rohingya into its already overcrowded nation. Lacking Burmese citizenship, Rohingya refugees in Bangladesh essentially exist in a kind of limbo.
According to the United Nations, the Rohingya who live in Burma are forbidden from owning property, marrying or even travelling without state permission. Many are subject to forced slave labor and extortion by authorities.
Mizzima reported that Rohingya women in Burma have historically been subject to sexual abuse and rape by Burmese soldiers. However, it is unclear if such atrocities persist into the present day.
In any case, Rohingya try to pour across the borders into Bangladesh every year -- although they are Muslims like the overwhelming majority of Bangladeshis, the Rohingya are despised and rejected there, as well.
Thus, Rohingyas are trapped in a hopeless catch-22 -- unwanted in Bangladesh and rejected by Burma since they lack Burmese citizenship.
Some Rohingya refugees have made it as far as Malaysia in the east or the Arab countries toward the west. Many are also in Thailand. But wherever they are, Rohingya remain vulnerable.
Refugees International has reported that "in both Bangladesh and Malaysia, repressive government policies and lack of adequate international support force the Rohingya to struggle for survival in both countries. The inability of the Rohingya to access basic services in both Bangladesh and Malaysia is further compounding their vulnerability."
Panchali Saikia, a research officer at the Institute of Peace and Conflict Studies in India, wrote of the Rohingya: "After providing shelter to the Rohingyas for nearly three decades, Bangladesh is now concerned about the annual increase in their numbers. Apart from being an economic burden, the Rohingyas' involvement in insurgent activities along the Myanmar-Bangladesh border is feared by the government. Hence to reduce the influx, the government has declared that it will no more consider any asylum seeker as refugee."
Although Buddhism is considered a peaceful religion, Myanmar is not the only Buddhist-dominated country where they engage in repressive policies against a Muslim minority.
Fourteen-hundred miles to the southwest in Sri Lanka, a somewhat similar drama is playing out -- in recent months, Muslims there have expressed outrage over attempts by Buddhist monks to destroy Islamic mosques on the island. Buddhists, who comprise the majority of Sri Lanka's population, have also agitated against the country's Hindu minority.
© Copyright IBTimes 2023. All rights reserved.
FOLLOW MORE IBT NEWS ON THE BELOW CHANNELS