Mysterious Dolphin Deaths In Louisiana May Be Caused By Natural Gas Drilling Prep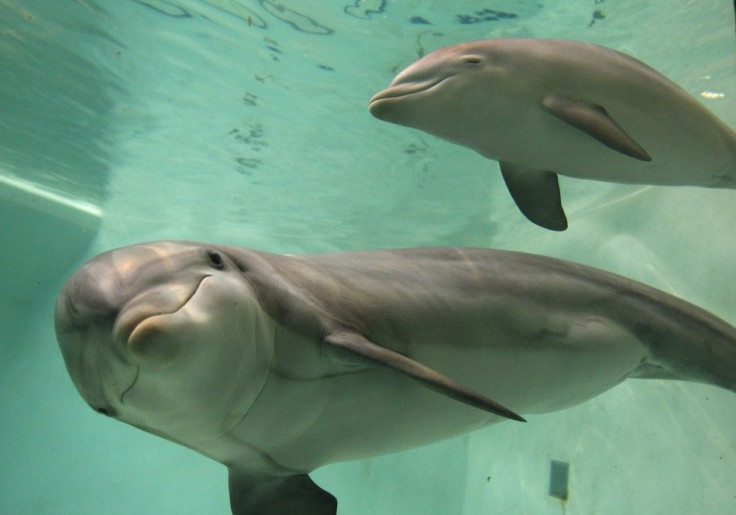 Nearly 200 dolphins have washed up on the shore along Louisiana's coast since Feb. 2010 -- and Natural gas exploration may be to blame, according to the Bureau of Ocean Energy Management, a federal agency that is a part of the Department of the Interior.
The agency, which investigated the strandings of 180 dolphins in the last two years, warned Global Geophysical Services Inc., a company that provides seismic data to energy companies to help them decide where to drill, to cease all tests until May, when dolphin birthing season, known as calving, ends. The tests use air-guns that the agency says could disturb mother/calf bonding, which can contribute to dolphin strandings.
Imagine dynamite going off in your neighborhood for days, months on end, Michael Jasny, a senior policy analyst at the National Resources Defense Council, an environmental activist group, told the Associated Press. That's the situation these animals are facing.
Dolphins navigate using echolocation, a series of high-frequency sounds that the bounce off of the dolphin's surroundings. By listening for the echoes, a dolphin can determine what an object is and how far away it is. Natural gas exploration can disrupt a dolphin's navigation, causing them to drift off course and wash up on shore, according to the Whale and Dolphin Conservation Society.
Global Geophysical Services Inc. laid off 30 workers in response to the restriction, which it called unnecessary.
The company uses air-guns to determine where it is safe to drill for oil and natural gas. The guns emit sound waves, much like dolphins use for echolocation, that the company maintains are safe.
We see no hazard to them whatsoever, Marc Lawrence, Global Geophysical's Gulf vice president, told the Associated Press. He said dolphins often ride alongside the ships while they conduct their surveys.
Although the precise effect air-guns have on bottlenose dolphins remains unclear, Campaign Whales, a nonprofit whale and dolphin advocacy group, found that exposure to noise pollution -- such as the kind that comes from seismic tests -- causes gray whales to alter migration routes.
Jasny told the Associated Press that while the restriction was a good start, it needs to be extended to ban drilling in the Gulf of Mexico as well, and the NRDC is currently suing the Bureau of Ocean Energy Management to make that happen.
The Obama administration announced on Wednesday that they will open the Gulf of Mexico to oil and gas exploration, a move the NRDC said could cripple the area.
[This] is great for petroleum companies, but horrible news for our coastlines and a potentially deadly blow to ocean fisheries and wildlife, Frances Beinecke, NRDC president, said in an email. It's yet another reason why we need to break our dangerous addiction to oil - not find more ways to feed that addiction.
The Gulf of Mexico is the site of the Deepwater Horizon oil spill, which killed 11 people and caused the largest offshore oil spill in American history in April 2010.
The Obama administration maintains that opening the Gulf to oil and gas exploration will help America break its dependence on foreign oil.
Think about an America where more cars and trucks are running on domestic natural gas than on foreign oil, President Obama said in a statement. Think about an America where our companies are leading the world in developing natural gas technology and creating a generation of new energy jobs, where our natural gas resources are helping make our manufacturers more competitive for decades. We can do this.
Louisiana isn't the only place dolphins are washing up. Between February 2010 and April 1, 2012, 714 dolphins have turned up on the coastline from Texas to Florida, 95 percent of which were dead. Normally, 74 dolphins wash up annually.
Last summer, the National Oceanic and Atmospheric Administration tested 32 dolphins in Barataria Bay, an area of Louisiana heavily affected by the oil spill. Researchers found that the dolphins were anemic and had symptoms of liver and lung disease. Many also had low levels of hormones to help with stress response and subdued immune function - all symptoms consistent with oil exposure.
Many of the 180 dolphins that have washed up on the Louisiana shore have not shown severe symptoms of oil exposure, leading researchers to believe it's the air-guns, not the oil, causing the dolphins to strand themselves.
FOR FREE to continue reading
✔️ Unlock the full content of International Business Times UK for free
offer available for a limited time only
✔️ Easily manage your Newsletters subscriptions and save your favourite articles
✔️ No payment method required
Already have an account?
Log in
© Copyright IBTimes 2023. All rights reserved.