Mysterious Slimy Sea Creature Washes Up On Beach, Baffles Experts [Video]
A bizarre-looking sea creature washed up on the shore of a beach in Texas, baffling experts about its identity. The Texas Parks and Wildlife shared a video on its Facebook page showing the creature squirming on the palm of a person.
The video, which was posted Oct. 1, went viral this week as users tried to identify the slimy blob-like creature. The 14-second-long video showed the creature sitting on a palm when it suddenly started to move.
"What is this that we found in the Laguna Madre?" the park asked people while sharing the video.
One user responded saying the creature seemed to be straight out of the Netflix series "Stranger Things." Another user wrote: "This would scar me for life if I just randomly found one. I had no idea they existed!"
The Coastal Fisheries - Texas Parks and Wildlife later updated the caption of the post saying that the creature was a sea hare.
"Sea hares crawl by lifting the front end of the foot and stretching it forward on the ground and then moving the rest of its body up - much like an inch worm!" the caption read.
This is not the first time people were baffled to see a creature wash up on the shore of a beach.
Recently, a mysterious snake-like creature washed up on the shore of a beach in Texas. The image of the creature was taken by a Padre Island National Seashore visitor. It showed the long, slender creature lying on the sand. After the image was sent to park officials, they said the creature aligned more with that of an eel.
The park later said they found there existed a species called snake-eels, which are known for burrowing in mud or sand.
"Sometimes they can mimic the coloring of venomous sea snakes to deter predators and are often washed up by large storms," the park said. "We're sticking with snake-eel. What do you think it might be?"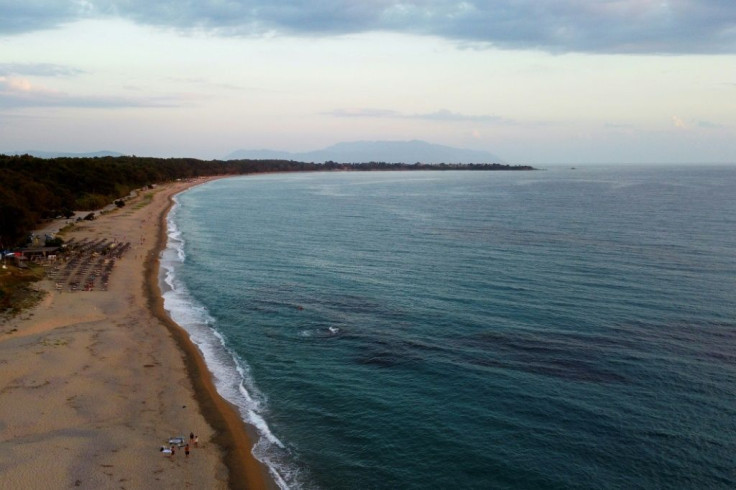 © Copyright IBTimes 2023. All rights reserved.