NBA Finals 2015 Betting Odds: Cavs, Warriors, Rockets, Spurs Chances To Win Championship?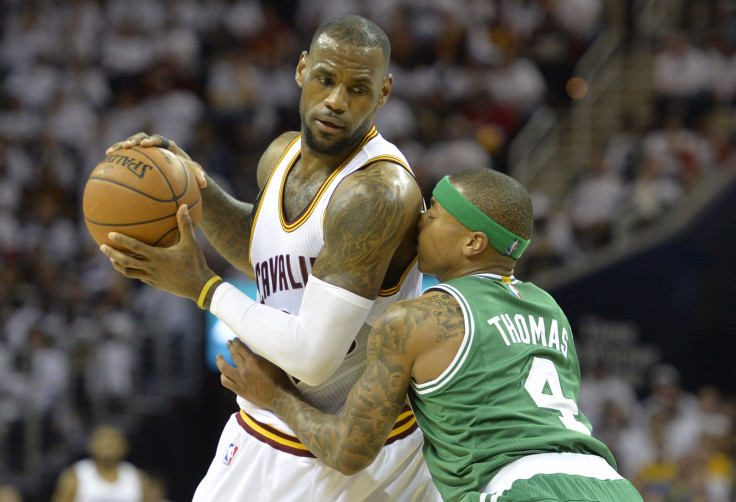 With two games already played in five out of the eight first-round series, the Golden State Warriors and Cleveland Cavaliers are still considered the heavy favorites to meet in the 2015 NBA Finals, according to Las Vegas book makers.
However, several teams have played very well early in this year's postseason and improved their championship odds in the latest listing from Bovada.lv.
The Warriors, owning a 2-0 series lead over the New Orleans Pelicans and with point guard Stephen Curry averaging 28 points, maintain the title lead at 19/10 odds. Golden State was last listed at 2/1 before the postseason began. The Cavs also hold a 2-0 series lead against the Boston Celtics, but their odds held pat at 21/10.
Following their 12-point Game-2 victory over the Dallas Mavericks, the Houston Rockets made the biggest jump in the eyes of odds makers, going from 25/1 to 12/1. Even with shooting guard James Harden struggling from the field, center Dwight Howard emerged with 28 points and 12 rebounds, providing the Rockets with the type of two-way play they expected when he signed in 2013.
The defending-champion San Antonio Spurs lost Game 1 of their series to the Los Angeles Clippers, and saw their chances of repeating take a slight hit from 5/2 odds to 7/1.
The Clippers, on the other hand, made a huge leap after blowing out San Antonio, 107-92, behind point guard Chris Paul's 32 points and power forward Blake Griffin's double-double of 26 points and 12 rebounds to go along with six assists. The Clippers' title hopes rose from 25/1 odds to 9/1, just behind the Spurs.
In the Eastern Conference, the Cavs main threats are still the Chicago Bulls and Atlanta Hawks. Welcoming back the stellar play of point guard Derrick Rose, the Bulls are up two games over the Milwaukee Bucks and jumped from 18/1 to 10/1.
Atlanta, who lead the East with a 60-22 record thanks in part to recently named Coach of the Year Mike Budenholzer, helf off the Brooklyn Nets, 99-92, in their opening game and improved from 16/1 to 12/1.
The full list of odds can be found below.
Odds To Win The NBA Championship via Bovada.lv
Golden State Warriors 19/10
Cleveland Cavaliers 21/10
San Antonio Spurs 7/1
Los Angeles Clippers 9/1
Chicago Bulls 10/1
Atlanta Hawks 12/1
Houston Rockets 12/1
Memphis Grizzlies 20/1
Washington Wizards 33/1
Dallas Mavericks 100/1
Portland Trail Blazers 100/1
Toronto Raptors 200/1
Boston Celtics 400/1
Brooklyn Nets 500/1
New Orleans Pelicans 500/1
Milwaukee Bucks 1000/1
© Copyright IBTimes 2023. All rights reserved.