NBA Free Agents 2014: After LeBron And Carmelo, Who Are The Best Players Available?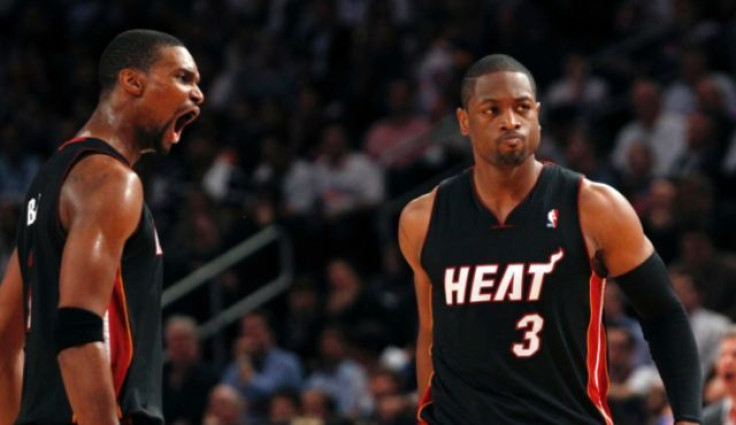 LeBron James and Carmelo Anthony have been grabbing most of the headlines, but they aren't the only top NBA players headed for free agency. Several All-Stars will hit the market on July 1.
The decisions of James and Anthony will have an effect on where many players sign. If the Miami Heat retain James, there's a good chance the team's Big Three will stay together. If he or Anthony decide to join a team with a lot of room under the salary cap, they could be joined by another star player.
A lot of questions remain about who will leave their current team, and what the 2014 free agent class will look like. Both James and Anthony decided to forego the next year of their contracts, and other stars can opt out of their deals, as well.
Below are the top 10 free agents that could be available this summer, other than James and Anthony.
Chris Bosh (Player Option)
Bosh has seen his numbers decrease significantly since joining the Heat, but that's only because he's been playing alongside James and Dwyane Wade. He's owed more than $42 million over the next two years, but would be worth a max contract as a free agent.
Dwyane Wade (Player Option)
For most of his time on the floor, Wade was an elite player in the 2013-2014 season. Injuries, though, limited Wade, forcing him to miss 28 games. The shooting guard struggled in the NBA Finals, and he might decide not to opt out of his current deal, which will pay him $20 million next season.
Dirk Nowitzki (Unrestricted Free Agent)
After one of the worst seasons of his career, Nowitzki returned as an All-Star this past year. At 36 years old, he won't get a lengthy contract, but he's likely to stay with the Dallas Mavericks on a two or three-year contract. If the team can add a big free agent, Dallas can find itself back near the top of the West.
Kyle Lowry (Unrestricted Free Agent)
The point guard had a breakout season with the Toronto Raptors, averaging career-highs with 17.9 points, 4.7 rebounds and 7.4 assists per game. After performing like the best player at his position in the East, Lowry could be in for a big payday.
Lance Stephenson (Unrestricted Free Agent)
Halfway through the 2013-2014 season, Stephenson was viewed as one of the most coveted free agents in the summer, leading the league in triple-doubles and filling up the stat sheet. While he'll still get decent money from some team, the 23-year-old hurt his value with his antics in the playoffs, and rumors of him being a problem in the Indiana Pacers locker room.
Eric Bledsoe (Restricted Free Agent)
Bledsoe was a major reason why the Phoenix Suns were the biggest surprise in the NBA, until he missed nearly half the season with an injury. Finally getting a chance to start full-time, he doubled his scoring average and shot a career-high 47.7 percent from the field. With Goran Dragic in the backcourt and the team drafting point guard Tyler Ennis, Phoenix might be preparing for Bledsoe to take big money elsewhere.
Zach Randolph (Player Option)
The Memphis Grizzlies and Randolph have not been able to agree on a contract extension, and the big man could be headed for free agency. As a model of consistency over the past five years, he'd be highly sought after by teams that need frontcourt help.
Luol Deng (Unrestricted Free Agent)
Deng was traded to the Cleveland Cavaliers in January, and saw his production decrease significantly. Despite his struggles in the second half of the year, he remains one of the best defenders available, and could be a major asset to a team looking to win a title.
Greg Monroe (Restricted Free Agent)
The 24-year-old has been one of the few bright spots for the Detroit Pistons in the last four years. In each of the least three seasons, he's averaged between 15 and 16 points and a little more than nine rebounds per game. However, with the emergence of Andre Drummond, the team might decide to let Monroe walk.
Pau Gasol (Unrestricted Free Agent)
In his last two seasons with the Los Angeles Lakers, Gasol no longer looked like the player who was an integral part of back-to-back championship teams. He struggled under head coach Mike D'Antoni's system, but still has a chance to be very productive. Entering his 14th year in the league, he won't get a max contract, but he'll have several suitors.
© Copyright IBTimes 2023. All rights reserved.