NBA Rumors: Kevin Love, DeMarcus Cousins, Rajon Rondo Discussed Before 2015 Draft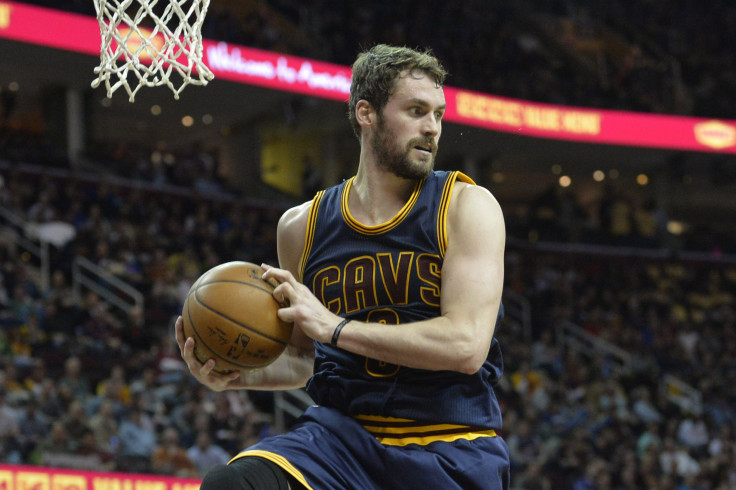 The Cleveland Cavaliers possess the No. 24 overall pick in Thursday night's draft, and while the selection could land the Eastern Conference champs a certifiable role player, its more likely Cavs general manager David Griffin is more focused on the start of free agency.
Enter the much-talked-about status of power forward Kevin Love. The Cavs have maintained ever since they acquired Love last summer that they fully intend to keep the smooth-shooting double-double machine, even if he decides to opt out of his current contract and test free agency this summer.
However, according to Grantland's Zach Lowe, many executives around the league believe the Cavs will eventually pull off a sign-and-trade deal in order to get some assets back for the All-Star.
Love owns a $16.8 million option for next season, or can become an unrestricted free agent. Its widely believed Love will opt-out, but there are other variables to consider.
For one, Love might decide its in his best interest to play out the rest of his deal and hit free agency in 2016. Player contracts will reach new maximum levels next summer when the NBA's new television rights deal balloons the salary cap.
Love could go the much-speculated route of Chicago Bulls guard Jimmy Butler, and sign a short-term deal in order to cash in. But that would be a risky move for a player coming off shoulder surgery.
With a healthy Love the Cavs could again reach the NBA Finals, and they're already considered the favorites next season. Cleveland could win its first championship and then facilitate a sign-and-trade with Love, locking in the fifth year that only the Cavs can offer him at this time.
Even if he becomes a free agent this year, the most any team can offer the 26-year-old is a four-year deal.
But Griffin said, after watching Cavs forward LeBron James carry the team to just two wins shy of the NBA title with Love sidelined with a shoulder injury, that he better understands the type of players the four-time MVP needs to succeed.
"LeBron needs to have the ball so much for you to be as good as you can be, and you need to be very selective about the guys who get to have it when he doesn't," Griffin said. "You cannot have too much ball dominance around him."
Because of James and point guard Kyrie Irving, Love was relegated to the third scoring option in Cleveland, a role he never served while with Minnesota. In order to be effective, Love needs the ball much more and he's unlikely to get it with James and Irving on the roster.
The Cavs extension to forward Tristan Thompson also plays a role, as he is a restricted free agent this summer. Cleveland has the right to match any offer, and based off his solid performance in the finals Thompson could garner as much as $70 million over five years.
The Cavs will have to decide if they want the four max-level contracts of James, Irving, Thompson, and Love on the books under the league's strict and expensive luxury taxes.
Over in the Western Conference, the Sacramento Kings continue to dominate much of the draft, trade, and free agency chatter.
Much of the scuttlebutt involves All-Star big man DeMarcus Cousins and head coach George Karl. According to Yahoo Sports, it appears unlikely the two can co-exist next season.
Karl wants to trade Cousins, while Kings ownership does not. Karl, who was hired back in February, has tried to rally team vice president Vlade Divac and several players to push ownership's hand. Cousins reportedly became aware of the situation at the end of the regular season, and now he and Karl's relationship has been dubbed "irreparable."
The Los Angeles Lakers have major interest in Cousins, and are willing to part with the No. 2 overall pick in order to land him, but the Kings are trying to win now and waiting for a talented prospect to develop stretches out what's become a decade-long rebuilding process.
Its possible a Cousins deal might even scare off point guard Rajon Rondo. The free-agent-to-be and the Kings have mutual interest, according to Yahoo, on a one-year deal that would allow Rondo to improve his standing around the league.
After he was traded to the Dallas Mavericks from the Boston Celtics back in December, Rondo didn't mesh with the Mavs and especially clashed with head coach Rick Carlisle. As a result the 29-year-old posted five-year lows in points and assists per game.
But with Cousins, wing Rudy Gay, and shooting guard Ben McLemore, Rondo could return to form and lead Sacramento back to the postseason. Subtracting Cousins from that lineup greatly hinders the Kings chances of contending and thus maybe Rondo's interest.
© Copyright IBTimes 2022. All rights reserved.
FOLLOW MORE IBT NEWS ON THE BELOW CHANNELS