NBA Trade Rumors: Boston Celtics, Denver Nuggets Planning 2015 Draft Day Moves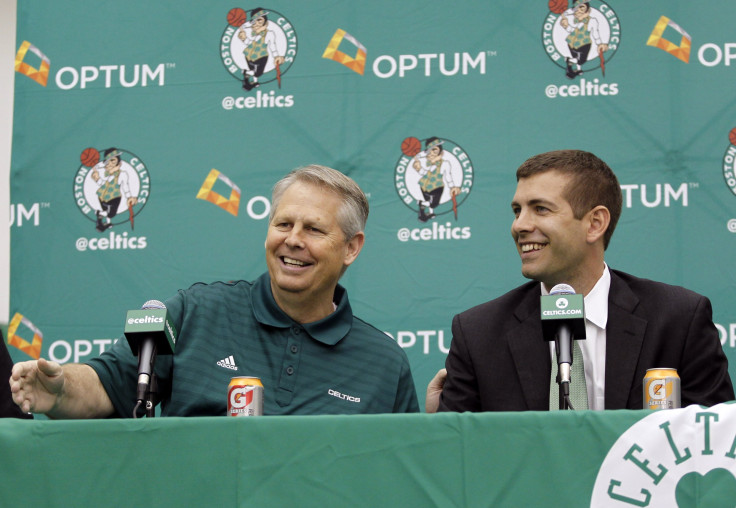 The 2015 NBA Draft is a mere four days away, and like every other year, much of the buildup to the selection process involves teams' attempts to move up or down to snag the prospect they desire most. Other times teams are actively working the phones to pull off a mega-trade to improve their roster right away.
In the case of the Denver Nuggets and general manager Tim Connelly, the franchise could go in a number of directions to boost the roster for new head coach Michael Malone. Connelly, now in his third draft as the Nuggets GM, told the Denver Post that every trade and draft scenario are under consideration. Denver owns the No. 7 overall pick and the No. 57 selection in the second round.
"We want to be aggressive," Connelly said. "We're looking at any and all scenarios, and we've already proactively made a lot of those calls. We'll see what we can do to make it interesting and hopefully give Coach the best team possible."
The Post also indicated that no one on the current Nuggets roster appears to be safe, with leading point guard Ty Lawson the most talked about player. Averaging 15.2 points and 9.6 assists per game, the 27-year-old floor leader was one of the few bright spots on a Denver squad that went 30-52 and missed the playoffs for the second straight season.
Ranking 27th in the league with 105 points allowed per game, the Nuggets are in need of better perimeter defenders as well as a shot blocker, which is why they've been linked to the likes of Duke swingman Justise Winslow and Kentucky big man Willie Cauley-Stein at No. 7.
But the Nuggets could dangle that No. 7 pick to a team eager to move up to snag either of those prospects, or another they're afraid won't be available when they're on the clock.
One such team could be the Boston Celtics and the ever active general manager and team president Danny Ainge.
RealGM.com reports the Celtics are very interested in Texas center Myles Turner, but at No. 16 overall Boston's afraid the near 7-footer might already be off the board. During his freshman year in Austin, Turner averaged 10.1 points and 6.5 rebounds a game showing touch and skill beyond his years, but what the Celtics really covet is the 19-year-old's 2.6 blocks per game.
Boston made the playoffs despite giving up 101.2 points a game, No. 22 overall, and was dead last in the league with 3.6 blocks per game. The Celtics already have young big man Tyler Zeller and Kelly Olynyk on the roster, but the latter especially didn't develop as much as the squad had hoped in his second season. Turner also has more upside as a more complete player than Zeller and Olynyk.
The Celtics have plenty of picks to offer potential trade partners. Through various trades, Boston could potentially own six first-round selections in 2016 and 2017 combined, any number of which could be enough to move up in this year's draft.
But picks and role players are likely the only assets Ainge and Celtics will surrender in any trade. Boston has only $40 million on the books next season and are one several teams angling for major free agents this summer, including the Cleveland Cavaliers power forward Kevin Love. Unless it's an expiring contract, the Celtics are highly unlikely to take back any high-paid player in the middle of a hefty contract.
© Copyright IBTimes 2023. All rights reserved.