NBA Trade Rumors: Chicago Bulls, Indiana Pacers, Milwaukee Bucks, In Line For Orlando Magic's J.J. Redick? Philadelphia 76ers Redick's Free Agency Destination?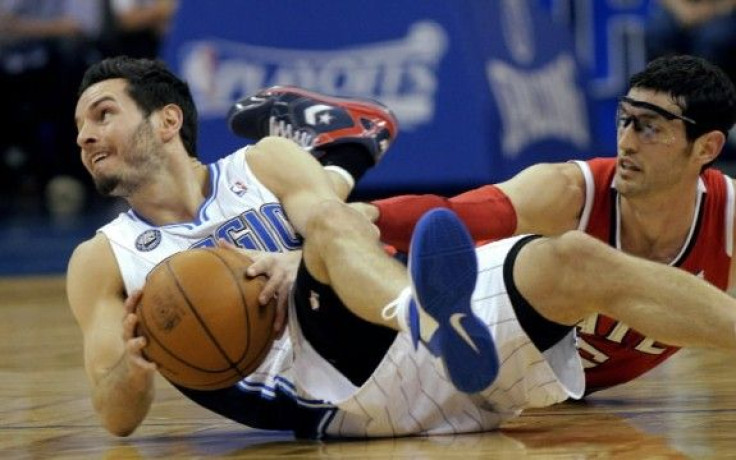 J.J. Redick hasn't been this sought after since he declared for the NBA Draft in 2006.
Since then, the Orlando Magic guard has become more than just a sharpshooter from beyond the arc, and is a far more complete player.
According to Yahoo! Sports, several playoff contenders would like to add Redick before the Feb. 21 trade deadline, but the cost may be too expensive.
The Indiana Pacers, Chicago Bulls, and Milwaukee Bucks could all use Redick to improve their three-point shooting. Chicago is currently tied for 23rd in three point percentage, with Indiana tied for 19th and Milwaukee ranking 21st. Getting out of the East will require facing Miami, Atlanta, and New York, who are all ranked in the Top 5 from three.
The 28-year-old Redick is scheduled to hit free agency this summer, and Orlando is asking for a young prospect and a draft pick, according to Yahoo!. Redick is averaging career highs in points (15.2), rebounds (2.4), and assists (4.4), and may try to cash-in come free agency. Yahoo! speculated Redick may be seeking a four-year $40 million deal.
All three clubs may hesistate to move a young player and a pick for a shooter that could easily bolt next season.
Chicago has more than gotten by while Derrick Rose remains sidelined, and his return is uncertain. Redick could replace Marco Belinelli as the back-up two guard behind Richard Hamilton, or could even start some games to give Hamilton rest in preparation for the playoffs. Redick currently averaging 31.6 minutes per game.
The Bulls have very few young players to offer, except for guard Marquis Teague and small forward Jimmy Butler. Indiana could give up young shooting guard Lance Stephenson, as they also have few assets to part with.
The Bucks have reportedly had guard Monta Ellis on the block, and he could decline his $11 million player option and test the free agent market, according to reports. Redick would be a cheaper alternative in the long run, though he's not as versatile as Ellis.
It may not matter for any team involved. Yahoo! quoted sources saying Redick may end up in Philadelphia via free agency next season, citing Redick's strong relationship with current 76er head coach Doug Collins.
© Copyright IBTimes 2023. All rights reserved.