NBA Trade Rumors: Lakers Interested In Signing Carmelo Anthony In Offseason?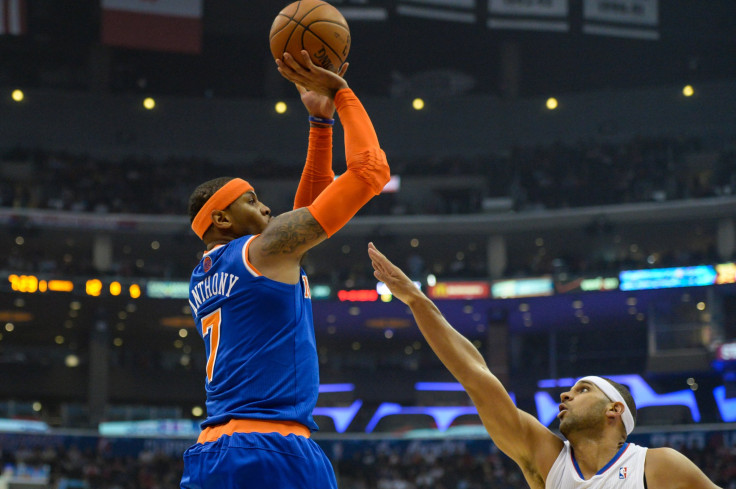 Before the New York Knicks snapped their nine-game losing streak in Thursday night's 113-83 victory over the also-reeling Brooklyn Nets, forward Carmelo Anthony addressed a report that he has already decided to leave Madison Square Garden next summer.
The reigning scoring champion recently called the Knicks the laughingstock of the NBA, which quickly swirled speculation that he's seriously considering taking less money and signing with another team in 2014, leaving as much as $33 million on the negotiating table.
That speculation was kicked into high gear on Thursday when ESPN Radio's Stephen A. Smith cited unnamed sources who said Anthony had already made his decision to leave New York.
Even after the win over hated Brooklyn, the Knicks are 4-13, second to last in the beleaguered Eastern Conference, and there are few signs that the team can contend for a title this year or even next. The Knicks are cap-strapped until Amar'e Stoudemire's contract either comes off the books in 2015 or is traded away, and spent several of their future draft picks to acquire Anthony in 2011.
Anthony also all but declared his intention to opt-out in 2014 in a recent interview before the season began, essentially saying he wants the full free agent experience.
An expert by now at dodging free agency questions, Anthony reportedly addressed the situation but also sidestepped it on Thursday.
According to Newsday Anthony denied having already made his decision, and also said he doesn't know who Smith is citing. But his comments to the New York Post before the Brooklyn game could be viewed as cryptic.
"I don't think nobody goes where [they are] expecting to lose,'' Anthony said. "I'm going through it and dealing with it. As far as me leaving and thinking about it, I'd be selfish to think about it at this point. With us losing and going through the situation we're going through, I'd be selfish on my part, to my teammates, to the organization to even have that thought come across my mind.''
Anthony basically pushed the question aside, and stated he is focused on the Knicks downward spiral of a season. Still the Knicks can rally, and are fully aware they are only three games back of the final playoff spot in the East.
Should Anthony decide to bolt New York, there are very few teams that have both the cap space to sign him to a maximum-level deal and provide him the huge media market he desired before he left Denver.
Earlier this summer the Los Angeles Lakers were one club rumored to be plotting a massive league coup, hoping to swipe Anthony and Miami's LeBron James should both forgo the final year of their contracts. It's important to note the alleged plan also hinged on Kobe Bryant getting along with center Dwight Howard, enough so that the latter would agree to an contract extension.
With Howard moving on to Houston, and even with Bryant agreeing a two-year extension worth nearly $49 million, the Lakers have the cap space and the winning history that could make them attractive nearly every possible free agent next summer.
Maybe not at this very moment with the Knicks technically still within striking distance of the playoffs despite a key injury to top defensive player Tyson Chandler and head coach Mike Woodson reportedly on the hot seat, but at some point New York might get an inkling that Anthony really is serious about taking his talents to another franchise.
If that situation rears its ugly head, the Knicks would be wise to approach the Lakers about a trade. In order to make contracts match, L.A. power forward Pau Gasol and the $19.2 million left on his expiring deal would have to be part of any move, and the Knicks have already shown their hand by reportedly offering struggling shooting guard Iman Shumpert to several teams in the first month of the season.
New York could at least garner some cap relief in exchange for Anthony, and make themselves players in free agency in the coming years.
Counting Gasol, the Lakers have 12 expiring contracts currently on their books. Should they, like the Knicks, pack this season in early and focus on next year, a mega-trade could be on the horizon.
© Copyright IBTimes 2023. All rights reserved.