NBA Trade Rumors: Nets' Joe Johnson, Brook Lopez, Deron Williams And Cavs' Dion Waiters Involved In Latest News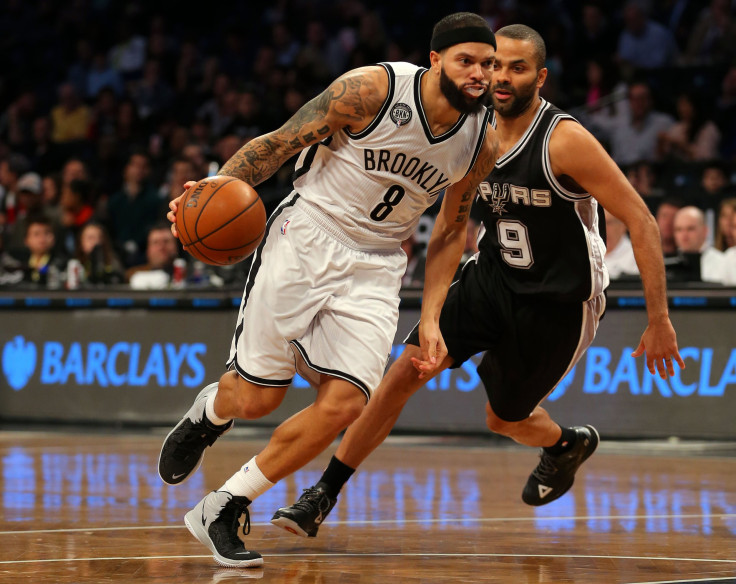 Loaded with veterans and high-priced contracts, the Brooklyn Nets have lost two straight to fall to 8-11 on the season and now the team is reportedly contemplating trades involving stars Deron Williams, Joe Johnson and Brook Lopez.
A report from ESPN stressed that no trade is "imminent" but that each player could be moved in separate deals. The Nets could wait until Dec. 15 when players who signed as free agents in the summer become available for trades.
It's unclear if Brooklyn overtly plans to completely revamp the roster and acquire draft picks, but shedding salary seems to be their first priority. For the second straight year, Brooklyn has the highest payroll in the league at $93.7 million, and the trio of Johnson, Williams and Lopez make up roughly $58.5 million of the team's cap.
However, ESPN's sources indicated that the team is still trying to win this season. Last season, the first under the league's new luxury tax penalties, the Nets shelled out $190 million and only reached the second round of the playoffs.
Before the season began there was already a strong inclination that the Nets were in turmoil. Several reports emerged that team owner Mikhail Prokhorov was interested in selling the club he acquired in 2010 for $200 million.
Acquired from the Utah Jazz in 2011 at the trade deadline, Williams later signed a five-year, $98.7 million contract extension with the Nets and has three years remaining on that deal. The nine-year veteran averaged more than 20 points and nine assists a game his last two years in Utah, but since joining Brooklyn his scoring and assist numbers have declined and he reportedly had several issues with former coaches Avery Johnson and Jason Kidd. Still, Williams leads the Nets with scoring (17.1), assists (6.5) and steals (1.1) this season, and may have significant value to teams seeking a veteran point guard.
Lopez, who can activate a player option for $16.7 million at the end of this season, has battled several foot injuries over the last four seasons and missed a combined 137 games. Known for his interior scoring abilities, the seven-foot Lopez has struggled on the defensive side of the ball and has never averaged more than 8.6 rebounds per game in a season.
Johnson's exorbitant contract might be the most difficult for Brooklyn to move. He has two years and nearly $48 million left on the six-year $123.6 million extension he signed with the Atlanta Hawks. The Nets traded for Johnson in the summer of 2012, and he's averaged 16 points on 43.8 percent shooting over the last three seasons.
As for which teams actually have the cap space and are willing to use it remains to be seen. Many of the teams with some cap space, and in a market where they can afford high luxury taxes, like the Los Angeles Lakers or even Boston Celtics, are thought to be hoarding the extra wiggle room to be players in the 2015 free-agent market.
In other trade news, ESPN's Marc Stein reported this week that the Cleveland Cavaliers are hoping to acquire a big man in a trade and that could be Memphis Grizzlies seven-footer Kosta Koufos.
The Cavs reportedly are willing to part with talented but inconsistent shooting guard Dion Waiters. The former Syracuse star is riding his best stretch of the season, torching Brooklyn for 26 points off 11-of-21 shooting and another 18 points against Toronto, both victories for the Cavs.
But the Cavs do not lack for scoring options, and need more help on defense in order to move up the Eastern Conference. Despite the presence of forwards Kevin Love and LeBron James in the starting lineup, the Cavs are 23rd in the NBA in rebounding and 19th in blocks, areas where Koufos can help immediately.
Koufos, now in his sixth year out of Ohio State, is averaging 3.8 points and 3.8 rebounds in 13.7 minutes per game this season, and it's believed those numbers would be significantly higher if he didn't play behind Grizzlies big men Marc Gasol and Zach Randolph.
© Copyright IBTimes 2023. All rights reserved.