NBA Trade Rumors: Rajon Rondo, Luol Deng And Harrison Barnes Changing Teams?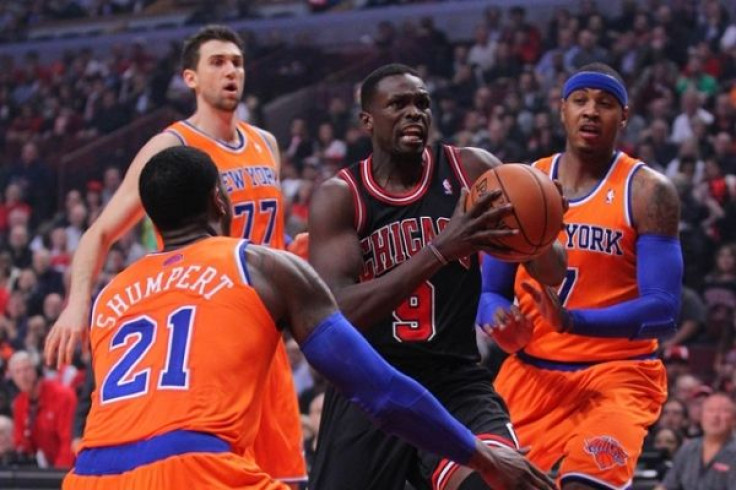 The NBA trade deadline is scheduled for 3 p.m. ET on Thursday. As that time rapidly approaches, teams are discussing possible deals that could have a major effect on the 2013-2014 season.
The Philadelphia 76ers made the first splash of the day by trading Spencer Hawes to Cleveland for two second-round draft picks, according to several reports. Even bigger names could change teams as the day moves along.
Rajon Rondo
The Boston Celtics aren't actively shopping Rondo, but he isn't untouchable. Since the point guard could be had at the right price, several teams have expressed interest in acquiring him.
The New York Knicks have seemingly been linked to every big name that could be dealt, but they don't have the pieces to get a deal done. The Toronto Raptors have reportedly shown interest in Rondo, as well as the Sacramento Kings. The Kings might have enough to make the Celtics consider a trade, but their unwillingness to move rookie Ben McLemore likely puts them out of the running.
On Wednesday, ESPN reported that the Houston Rockets want Rondo. Adding the four-time All-star to a lineup that includes James Harden and Dwight Howard could make Houston the favorites in the West. However, the report states the Rockets have told Boston they won't trade Chandler Parsons, who would have to be included in a proposed deal.
Harrison Barnes
The small forward's name has been involved in trade rumors this week. The Golden State Warriors are just 1.5 games away from falling out of the playoffs, and the team could trade Barnes in their quest to secure a postseason spot. However, the club isn't actively shopping Barnes, who's playing in just his second season. In 2012, Golden State spent the No.7 overall pick on the UNC product.
According to Ric Bucher, the Cleveland Cavaliers might have the best chance of landing Barnes. The NBA analyst has suggested that the Warriors could be interested in reacquiring Jarret Jack. The point guard was the second runner-up for the NBA's Sixth Man of the Year award last year when he played for the Warriors.
Luol Deng
The small forward was already involved in one of the biggest trades this year, when the Chicago Bulls sent him to Cleveland. Now, the 28-year-old could be on the move again. ESPN's Marc Stein reports that the Cavs are talking to teams about Deng. Stein named the Washington Wizards, who tried to acquire Deng at the 2013 NBA Draft, as a suitor.
Deng will be a free agent in the summer, but he hasn't been doing himself any favors, since being traded to Cleveland. Deng is averaging just 14.7 points and 4.8 rebounds in 19 games with the Cavs.
© Copyright IBTimes 2023. All rights reserved.