New Patriots' 'Spygate,' Deflategate Details Revealed In ESPN Report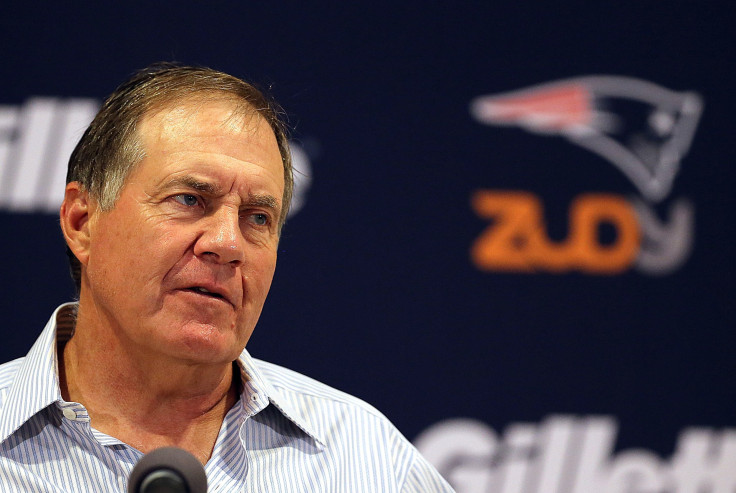 Less than a week after a federal judge overturned quarterback Tom Brady's four-game suspension for the Deflategate scandal that's rocked the NFL, a report from ESPN's investigative program "Outside the Lines" has revealed new details about the New England Patriots and the "Spygate" cheating controversy from 2007.
The report, which was also published Tuesday morning on ESPN.com, suggests the league and Commissioner Roger Goodell went to extremes to punish the Patriots and Brady over "Deflategate" because other NFL owners felt the league wasn't harsh enough on New England when it was caught stealing opposing teams' defensive signals during games eight years ago.
All of the information in the story, according to ESPN, was gleaned from "more than 90 league officials, owners, team executives and coaches, current and former Patriots coaches, staffers and players, and reviews of previously undisclosed private notes from key meetings."
Some of the new details, including why Goodell -- then only 18 months into his tenure -- destroyed all of the evidence linked to "Spygate" and New England head coach Bill Belichick. During the league's short four-day investigation into the Patriots, it found a room in Gillette Stadium that was accessible only to Belichick and several others, which contained videotapes and notes of opposing teams' signals as far back as seven seasons.
According to the report, Goodell summoned all 32 NFL owners and their head coaches to The Breakers hotel in Palm Beach, Florida, on April 1, 2008, for an emergency meeting on "Spygate." At that meeting, Goodell and Patriots owner Bob Kraft addressed the other owners and apologized for his team's actions.
"Goodell didn't want anybody to know that his gold franchise had won Super Bowls by cheating," a senior executive whose team lost to the Patriots in a Super Bowl said in the report. "If that gets out, that hurts your business."
Belichick also spoke at the meeting and, according to witnesses, said he thought it was legal to record opponents' signals as long as they weren't used in "real time."
Goodell had league executives destroy every tape and shred the detailed notes in a conference room at New England's main facility.
The report states many owners weren't satisfied with the excuses given by Goodell, Kraft or Belichick, and they may have felt the trio had worked together to contain the controversy.
Because of this perceived simpatico relationship during "Spygate," it's believed Goodell came down much harder on New England and Brady so as to prove to other owners he wasn't kowtowing to Kraft.
In the same vein, the report also stresses that Goodell's handling of "Spygate" is the main reason Kraft supported him so publicly during the 2014 season, when the commissioner dealt with multiple off-the-field problems involving players like Ray Rice, Greg Hardy and Adrian Peterson.
The Patriots issued a statement in response to the ESPN report.
"The New England Patriots have never filmed or recorded another team's practice or walkthrough. The first time we ever heard of such an accusation came in 2008, the day before Super Bowl XLII, when the Boston Herald reported an allegation from a disgruntled former employee. That report created a media firestorm that extended globally and was discussed incessantly for months. It took four months before that newspaper retracted its story and offered the team a front and back page apology for the damage done. Clearly, the damage has been irreparable. As recently as last month, over seven years after the retraction and apology was issued, ESPN issued the following apology to the Patriots for continuing to perpetuate the myth: 'On two occasions in recent weeks, SportsCenter incorrectly cited a 2002 report regarding the New England Patriots and Super Bowl XXXVI. That story was found to be false and should not have been part of our reporting. We apologize to the Patriots organization.'

"This type of reporting over the past seven years has led to additional unfounded, unwarranted and, quite frankly, unbelievable allegations by former players, coaches and executives. None of which have ever been substantiated, but many of which continue to be propagated. The New England Patriots are led by an owner whose well-documented efforts on league-wide initiatives – from TV contracts to preventing a work stoppage – have earned him the reputation as one of the best in the NFL. For the past 16 years, the Patriots have been led by one of the league's all-time greatest coaches and one of its all-time greatest quarterbacks. It is disappointing that some choose to believe in myths, conjecture and rumors rather than giving credit for the team's successes to Coach Belichick, his staff and the players for their hard work, attention to detail, methodical weekly preparation, diligence and overall performance."
© Copyright IBTimes 2022. All rights reserved.
FOLLOW MORE IBT NEWS ON THE BELOW CHANNELS