New York Giants vs. Atlanta Falcons: Early Prediction, Betting Odds, Preview For Sunday's Game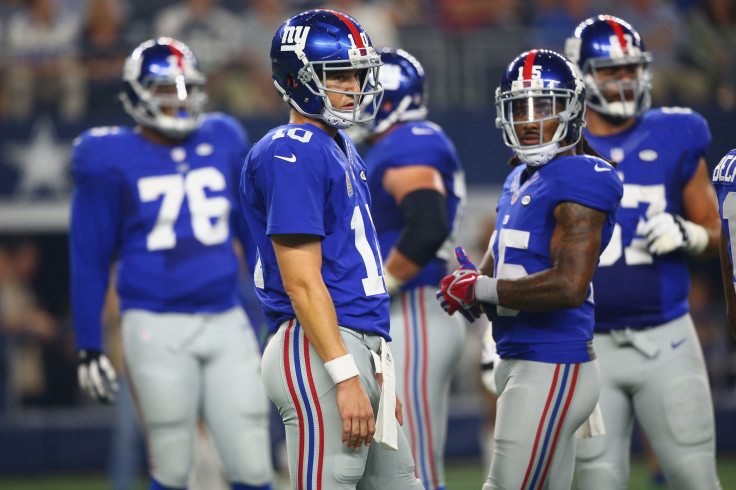 With a disastrous start to the season and to the division casting a dark shadow over MetLife Stadium, the New York Giants try to rebound against the visiting Atlanta Falcons Sunday afternoon with hopes of avoiding an early 0-2 hole for the third straight year.
Poor play-calling by head coach Tom Coughlin and quarterback Eli Manning's decision to heave the ball rather than take a sack to keep the clock running with less than two minutes remaining in the fourth quarter led New York to a 27-26 loss to the rival Dallas Cowboys in Week 1, and now it will host a potent Falcons squad fresh off a highlight-laden victory over Philadelphia.
Coughlin took blame for the choice to throw from Dallas' one-yard line on third down rather than hand off to running back Rashad Jennings, who averaged 4.0 yards per carry on the night, but the veteran rusher also said he shouldn't have aired out that Manning also told him not to score on first and second down to keep the clock going.
While the Giants may have some problems communicating, they still enter their home opener as 2.5-point favorites despite coughing up a 10-point lead with 8:01 left in the final quarter.
And New York can draw many positives from the loss nonetheless. Manning was highly inaccurate, going 20-for-36 for 193 yards and no touchdowns, but his offensive line showed promise by allowing only one sack and three quarterback hits, and nearly broke the century mark with 99 total rushing yards.
The defense bears the brunt of the blame for giving up two touchdowns on Dallas' final two possessions, but the secondary showed flashes of what it could do against one of the league's best passing offenses. Veteran cornerback Trumaine McBride and rookie linebacker Uani' Unga each came up with interceptions that later resulted in Giants points, and corner Dominique Rodgers-Cromartie converted a fumble recovery into a 57-yard touchdown return.
However, the pass rush struggled mightily against one of the NFL's top offensive lines as it sorely missed star defensive end Jason Pierre-Paul, who doesn't figure to return soon from the Fourth of July fireworks' accident that evidently also took the tip of his right thumb on top of the index finger on the same hand. The Giants frontline also couldn't force a single sack, and hit quarterback Tony Romo once throughout the game.
But it's not as if Atlanta came out of Week 1 completely unscathed. With new head coach Dan Quinn making his debut, the Falcons looked dominant in the first half against the Eagles, but proceeded to fold a 17-point lead and wound up winning in large part to Philadelphia's poor late-game execution.
Quarterback Matt Ryan fired off two touchdowns to receiver Julio Jones to build a 20-3 lead at the half, but Atlanta wouldn't post another touchdown drive for the rest of the game. Ryan, who's thrown for more than 4,000 yards in four straight seasons, went 23-for-34 for 298 yards but also tossed two interceptions. He also has to work on Atlanta's 4-for-14 rate on third down.
Jones looked sensational with nine grabs for 141 yards, and veteran receiver Roddy White didn't appear bothered by his minor elbow surgery and notched four receptions for 84 yards.
Both receivers, and Ryan, benefitted from rookie running back Tevin Coleman's debut with 80 of the team's 105 rushing yards on 20 attempts, a huge boost to an offense that ranked No. 24 in the league in rushing a year ago.
Atlanta's defense, Quinn's main concern and the reason he was hired away from Seattle in the offseason, showed signs of growth but still needs work. The Falcons were last in the NFL with 280 passing yards let up per game last season, and Philadelphia's Sam Bradford totaled 336 yards.
Still rookie fifth-round draft choice and safety Ricardo Allen came up with the game-clinching interception in the fourth quarter, upping Atlanta's total to two picks on the night after safety William Moore's takeaway in the second.
Betting Odds: New York -2.5
Over/Under: 51 points
Prediction: New York over Atlanta, 23-17
© Copyright IBTimes 2023. All rights reserved.