New York Rangers vs. Tampa Bay Lightning Game 3: TV Channel, Live Online, Betting Odds, Preview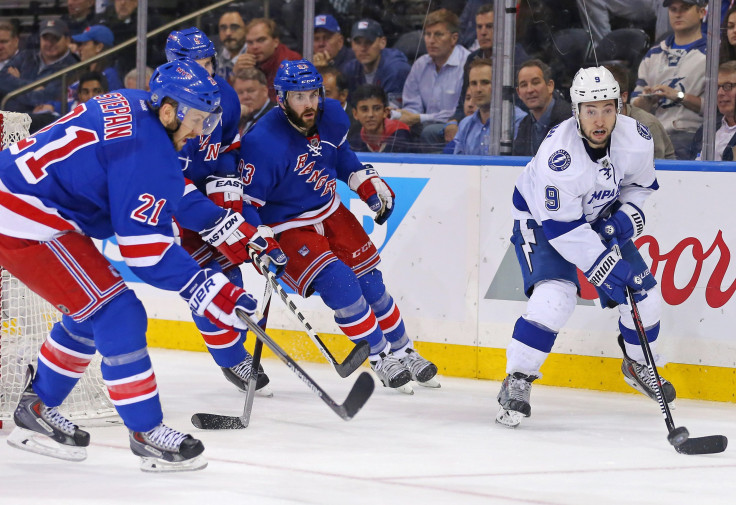 Turnovers and penalties plagued the New York Rangers in Game 2 of the Eastern Conference Finals against the Tampa Bay Lightning, and team captain and defenseman Ryan McDonagh lashed out as his teammates afterwards.
Using words like stupid, selfish, embarrassing, McDonagh didn't hold back after the crushing 6-2 loss pulled the Lightning level at 1-1 before Wednesday night's Game 3 at Amalie Arena.
"I think it's a tough loss on a big stage," McDonagh said to the New York Post Tuesday. "It's something I thought we could control a little bit better and the way things transpired. I was just being honest, an honest assessment of our team's performance. Guys understand that."
McDonagh does believe his team can rebound from the blowout, lowlighted by 22 penalty minutes, 14 giveaways, and a short-handed goal to Lightning center Tyler Johnson in the first period that started his hat trick.
"Just realizing what happened, and realize it and learn from it quick because it's a bit important series here, and we have to get back to the strength of our game," McDonagh added. "We know how to respond, we've done it before, and it's about getting that focus again."
New York owned the best road record in the league at 28-11-2, but Tampa Bay defended home ice better than any other team at 32-8-1.
The Rangers did los home ice, but that happened in the two previous rounds to Washington and Pittsburgh, and the squad responded late in both series.
And there were lots of positives to New York's play.
The outshot Tampa Bay 37-26, won more face-offs 31-26, and forced eight takeaways to the Lightning's five. New York was also 2-for-5 on the power play with Derek Stepan picking up his fifth goal of the postseason and Chris Krieder his sixth, and it was an improvement on the Rangers 17.8 success rate up a man in these playoffs.
But those penalty minutes, from six overall whistles, put too much pressure on goalie Henrik Lundqvist. The Swede made 20 saves, his second lowest mark this postseason, and the six goals allowed were his most since Game 5 of the conference semis last year against Montreal.
On the other side, Johnson and the Lightning are riding high after netting only one goal off 24 shots in Game 1 of the series. The 5-foot-9 third-year stud leads all players with 11 goals in the playoffs, but Tampa Bay also received huge contributions from fellow centers Alex Killorn and Steve Stamkos.
After Stepan cut the lead to 3-2 with over five minutes remaining in the second, Killorn's two goals bookended Stamkos' fourth goal of the postseason in the third and the victory was at hand.
Lightning keeper Ben Bishop, at times gambling by coming out of net to retrieve the puck, picked up 35 saves on 37 shot attempts, his second-highest save total in 14 playoff games.
Start Time: 8 p.m. ET
TV Channel: NBC Sports Network
Live Online: A live stream is available at NBC Sports Live Extra
Betting Odds: Lightning -1.5, over/under 5 goals
Prediction: Lightning over Rangers, 3-2
© Copyright IBTimes 2023. All rights reserved.