NFL News: Jets Make Quarterback Change, Rams, Texans Expected To Follow Suit
It looks like there could be a few starting quarterback changes for Week 12 of the 2022 NFL season. The New York Jets have announced that Zach Wilson has been benched, and the Los Angeles Rams are expected to sit Matthew Stafford because of a concussion.
Mike White will be the Jets starting quarterback against the Chicago Bears, according to head coach Robert Saleh. Joe Flacco is set to be New York's backup in Week 12, meaning Wilson won't even be active for the game.
The news comes a few days after Wilson seemingly didn't take responsibility for letting the Jets' defense down in a 10-3 loss against the New England Patriots. New York was unable to defeat its division rival, even though the defense didn't give up a single offensive touchdown. Wilson only completed nine of his 22 pass attempts for 77 yards.
Wilson has been one of the league's worst starting quarterbacks in 2022. In seven starts, he has 1,279 passing yards, four touchdowns and five interceptions. Wilson's 72.6 passer rating is the second-worst among quarterbacks who have made more than two starts.
Given New York's record and Wilson's lack of experience, the decision to bench the second-year player is notable. The Jets only gave Wilson 20 starts before stripping him of the starting job after he was selected with the No. 2 overall pick in the 2021 draft. Wilson is just 23 years old, and New York has a 5-2 record this season when he's under center.
Flacco went 1-2 as the Jets starter in the first three weeks while Wilson recovered from a knee injury. White had a 1-2 record as New York's starter last season, going 37-of-45 for 405 yards and three touchdowns in his lone victory.
The Rams are also expected to start their third different quarterback of the season in Week 12. Backup John Wolford got the call in Week 10 when Stafford was in concussion protocol. Now that both Stafford and Wolford are dealing with injuries, third-string quarterback Bryce Perkins is in line to start.
Los Angeles is set to give young Perkins first-team practice reps ahead of Sunday's game against the Kansas City Chiefs, according to NFL Network. Perkins has attempted 11 passes this season, playing for the first time since leaving the University of Virginia in 2019.
The injury to Stafford likely ends any chance that the Rams might get to the playoffs in an attempt to defend their Super Bowl championship. Cooper Kupp is on injured reserve. Los Angeles is in last place with a 3-7 record.
The Houston Texans are expected to start Kyle Allen at quarterback over Davis Mills for the first time this season. Texans coach Lovie Smith has refused to publicly name a starter for Sunday. The Texans have the league's worst record and are heavy underdogs against the Miami Dolphins.
There's been speculation that Justin Fields might be forced to sit against the Jets because of a shoulder injury, though Bears head coach Matt Eberflus said the quarterback has been cleared to practice.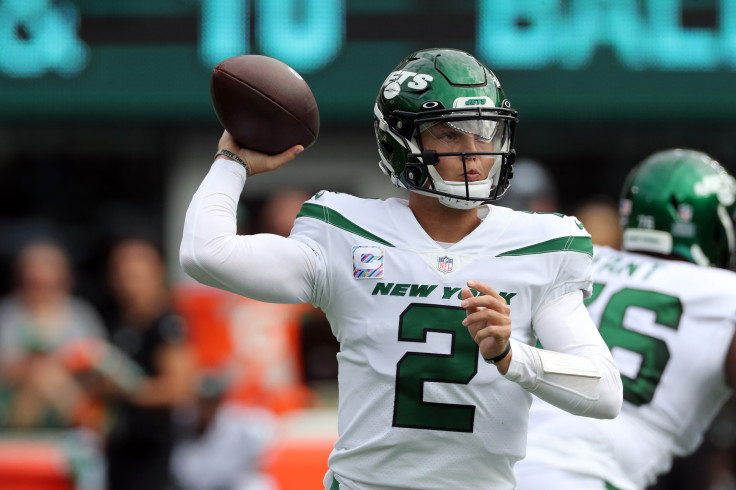 © Copyright IBTimes 2023. All rights reserved.