NFL Over/Under Win Totals 2013: Predictions For Upcoming Season; Broncos, 49ers And Patriots Projected For Most Victories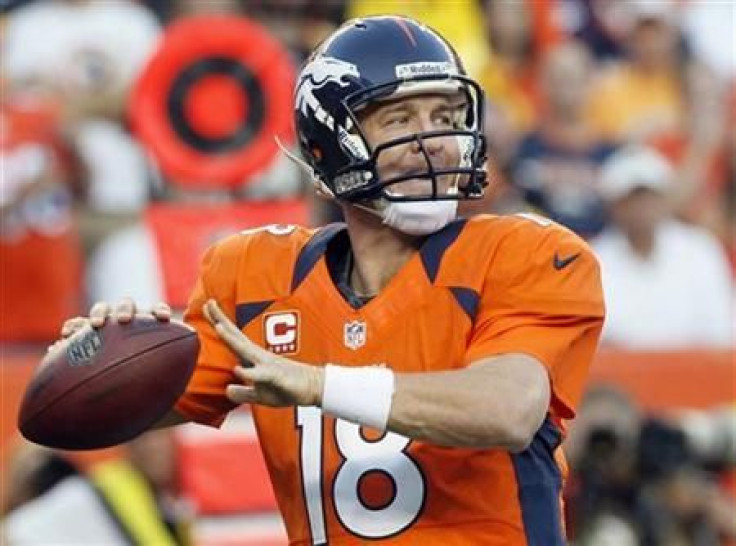 In 2012, the Denver Broncos led all teams in regular season wins. They are expected to do the same a year later.
The projected over/under NFL win totals have Peyton Manning and company finishing 2013 with the best record, according to Sportsbook. The quarterback won 13 games in his first season with the Broncos and could come close to matching that, since they have the easiest strength of schedule in the league. Denver's 2013 total is 11.5.
The San Francisco 49ers and New England Patriots come in right behind the defending AFC West champs. The online betting Web site has both of their totals at 11 victories.
No team in projected to get fewer than five wins. The Oakland Raiders and Jacksonville Jaguars have the lowest win total. Last season, five teams, including the Raiders and Jaguars, failed to win more than four games.
The NFC East and AFC North are predicted to be the most competitive divisions. In each, three teams have an over/under total that would put them above .500.
Below are the 2013 NFL over/under win totals and predictions or every team.
Arizona Cardinals 5.5 UNDER
Atlanta Falcons 9.5 OVER
Baltimore Ravens 8.5 UNDER
Buffalo Bills 6.5 UNDER
Carolina Panthers 7.5 UNDER
Chicago Bears 8.5 OVER
Cincinnati Bengals 8.5 OVER
Cleveland Browns 6.5 UNDER
Dallas Cowboys 8.5 OVER
Denver Broncos 11.5 OVER
Detroit Lions 7.5 UNDER
Green Bay Packers 10.5 OVER
Houston Texans 10.5 OVER
Indianapolis Colts 8.5 UNDER
Jacksonville Jaguars 5 UNDER
Kansas City Chiefs 7.5 UNDER
Miami Dolphins 7.5 OVER
Minnesota Vikings 7 UNDER
New England Patriots 11 OVER
New Orleans Saints 9.5 OVER
New York Giants 9 OVER
New York Jets 6.5 UNDER
Oakland Raiders 5 UNDER
Philadelphia Eagles 7.5 UNDER
Pittsburgh Steelers 9.5 OVER
San Diego Chargers 7.5 OVER
San Francisco 49ers 11 OVER
Seattle Seahawks 10.5 OVER
St. Louis Rams 7.5 UNDER
Tampa Bay Buccaneers 7.5 UNDER
Tennessee Titans 6.5 UNDER
Washington Redskins 8.5 UNDER
© Copyright IBTimes 2023. All rights reserved.
FOLLOW MORE IBT NEWS ON THE BELOW CHANNELS