NFL Team In London? Commissioner Roger Goodell Wants New Franchise In London? Jacksonville Jaguars Relocating?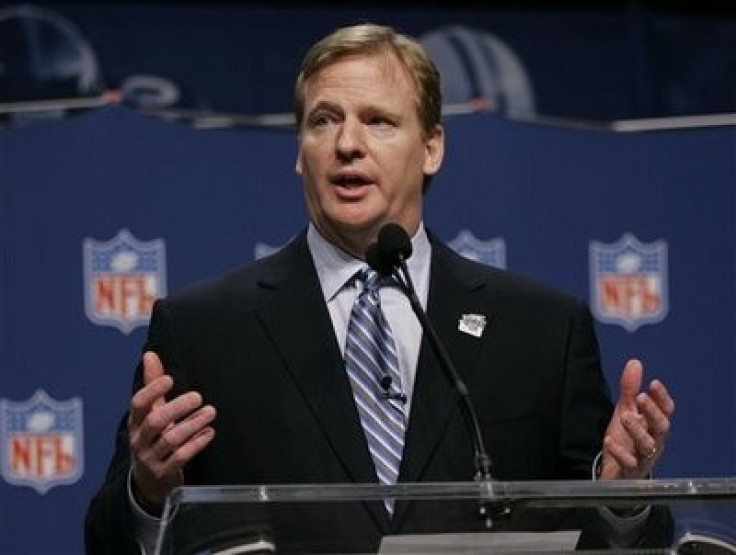 Thanks to free agency, the draft, the regular season, and the playoffs, the National Football League has already turned into an all-year sporting spectacle.
Now the biggest sports league in the United States is looking to expand overseas once again with the goal of a franchise in London, according to Bart Hubbuch of the New York Post.
Following a conference at New York University on Tuesday where he revealed the league will push for a third game per year in London, NFL commissioner Roger Goodell told Hubbuch he hopes to put a new team in the U.K.
The two games scheduled for the 2013 season have already sold out, and the league may look to capitalize on that growth. Both games will take place at Wembley Stadium, with the Minnesota Vikings hosting the Pittsburgh Steelers on Sept. 29, and the Jacksonville Jaguars set to take on the San Francisco 49ers on Oct. 27.
Goodell also reportedly said the Jaguars could play as many as two games a year in London, but according to NFL.com the team told the Florida Times-Union that they are focused solely on one-game a year. Jacksonville is already committed to play one game a year in London through 2016.
Strangely, the struggling Jaguars have been one of the teams rumored for relocation over the years, especially to Los Angeles. The second largest city in the U.S., Los Angeles has not had an NFL franchise since the Raiders and Rams left in the mid-1990s. The California metropolis still has to work out a stadium deal for any talk of a new team to continue.
The NFL has ventured to Europe before in the form of the now-debunked NFL Europa. Founded in 1991 and originally a 10-team league, it was first called the World League of American Football, but eventually whittled down to six teams, with five located in Germany in 2005. The league closed shop in 2007.
© Copyright IBTimes 2023. All rights reserved.
FOLLOW MORE IBT NEWS ON THE BELOW CHANNELS