NFL Week 11 Survivor Pick Rankings: Best Bets To Win Straight Up For 2022 Pool
One team stands out as the best pick for Week 11 in NFL survivor pools. The Buffalo Bills, Philadelphia Eagles and Kansas City Chiefs are among the top choices just about every week.
Here's a ranking of the top-10 survivor picks for Week 11.
1) Baltimore Ravens (vs. Carolina Panthers)
Carolina is 0-4 on the road and 0-3 against teams that enter Week 11 with a record above .500. Baltimore is coming off a bye with an extra week to prepare for the Panthers' 30th-ranked offense. The Panthers are going back to Baker Mayfield because of an injury to P.J. Walker.
2) Buffalo Bills (vs. Cleveland Browns)
All three of Buffalo's losses have been nail-biters against teams that are 6-3 or better. Cleveland is 3-6 with little chance of keeping up with Josh Allen and the Bills on the road. Since winning in Carolina in the season opener, the Browns are 0-3 away from home.
3) Philadelphia Eagles (at Indianapolis Colts)
Until the Eagles lose, they're going to be one of the best survivor picks each week. Even after beating the Raiders, the Colts still have a ton of question marks under new head coach Jeff Saturday.
4) New York Giants (vs. Detroit Lions)
It's not always pretty, but the Giants keep winning games. New York's 7-2 record would be tied for the best in the AFC. The Giants are 5-0 against teams that have a losing record.
5) Cincinnati Bengals (at Pittsburgh Steelers)
Pittsburgh will be hard-pressed to beat Cincinnati for a second time this season. The Steelers needed overtime to beat the Bengals in Week 1, in addition to five Joe Burrow turnovers and two missed kicks that would've given Cincinnati the victory. Pittsburgh has yet to score more than 20 points in regulation.
6) San Francisco 49ers (at Arizona Cardinals)
The Cardinals still have to prove that they can beat a good team. Arizona is 0-4 against opponents that are above .500. San Francisco is 3-0 against the NFC West, winning each game by at least 15 points.
7) Kansas City Chiefs (at Los Angeles Chargers)
If Mike Williams and Keenan Allen are out again, the Chargers are highly unlikely to upset the Chiefs. Kansas City beat Los Angeles 27-24 in Week 2. The Chiefs are the AFC's No. 1 seed. The Chargers have lost two of their last three home games.
8) New England Patriots (vs. New York Jets)
It was only a few weeks ago that the Patriots beat the Jets 22-17 on the road. Zach Wilson is 0-3 against New England, throwing two touchdown passes and seven interceptions.
9) Atlanta Falcons (vs. Chicago Bears)
If you're running out of good options, picking against a sub.-500 on the road isn't a bad choice. The Bears are 1-4 on the road. In the last three games, Chicago has given up an average of 38.3 points.
10) Washington Commanders (at Houston Texans)
The Texans have lost seven of their last eight games. Their only win during that span came against the Jaguars, which Houston has beaten nine straight times. The Commanders are 4-1 against sub.-500 teams.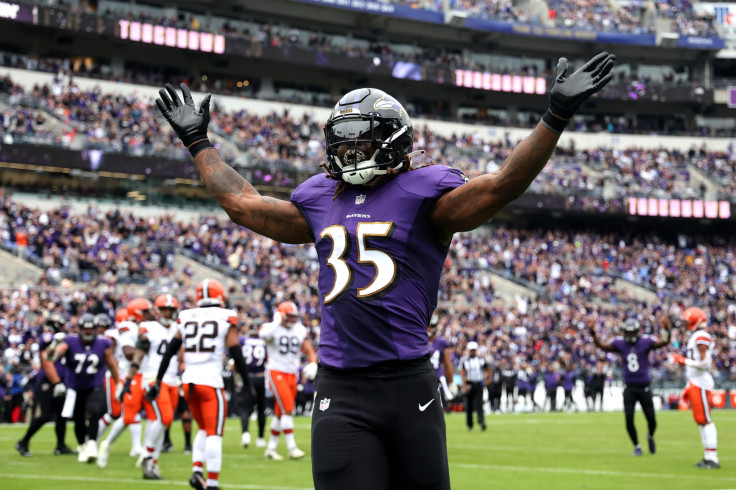 © Copyright IBTimes 2023. All rights reserved.