Nina Dobrev Gropes Conan O?Brien With Her Feet Using Yoga Move [VIDEO]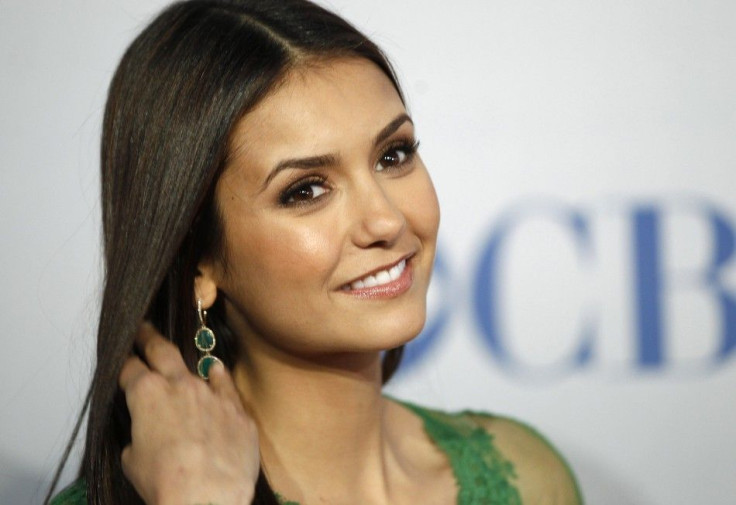 Nina Dobrev, the 23-year-old Bulgarian-born Canadian model and actress, recently paid a visit to Conan to promote the hit television show she stars on, the Vampire Diaries. Dobrev showed up looking stunning in short purple shorts topped with a matching blazer and tank top beneath.
The conversation between her and host Conan O'Brien began with some talk about the Met Gala, one of the most popular fashion events of the year. Dobreva explained how she'd been sewn into her spectacular dress because it was so form-fitting. In a similar look, she'd been sewn into a dress during the Emmy's. She said that she'd run into trouble when she had to go to the bathroom during the show because a stylist had to sew her back into the form-fitting dresses when she had to use the bathroom.
Conan O'Brien, host of the show, then began talking about the Vampire Diaries. He mentions how the characters are often terrifying yet extremely sexual at the same time. Dobrev explains to Conan how to hiss and then lick his teeth and wink in a seductive-yet-ferocious manner. Conan, being the overecentric host that he's always been, showed the audience his best vampire impression.
Soon after that, things got really steamy.
Conan requested that Dobrev show him a yoga move. She complied and decided that she'd show O'Brien and the audience a move called The Scorpion. In order to pull off the move, however, she needed a wall with a bar. Luckily, O'Brien was willing to fill in.
What ensued was a bit graphic. Dobrev, first, got on all fours, then tucked her head in between her arms and lifted herself up to a headstand. Then, she began to curl her feet down to the torso of O'Brien. The lanky host of the show stood there, a bit befuddled, watching her feet crawl down his body. The feet inevitably stopped at his groin, and Dobrev's body was contorted into a perfect C-shape. The host, completely shocked, stands in awe.
After Dobrev crawls out of the stance, O'Brien celebrates the moment -- clearly having been moved by having been used as a balancing structure for Dobrev.
© Copyright IBTimes 2022. All rights reserved.
FOLLOW MORE IBT NEWS ON THE BELOW CHANNELS