Nintendo Live Stream: Watch The Nintendo Direct Live Stream Here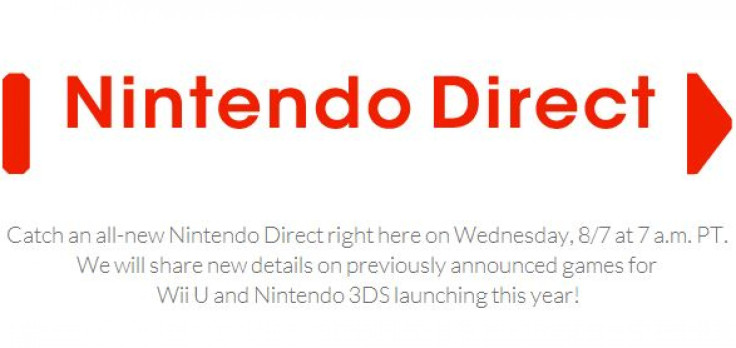 Nintendo announced on its official Twitter account that it will host a Nintendo Direct event today starting at 10 a.m. EDT. Click here to watch the Nintendo Direct Live Stream.
The tweet indicated the event will provide updates on upcoming Wii U and 3DS games that have already been announced. Check out the photo below.
However, that doesn't necessarily mean Nintendo will only provide updates on Wii U and 3DS games that have already been announced. One announcement we would love to see is the acknowledgement of a new "Metroid" title, a series that goes back to 1986 with the original NES. The last "Metroid" release was "Metroid: Other M" in 2010.
Even if a "Metroid" announcement isn't made during the Nintendo Direct event later today, that doesn't mean the video game franchise is dead and gone. In fact, during E3 2013, Official Nintendo Magazine Editor-in-Chief Chandra Nair said that Michael Kelbaugh, CEO of Retro Studios, told him that Retro essentially had to decide whether it wanted to make a "Metroid" or a "Donkey Kong" game first. They opted for the latter, implying that Retro will turn its attention to "Metroid" once "Donkey Kong Country: Tropical Freeze" is released later this year. In case you don't remember, Retro Studios developed the "Metroid Prime" series.
What's more, considering that Wii U sales have been weak since Nintendo released the Wii U last fall, it can't afford to neglect any of its flagship franchises. It needs to embrace all of them, including "Metroid," now more than ever. It's inexcusable that the Wii U still doesn't have a proper "Metroid" game. This needs to change as soon as possible.
Will Nintendo make a "Metroid" announcement during its Nintendo Direct event later today? We'll find out soon enough.
What do you think of today's Nintendo Direct event? Do you think Nintendo will make any surprise announcements? Why or why not? What updates do you expect Nintendo to give on upcoming Wii U and 3DS games? Sound off in the comments below.
© Copyright IBTimes 2023. All rights reserved.
FOLLOW MORE IBT NEWS ON THE BELOW CHANNELS