North Korea Nuclear Halt: Challenges and Opportunities for the U.S.
ANALYSIS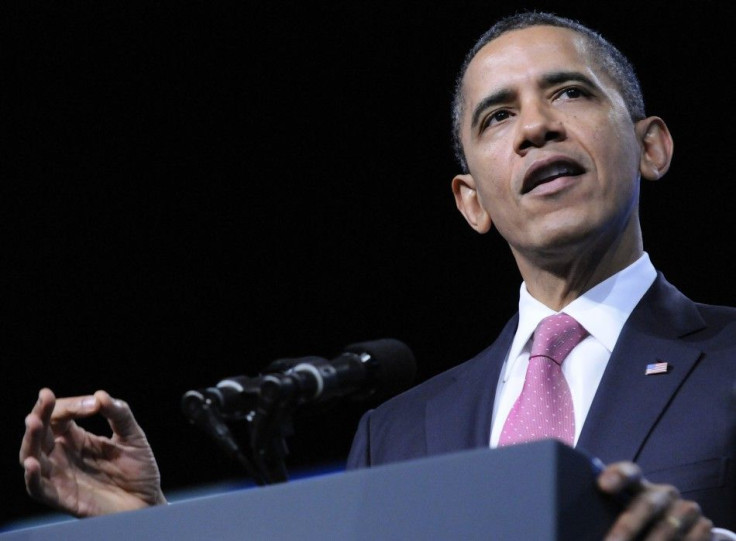 Last week, the Communist state of North Korea agreed to halt its uranium enrichment program and long-range missile tests in exchange for 240,000 metric tons of food aid from the U.S. Pyongyang officials also agreed to allow inspectors from the United Nations' International Atomic Energy Agency (IAEA) to visit and monitor its nuclear complex in Yongbyon in order to verify the moratorium.
The stunning development was met with cautious optimism by the U.S., South Korea and China, and hopes are increasing that North Korea will re-engage six-party talks designed to de-nuclearize the Korean Peninsula.
In the United States, the news comes amidst a presidential election campaign.
International Business Times spokes to an expert on U.S. politics and foreign policy to ascertain how North Korea's decision may impact Barack Obama's re-election hopes and other topics.
Jamie Chandler is a professor of political science at Hunter College in New York City.
IB TIMES: North Korea has agreed to halt uranium enrichment, as well as nuclear and long-range missile tests, in exchange for food aid from the U.S. Obviously this agreement has been brewing for weeks, but do you think this will lead to full six-party disarmament talks that were disrupted in 2009?
CHANDLER: The resumption of six-party talks is a ways off. China's special representative on Korean Affairs Wu Dawei told reporters over the weekend at a Chinese People's Political Consultative Conference National Committee that it's hopeful talks will resume as soon as possible, but Dawei's statement was informal.
The Chinese are cautious, as are the other countries involved in the discussions. Agreement from South Korea is one of the biggest factors, but they have gone on record as rejecting such a possibility. Although this weekend they said that the door was "slightly open".
IB TIMES: This deal comes just two months after the death of Kim Jong-il. Does it signal a new horizon for U.S.-North Korean relations with the emergence of his son, Kim Jong-un?

CHANDLER: The U.S. hopes that Kim Jong-un's leadership will be more flexible than his father's, but given North Korea's recalcitrant history toward peace and its propensity for brinksmanship, the situation remains tenuous.
Moreover, Jong-un's order to put troops on high alert and his militaristic language during his visit to the demilitarized zone on Saturday is another sign of North Korea's "hot and cold" attitude toward reconciliation.
Also, Jong-un lost an opportunity to use the speech to signal a positive tone. Instead he played to the status quo -- reinforcing a message that his country continues to face a dangerous threat from its sworn enemies.
It's also questionable as to how much influence Jong-un has over his military. North Korea's hard-line generals have heavy sway over the nation's defense policy. The Uranium Enrichment program suspension is just one of many positive actions that will need to happen before a new horizon comes into sight.
IB TIMES: We've only heard subtle reactions from Chinese and the Russians on the North Korea news. Why have they remained cautious thus far?

CHANDLER: Chinese Foreign Ministry spokesman Hong Lei said last week that China is willing to play a constructive role in bringing about long-term stability to the Korean Peninsula. Russia, China, and Japan, have been facilitating rapprochement talks for months, with one even taking place in Beijing. But Kim Jong-il will need to make stronger efforts to indicate his commitment to peace before China and Russia more actively embrace these steps. Given that five year's worth of diplomacy lead to the break-up of the Six-Party Talks in 2009, this is a distant possibility.
IB TIMES: North Korea agreed to end its nuclear program back in 2005 in exchange for food and economic aid – why did they fail to live up to that promise? What makes the 2012 "agreement" any different?
CHANDLER: The 2005 agreement failed because the U.S. Treasury compelled Macao-based Banco Delta Asia to freeze Pyongyang's accounts. The bank was laundering $25 million worth of North Korean funds. The Macao government's subsequent restrictions on the monies caused the Six-Party talks to fall apart.
North Korea then conducted its missile test in July and its nuclear test in October of 2006. This year's agreement is a bit more positive, because North Koreans may fear that the spread of Arab Spring, political reforms in Myanmar, and an attack on Iran's nuclear program could further isolate North Korea.
IB TIMES: Will North Korea's latest agreement to halt uranium enrichment help Barack Obama's re-election campaign? Or will he downplay it since it's so early in the story?
CHANDLER: President Obama is under pressure to make substantial headway with both North Korea and Iran's nuclear ambitions. If he can achieve some successes, they'll bolster his record and election campaign.
The Republican Party thus far has focused its 2012 agenda on economic growth and religious issues, but once the GOP wrap up their nomination process the nominee will most assuredly fire some strong shots at the President's foreign policy record.
IB TIMES: How, if at all, will this play into Obama's meeting with Israel PM Benjamin Netanyahu this week? Since the Israelis are apparently keen on launching a military strike on Iran to stop its nuclear program, will Obama try to persuade Netanyahu that economic sanctions are the best way to pressure Tehran into giving up its nuclear ambitions?
CHANDLER: The President is going to have a difficult time convincing Netanyahu to delay military action against Iran. Israel is unlikely to see developments in North Korea as a sign that Iran could follow suit.
North Korea doesn't have good record of diplomacy, and the Iranian threat is too urgent for the country to pursue a less militaristic tone.
U.S. relations with Israel have also been strained for months, especially since Defense Secretary Leon Panetta revealed in early February that Israel could strike Iran this spring. The Israelis saw this as an attempt to bring about international pressure to obstruct Israel's attack plans.
Israel, as well as some Democrats has publicly questioned President Obama's statements and policies toward Israel so it's probably going to be a challenge to convince them to choose sanctions over bombs.
However, the President's rousing speech at the American Israel Public Affairs Committee on Saturday in advance of his meeting with Netanyahu today got rave reviews from its attendees. His speech set a positive tone for the meeting, and also supports his efforts to improve his relationship with Jewish voters -- the GOP is aggressively courting on the Jewish vote this election season.
© Copyright IBTimes 2023. All rights reserved.