Not End Of Story: Some Russia Watchers Skeptical After Putin Comments On Prigozhin Plane Crash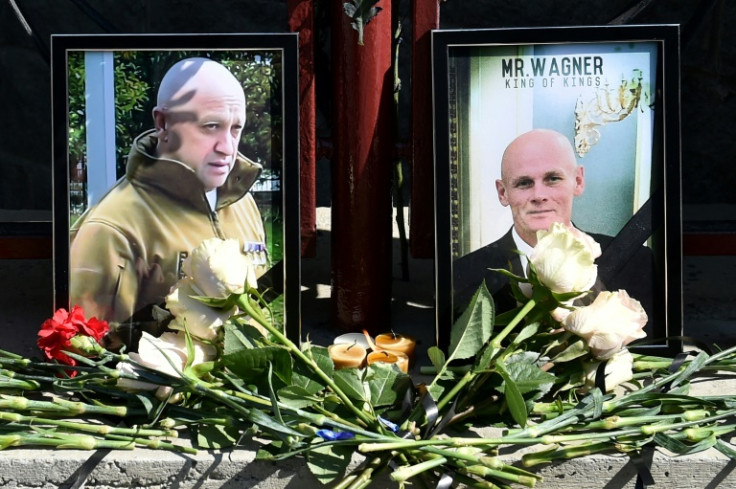 KEY POINTS
Most experts believe Prigozhin is dead after Putin's comments
Chatham House's Keir Giles warned against early assumptions about Prigozhin's death
His presumed death is expected to have an impact on the Ukraine war in the long run
Military analyst Mike Lyons believes Wagner mercenaries will take revenge
Wagner Group boss Yevgeny Prigozhin, who is known as the "Hannibal Lecter" of mercenaries, is presumed dead after a plane, where he was listed as a passenger, crashed Wednesday in the Tver region in Russia. But this may just be the beginning of a story, rather than the end. For one, there are many Russia watchers who believe Prigozhin is not dead.
Hours after news of Prigozhin's presumed death broke, theories emerged about the Russian mercenary chief possibly "faking death," or even evading death, after a second private plane linked to him landed safely near Moscow around the same time as the one supposedly with Prigozhin on board crashed.
Keir Giles, senior consulting fellow at the Chatham House's Russia and Eurasia Program, told International Business Times that there is "one huge caveat to the early reporting" around Prigozhin's presumed death. He argued that "multiple individuals have changed their name" as part of the warlord's efforts to obfuscate his travel details.
Russian President Vladimir Putin on Thursday said of Prigozhin, "he made some serious mistakes in life, but he also achieved necessary results." The "mistakes" were a reference to the Wagner PMC's uprising in June. The mutiny was the most serious threat to Putin's power ever in Russia. But it quickly fizzled out as Belarusian President Alexander Lukashenko, a Putin ally, helped negotiate peace and Wagner troops, who were on the way to Moscow, withdrew to camps within Belarus.
Putin also offered his condolences to the families of the 10 people who died in the crash -- seven passengers and three crew. "These are people who made a substantial contribution to our joint efforts of fighting the neo-Nazi regime in Ukraine. We remember this, know this, and won't forget it."
Interestingly, Putin never explicitly confirmed Prigozhin is dead although many see the comments -- made in the past tense -- as confirming Prigozhin's death.
But this is not the first time Prigozhin is reported to have died after a plane crash. In 2019, a Russian news outlet reported that his plane crashed in the Democratic Republic of the Congo. Two days later, another Russian news agency reported that the Russian mercenary chief was not onboard the plane and was alive.
British journalist John Sweeney talked about the 2019 incident Thursday, noting that Prigozhin is "kind of like a vampire" so there should be a little bit of "worry" when concluding whether or not Prigozhin was actually on board the plane that crashed in Russia.
But many experts are now holding the view that Prigozhin was on board the plane and was killed as part of an ongoing power struggle in Russia.
The sudden death of a strongman, once described as Putin's chef and who had had run-ins with the Kremlin, doesn't come as a surprise for most, James Nixey, Director of Chatham House's Russia and Eurasia program, told IBT. "Almost everybody inside and outside of Russia accept this is just the Russian way of doing things ... whatever the illogicalities, this is a significant part of 'Russian governance,' and showing power and control."
John Lough, associate fellow of Chatham House's Russia and Eurasia program, sees Prigozhin's presumed death as "another sign of the struggle for power" in the country.
U.S. President Joe Biden also hinted that the Kremlin leader could've been involved in some way. "There's not much that happens in Russia that Putin's not behind," he said Wednesday.
Brian Taylor, Russia expert, professor of political science at Syracuse University and director of the Moynihan Institute of Global Affairs, told IBT that he believes Prigozhin is dead and he agrees with Biden. "Putin made clear at the time he saw the mutiny as 'treason' and 'a stab in the back,' which he was unlikely to forget or forgive," he said.
Still, there is legitimacy behind speculations that Putin may not be behind the "hit" on Prigozhin as he had competitors in the business world and publicly bad-mouthed some senior generals ahead of his failed mutiny, wrote Stephen Sestanovich, Russia and Eurasia expert at the Council on Foreign Affairs (CFR).
Lynne Hartnett, chairperson of Villanova University's Department of History, told IBT that if she was a betting person, she'd put her money on the fact that the Russian warlord was dead. "It has been hard to imagine that he would be permitted to resume life as he knew it," she said.
There have been questions about the provisions of the deal that Lukashenko helped broker and whether Putin would actually allow Prigozhin to continue his usual activities and lifestyle after challenging the Russian military's top brass.
Doug Klain, a policy analyst and non-resident fellow at the Atlantic Council's Eurasia Center, said Putin may still have "needed" Prigozhin to manage Wagner operations in Africa when the deal was struck, but things could've changed after he saw an "opportunity to follow through on what seemed to be inevitable."
If Prigozhin's death is verified independently, its effects on the Ukraine war can't be ignored. Nixey explained that if Putin was behind Prigozhin's death, "none of this goes unnoticed" by the Ukrainian side. Killing "his [Putin] own countrymen in a very public fashion," instead of planting fear in Ukraine, may even encourage the Ukrainian side to press ahead and even "re-energize a flagging West" in continuing its support for Ukraine.
Syracuse University's Taylor agreed that Prigozhin's death will have some sort of impact on the war in the long run, especially if the "experienced core of Wagner" is not held together, considering how Wagner troops proved somewhat more effective in the war than the Russian military.
"Russian morale has long been an issue, and the seeming assassination of the one Russian figure who brought some military successes is likely to erode it further," Klain said.
Amid all this, there is also a fringe theory that Russia may be using the plane crash as a distraction to take the public's attention away from India's recent space achievement.
Chatham House's Giles said that while the crash Wednesday could have been a "deliberate assassination of Prigozhin," it could also well have been an effort by the Russian state media to distract the world from "humiliation by India landing on the moon."
Days before India's Chandrayaan-3 landed safely on the moon, Russia's Luna-25 crashed into the lunar surface – it was Moscow's first moon mission in nearly 50 years.
For some who have started piling flowers outside the Wagner Group's headquarters in St. Petersburg, it was the end of a former Putin war favorite, but retired U.S. Army major and military analyst Mike Lyons said Prigozhin has a group of mercenaries "that will likely avenge this."
If it was indeed an assassination, whoever planned it took that possibility into account, it seems. Dmitry Utkin, the shadowy figure in Wagner Group's operations, was also listed as a passenger on the crashed plane.
But there were already signs someone out there could be thinking about revenge.
Irish journalist Jason Corcoran, who covers Russia, tweeted a photo of a sledgehammer resting on a wreath of flowers at the makeshift memorial for Prigozhin in St. Petersburg. He said Wagner mercenaries used a sledgehammer to symbolize vengeance and used the weapon to execute Wagner fighters who fled the frontlines in Ukraine.
In the shadowy corridors of the Kremlin, stories never really end!
© Copyright IBTimes 2023. All rights reserved.