Obama The Antichrist? History Channel Denies Devil Of A Doppelganger Is Proof Of A Right-Wing Agenda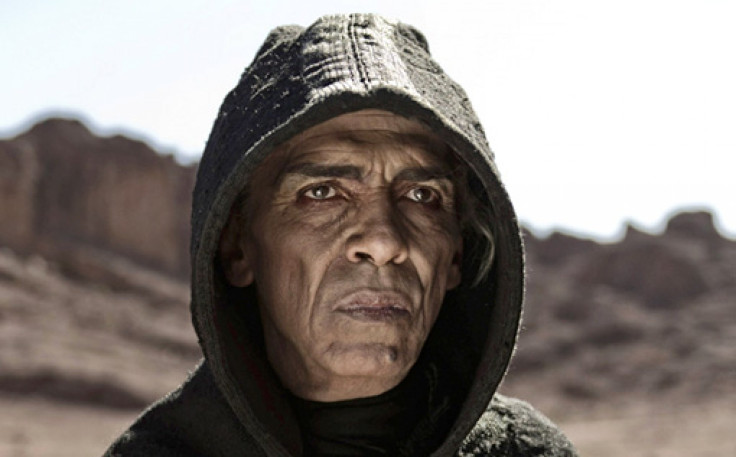 The actor cast to play Satan in the History channel's hit miniseries "The Bible" has sparked a fiery debate over what many viewers see as the character's uncanny resemblance to President Barack Obama.
Mohamen Mehdi Ouazanni played the Prince of Darkness in the episode that aired on Sunday, appearing in black-hooded garb reminiscent of Emperor Palpatine from "Star Wars." The actor's resemblance to the president was pointed out on Twitter by none other than Glenn Beck, who referred to Obama only as "that guy" in the following tweet:
Several news outlets picked up the story and ran with it Monday morning, and, as of Monday afternoon, the merits of the comparison were still being debated. Some wondered if perhaps the likeness is an intentional slap at the president and a nod to the disturbingly sizable segment of the population that truly believes Obama is the Antichrist. (For evidence of that segment's power in numbers, consider an amateur YouTube video called "Proof Obama Is the Anti-Christ" that has received more than 3 million views.)
So is the Devil-Obama likeness just a coincidence, or is there a more partisan force at work here? First let's consider the source. "The Bible," which takes viewers on a narrative journey through the Old and New Testaments, was created and produced by Mark Burnett and his wife, Roma Downey. Burnett, the reality TV mogul behind CBS's "Survivor," has championed many a conservative personality. He created Donald Trump's "The Apprentice," produced "Sarah Palin's Alaska" and discovered "The View" co-host Elisabeth Hasselbeck, who got her start on "Survivor: The Australian Outback" in 2001. But he also donated $2,300 to Obama's reelection bid in 2007, according to Newsmeat (which does not list any other political donations made by Burnett). Downey, meanwhile, is an avowed devout Catholic best known for playing an angel on CBS's "Touched by an Angel," and she doesn't have any overtly stated political affiliation.
In a joint statement Monday, Both Burnett and Downey vehemently denied that any similarity was intentional. "This is utter nonsense," the couple said. "The actor who played Satan, Mehdi Ouzaani, is a highly acclaimed Moroccan actor. He has previously played parts in several Biblical epics, including Satanic characters long before Barack Obama was elected as our president."
History, too, came out swinging with its own statement: "History Channel has the highest respect for President Obama," the network said. "The series was produced with an international and diverse cast of respected actors. It's unfortunate that anyone made this false connection. History's 'The Bible' is meant to enlighten people on its rich stories and deep history."
Nevertheless, History is building up quite a history of conservative-bias accusations. In 2011, it planned to air the conservative writer Joel Surnow's "The Kennedys," but it aborted those plans after the project came under fire from some Kennedy historians who said it promoted a blatant right-wing agenda. And last year, History was criticized by media watchdog Gay & Lesbian Alliance Against Defamation, or GLAAD, which said the network ranked dead last in providing LGBT-inclusive content.
History is owned by A&E Television Networks, which is jointly owned by Hearst Corp. and Disney-ABC Television Group, a unit of the Walt Disney Company (NYSE:DIS).
History's "The Bible" attracted 13.1 million viewers during its premiere episode, the strongest of the year for a cable program. The series airs Sundays at 8 p.m. through Easter.
Got a news tip? Send me an email. Follow me on Twitter: @christopherzara
© Copyright IBTimes 2023. All rights reserved.