Occupy LA Campers Face Midnight Eviction Deadline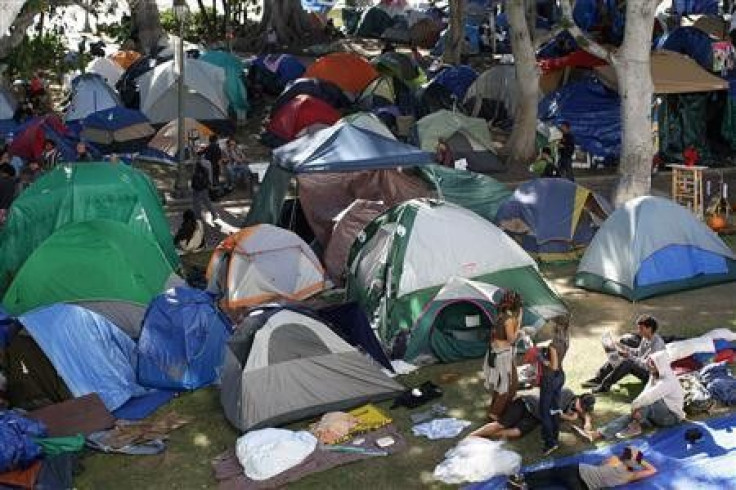 (Reuters) - Hundreds of anti-Wall Street protesters who have camped outside Los Angeles City Hall for weeks faced a midnight eviction deadline on Sunday with plans to throw a party they hoped might forestall a raid.
Mayor Antonio Villaraigosa said on Friday that the Occupy LA protesters would be given until 12:01 a.m. on Monday to dismantle their tents, pack up their belongings and clear out -- or face forcible removal.
The Los Angeles encampment is among the oldest and largest on the West Coast, aligned with a two-month-old national Occupy Wall Street movement protesting economic inequality, high unemployment and excesses of the U.S. financial system.
We're assuming they're going to raid us Monday morning, said Tim Trepanier, 43, of Fond du Lac, Wisconsin, volunteering at the Los Angeles camp's welcome tent.
Staking its place since October 1 on the grounds surrounding City Hall, the compound has grown to roughly 400 tents and 700 to 800 people, organizers and municipal officials said. At least a third are believed to be homeless people.
An activity sign posted at the entrance to the camp's media tent listed a final round of workshops on Saturday, with sessions titled: Know your rights, LAPD spying and surveillance and Nonviolent tactical training.
For Sunday, in large, red lettering, the sign read: EVICTION CONCERT, above the words, Party until the power gives out!
Los Angeles has been relatively accommodating to its Occupy group compared to other major cities, with Villaraigosa at one point providing rain ponchos to campers during bad weather.
But after the collapse of negotiations aimed at persuading protesters to relocate, the mayor said it was time to close the park and repair the grounds so that we can restore public access.
Villaraigosa has ordered police to enforce an eviction if necessary but said he hoped to avoid violence that has erupted in other cities when officers used night sticks and tear gas to drive protesters from camps or to keep them from returning.
Former U.S. Marine Scott Olsen was critically injured in one such confrontation last month in Oakland, California, a clash that helped rally supporters of the Occupy protests nationwide.
Occupy LA campers spent much of the weekend removing and placing into storage their more valuable equipment to keep it from being damaged or confiscated, including an array of solar panels, power generators, computers and a makeshift library.
Organizers said they also had been seeking alternate sites where protesters could relocate, at least temporarily.
Diana Vance, 55, said protesters hoped to attract enough outside supporters to the site to forestall eviction.
Vance said members of the group were committed to nonviolence, but she added, I'm thinking the general mood is, 'come get us.'
© Copyright Thomson Reuters 2023. All rights reserved.