'October Baby' Looks At Abortion From The Pro-Life Angle: Film's Makers Hope It Sparks A Conversation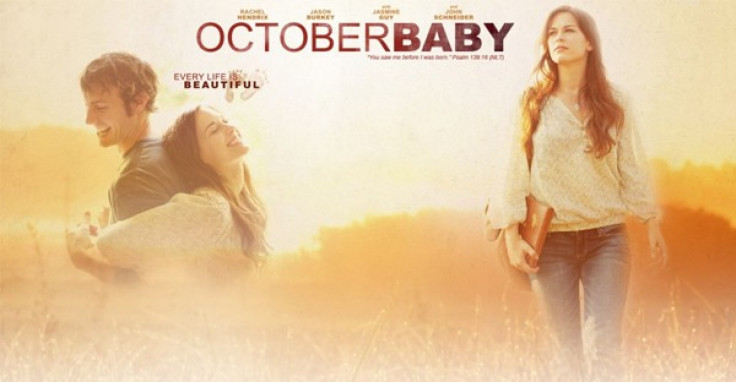 Abortion, birth control, and women's reproductive rights have been making headlines lately, and a new film that examines abortion will look at the subject from the pro-life angle.
October Baby is in theaters this weekend. The movie tells the story of a woman who sets out to find her mother after she learns that she was put up for adoption following her mother's attempt to abort her pregnancy.
October Baby was inspired by a real-life story one of the film's makers heard about -- the story of anti-abortion activist Gianna Jessen. Jessen's mother tried to abort her when she was seven months pregnant, and the procedure failed.
I'm not a politician. I'm not an activist, Jon Erwin said. I am just a filmmaker who was shattered by a true story.
The Erwin brothers met difficulty every step of the way trying to get October Baby made. They were met with hesitation while shopping the script with studios -- and trying to get it distributed once it was made was just as difficult.
When we took it to the studios, they were scared of it, Andrew Erwin said. They said they wouldn't touch the subject.
Thanks, but no thanks, the distributors said to them. There was a point of real despair, Jon Erwin said.
The brothers decided to put their money together and make the film themselves. It cost $800,000 and took 20 days to make.
Still faced with the distribution issue, October Baby got a break when Mississippi's conservative American Family Association decided to support a limited release and the movie did well. The Erwin brothers were then able to raise $3 million through investors and get October Baby a larger release.
The film will be played mostly in the South with limited release in the Northeast. It has been previewed in about 150 churches and other organizational settings. It has been advertised mostly on Fox News, the Hallmark Channel, and the Country Music Channel.
The Erwin brothers said they just want October Baby to lead to discussion.
The biggest thing we want to do is for people to confront indifference and apathy, Jon Erwin said. This conversation warrants discussion. And I hope we can get it.
October Baby stars Jasmine Guy, John Schneider, Jason Burkey, and newcomer Rachel Hendrix. Ten percent of the profits from October Baby will be donated to Every Life Is Beautiful, which gives money to charities that oppose terminating pregnancies and support adoption.
© Copyright IBTimes 2023. All rights reserved.