'Orange Is The New Black' Stars Kelly Karbacz, Beth Dover Tease Timely Season 5 Political Messages
Change is coming to Litchfield whether you like it or not in Season 5 of "Orange Is the New Black." The inmates have taken over the facility in the latest installment of the Netflix original series and they're not going to give up until the increasingly abusive administration starts seeing them as human beings.
Season 5 takes place "in real time," spanning the course of just three days. Kelly Karbacz, who plays white supremacist leader Kasey Sankey on "OITNB," assures fans that while the timeline is short, the 13 episodes will cover a lot of ground. Speaking with the International Business Times, she teased "beautiful" backstories, topical storylines and so much more.
"You're going to get these amazing moments with the people that inhabit Litchfield. You're going to get backstories that are beautiful and shed light on the people there," she told IBT. "What's great about Season 5 [of 'Orange Is the New Black'] is you're able to see what happens inside the prison and how it impacts people outside."
Read: 'Orange Is the New Black' Star Taylor Schilling Teases Lots Of 'Politics' In Season 5
As for her character, Karbacz says "OITNB" viewers will get better acquainted with her in Season 5. She promised a deep dive into her life and how she came to be the person she is today. Karbacz also says viewers will be surprised by the Sankey they meet in this season of the show.
"You definitely learn a little bit more about Sankey and her life and you see different sides to her," she said.
The Queens, New York, native told IBTthat Sankey reached a turning point in her life in Season 4 of "OITNB." The current state of Litchfield will push her to continue in that new direction, putting her biases aside "for the greater good." Karbacz praised Jenji Kohan, who created the show, as well as the writers, for creating the multidimensional character.
"Jenji and our writers are really brilliant at showing the humanity of these characters," she said. "What was amazing in Season 4 was to be given these moments of possible redemption where [Sankey] pulls back."
Karbacz credits doubt for the change in her character. During her chat with IBT, the "OITNB" star said Sankey is acting on an ideology that's been "ingrained in her." She teased a possible shift in ideals, however, saying that Sankey may come to realize she "can come from a place of love and support and inclusivity" in Season 5.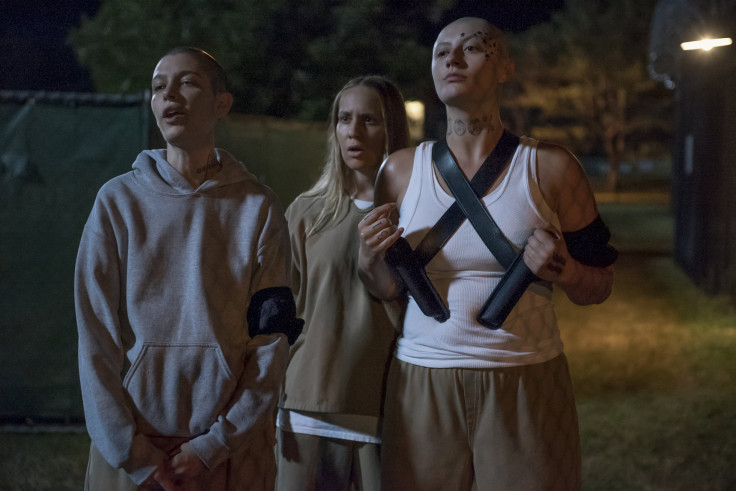 In addition to taking viewers back in time to get to know their favorite characters better, "OITNB" will continue to deliver timely social and political messages. Karbacz feels that Sankey and friends will be key in that effort, because, as she says, outside of the world of the show such extremists "have become emboldened by the current administration."
She added that while "OITNB" is not technically set in the present day, Kohan and the writers have done an excellent job of incorporating current events.
"Seeing [the white power movement] really come to the forefront — I think [Season 5] really mirrors today's society," she said. "What's happening in the world is that people's rights are being stripped away and there's an uprising — a resistance. That's exactly what's happening in Litchfield."
Beth Dover, who plays Linda Ferguson on "OITNB," echoed Karbacz's sentiment, calling Kohan and the writers "such geniuses." She added that the show has forced people who may not otherwise have to face such problems to connect to them in a different way. Dover told IBT that people can ignore the news when it doesn't directly affect them, but things resonate differently when they're happening to characters you've grown to love.
"You can sort of ignore it if it's not a part of your day to day life [but] then you watch a show like ['Orange Is the New Black'] and get invested in the characters and you're able to relate in some way to people's struggles that aren't your own."
Read: 'Sesame Street' Parodies 'Orange Is the New Black'
While Dover and the rest of the "OITNB" cast have been instrumental in creating apathy amongst viewers, the actress has doubts about her own character's ability to do so. While there's little to no chance of Linda changing her tune completely in Season 5, Dover revealed she'll finally have to face the music. In fact, she says the Litchfield riot's going to be "a rude awakening" for her character, whom she described as "clueless" and "a sociopath."
"Linda's definitely a character that you love to hate," Dover said. "She's definitely going to have to face things because she's there. She's in the prison during the riot. She can't avoid it any longer."
"OITNB" Season 5 is currently streaming in its entirety on Netflix.
© Copyright IBTimes 2023. All rights reserved.
FOLLOW MORE IBT NEWS ON THE BELOW CHANNELS