Oscar 2012: Host Billy Crystal's Opening Monologue and Movie Montage Poke Fun at Oscars [VIDEO]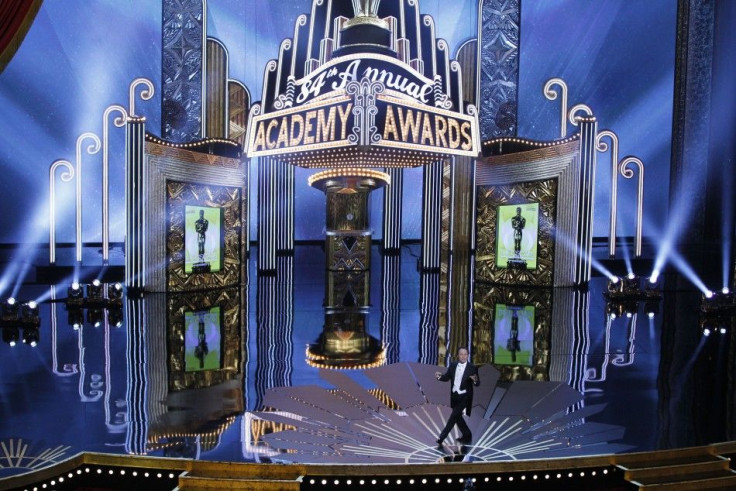 (Reuters/Gary Hershorn)
Comedian Billy Crystal hosted the 84th Annual Academy Awards Sunday.
The host has the important duties of keeping the theater and audience alive with energy through scripted and improvised jokes and songs. After Eddie Murphy and Brett Ratner backed out a few months ago, Crystal agreed to host the 84th Academy Awards for the ninth time.
The 2012 Academy Awards began this year with an opening movie montage featuring host Crystal dropping into some of the films nominated for Oscars this year. After the sequence, Crystal appeared on stage glowing for his ninth time as host. Following a brief introduction, the seasoned host called himself "war horse" and broke into his signature Oscar song.
In his song and subsequent jokes, Crystal poked fun at the economy, the Academy's decision to drop "Kodak" from the sponsored name of the awards ceremony and the fact that there were nine films nominated for the "Big Picture" award instead of the traditional five.
"So tonight, enjoy yourselves because nothing can take the sting of the world's economic problems like watching millionaires present each other with golden statues," Crystal joked.
Watch Billy Crystal's Opening Movie Montage:
Watch Billy Crystal's Opening Monologue:
Related Article: Oscar Nominations 2012: Watch Trailers of the 9 'Best Picture' Nominees [VIDEOS]
Related Article: Billy Crystal Wore Blackface in Controversial Oscars Opening Montage: Offensive or Not? [VIDEO]
© Copyright IBTimes 2023. All rights reserved.