Oscars 2013: Did Host Seth MacFarlane Go Too Far, Or Not Far Enough?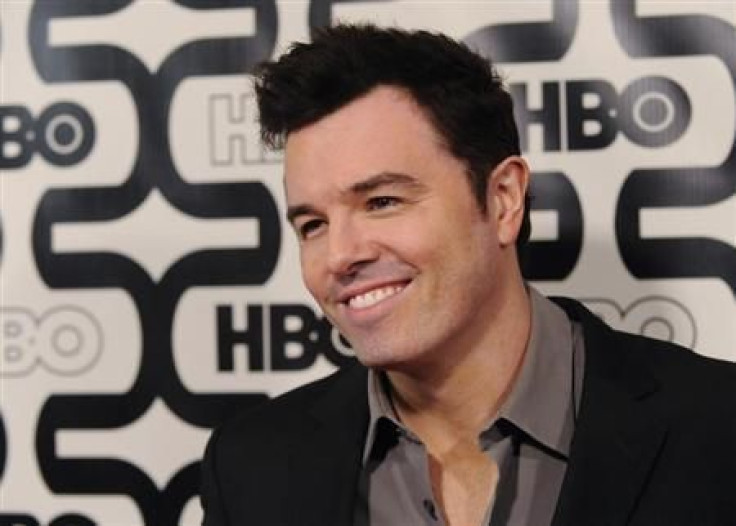 It's a little early for 2014 Oscar predictions, but this one's a pretty safe bet: Seth MacFarlane won't be hosting.
The irreverent "Family Guy" creator has been earning a slew of negative reviews for his hosting stint at the 85th annual Academy Awards ceremony on Sunday, and if consensus is any indication, the Academy will not be eager to ask him back. Among the adjectives being used to describe MacFarlane's frat-boy shtick are banal (the Atlantic), boring, (Think Progress), unfunny, (Time), self-indulgent (USA Today), sexist (Slate) and just plain stupid (Rolling Stone). IBTimes' Eric Brown mused that MacFarlane might have been the "worst Oscar host ever," although it's hard to imagine James Franco being beaten that easily. The question is, are all these attacks on MacFarlane warranted?
It's one thing to knock MacFarlane for his lack of emceeing prowess. The host appeared noticeably nervous and awkward through much of the early ceremony, and his inexperience in front of an audience was evident throughout. But is it fair to slam MacFarlane for the profane and puerile nature of his humor? True, he sang about women's breasts, joked about domestic violence and made a tasteless crack about Lincoln's assassination for the express purpose of getting booed, but that is pretty much how he makes his living, and the Academy knows that. So in that sense, MacFarlane did what he was hired to do.
The long-running "Family Guy" is successful not because it's necessarily brilliant, but because it commits so fully to the insult-everyone formula that fuels prime-time animation. Nothing is sacred on the series, and therefore no one is safe from its incessant grade-school jabs. Understanding this unwritten contract, few of us outside of the Parents Television Council would ever be offended by the show. It's a cartoon, after all.
The Oscars, however, are a different story. The problem with Sunday's telecast is not that MacFarlane told low-brow jokes and insulted celebrities: He's been paid handsomely to do that for the last 11 years. The problem is that such outsider irreverence and insult humor has never really played well to the Oscar crowd, both for those inside the Dolby Theatre and those of us viewing at home. Anyone who would sit through four hours of self-congratulatory kudos does so out of a sheer love for movies. To the Oscars faithful, the cinema is God's chosen medium. Chip away too much at that movies-are-magic façade and you'll inevitably end up seeming like an uninvited party guest, which is exactly how MacFarlane came off: like a babyish buzzkill sent to sully Hollywood's biggest night.
What is odd is that the Academy should have already learned this lesson. In 2004, it hired Chris Rock to host the ceremony for much the same reasons that it hired MacFarlane: to attract younger viewers and shake things up with a little unpredictability. And by most measures, Rock succeeded. The comedian helped boost the telecast's ratings in the coveted 18-34 demographic (although overall viewership declined that year), and he drew from his stand-up sensibilities to unleash a barrage of barbs at the expense of the red-carpet elite.
But it turns out the elite don't want to be barbed on Oscar night. Rock's joke about Jude Law being in "every movie I have seen for the last four years" angered both the actor and his peers. (Sean Penn irritably came to Law's defense later in the evening when he took the stage as a presenter.) Law later told the New York Times, "I got angry as [Rock's] remarks became personal."
Rock was not asked to host the ceremony again, and since that time the Academy has experimented with safer outsider-host incarnations, including Jon Stewart and Ellen DeGeneres. But nothing has stuck. After abandoning the template with the universally panned James Franco and Anne Hathaway in 2011, the Oscars fell back on their old standby with Billy Crystal, who returned last year to host the awards for the ninth time after Eddie Murphy unexpectedly dropped out. The verdict? Crystal seemed stale, out of touch, even "lame," according to the Los Angeles Times.
Determined not to make the same mistake again, the Academy this year chose an outsider host so far outside the inner circle of Hollywood royalty he should have nothing to lose by going full on Don Rickles-style insult-comic commando. MacFarlane, fresh off of a director's stint for this summer's "Ted" and a well-reviewed hosting gig on "Saturday Night Live," seemed like the ideal choice. But what looked good on paper, didn't quite work in practice -- mainly because MacFarlane, as evidenced from last night's performance, is no Don Rickles. Smirky and self-conscious, he never fully committed to his role as the unflinching shaker-upper, at least not in the same way he is able to do from behind the shroud of animation. And that's a shame because MacFarlane, with his squeaky-clean looks and natural singing voice, could prove himself to be an adept showman, if given time to adapt to the role.
The old adage in comedy is that nothing is off limits as long as you're funny, but it's hard to be funny when you're straddling a line between provocateur and people pleaser. Jokes about Quvenzhane Wallis being "too old for George Clooney in 16 years" would probably go over better if they weren't coming from someone who seemed to be secretly longing for acceptance. For that, the Academy could've just stuck with Billy Crystal. And next year, it just might.
© Copyright IBTimes 2023. All rights reserved.