Oscars 2018: Best Actress Winner Frances McDormand Honors Female Filmmakers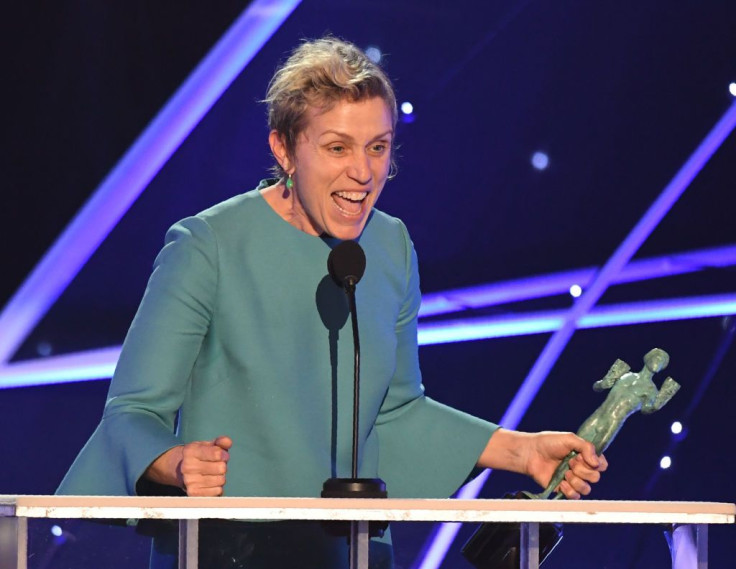 Frances McDormand may have won the best actress award at the 2018 Oscars, but she made sure her acceptance speech was about all of the talented women in the room. The actress, who was recognized for her role in "Three Billboards Outside Ebbing, Missouri," took to the stage to accept her coveted trophy on Sunday night and praised the women seated in front of her.
McDormand, who faced off against Margot Robbie for "I, Tonya," Meryl Streep for "The Post," Saoirse Ronan for Lady Bird, and Sally Hawkins for "The Shape of Water," asked her fellow nominees to stand up alongside the other female nominees in the audience.
The star explained that there was so much female talent in the audience who had stories to tell, but required financial assistance to make their works a reality. "We all have stories to tell. Invite us into your offices and we'll tell you all about them," McDormand urged industry executives.
The actress suggested these higher-ups should avoid bringing these important conversations up during the after parties, and wait until after the award season to discuss the possibilities.
McDormand ended her speech by leaving the audience with something to think about when it comes to employing women in Hollywood. "I have two words for you: Inclusion rider."
According to "2 Broke Girls" creator Whitney Cummings, the term is often seen in Hollywood contracts.
"An inclusion rider is something actors put into their contracts to ensure gender and racial equality in hiring on movie sets," she tweeted shortly after McDormand's speech.
Cummings went on to suggest the rider isn't used as often as it should be, and insisted it needed to become a staple in the industry. "We should support this for a billion reasons, but if you can't find a reason to, here's one: it will make movies better," she added.
McDormand received a standing ovation for her emotional speech, and walked off stage triumphantly clutching her Academy Award.
© Copyright IBTimes 2023. All rights reserved.