'Outlander' Star Sam Heughan Reveals How He Works Out Despite Crazy Schedule
TV shows are known for their hectic schedules, and "Outlander" is no exception. Despite often working 12 hour days on the Starz drama, star Sam Heughan has to maintain Jamie Fraser's impressive physique throughout the season. In an interview with Roark Gyms in South Africa, Heughan revealed that he has finds ways to adapt his workout session despite his intense schedule.
"Our schedule changes all the time," Heughan explained Saturday during the Facebook Live interview. "Last week, we were doing night shoots [for 'Outlander' Season 3]. We start at 2 or 3, pick up in the afternoon, and then we're finishing at 4 or 5 in the morning. Yeah, it's tough. And then you're like, 'When do I eat? When do I train?'"
Heughan, who founded the subscription workout program My Peak Challenge, revealed that he sometimes shortens or alters his workouts based on what he can fit in on the "Outlander" set. "It's about, I guess, adapting and not pushing yourself to a point where you're stressed about it, but also fitting it in when you can," he advised. "If you can't fit in that hour and a half workout or that hour workout, why not go do 20 minutes? Or get up early and just go for a walk?"
READ: "Outlander" EP Ronald D. Moore Teases Season 3
Though "Outlander" just wrapped for the season, the actor won't be taking a vacation from hectic shooting schedules. Deadline reports that he is in negotiations for a lead role in "The Spy Who Dumped Me," a comedy co-starring Kate McKinnon and Mila Kunis. The movie will shoot this summer while Heughan is between seasons of "Outlander."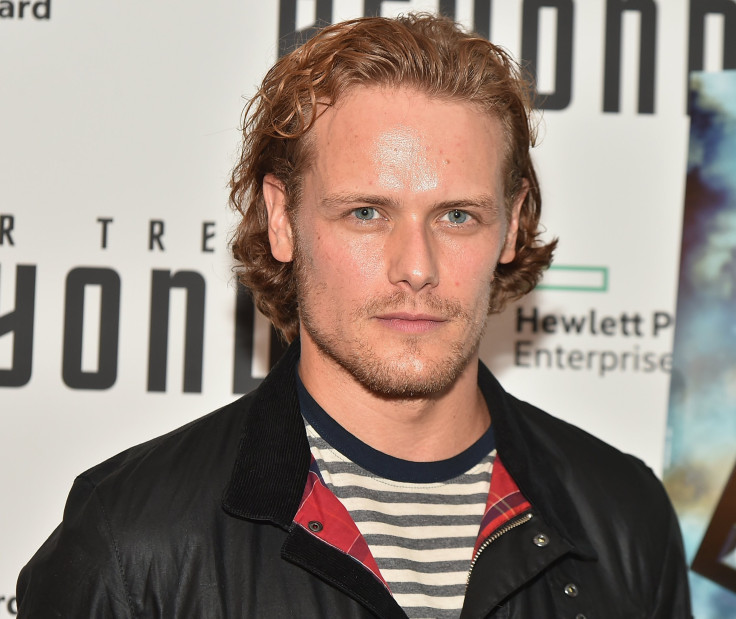 While workouts are important, the Scottish star, 37, also revealed that his diet plays a big role in his fitness routine. He started intermittent fasting recently, and not eating for periods of time has helped him. "I found a lot of benefits from it," Heughan told viewers. "[I] sort of eat within a window of eight hours, which was my chosen fast, so 16 hours of time you're not eating. You can eat basically whatever you want within that 8 hours within reason. I really found after the first few days of hell, it actually released me. I felt not controlled by 'Oh, I need to eat now.'"
READ: Sam Heughan Hates Filming These "Outlander" Scenes
Heughan was on the Facebook Live with his trainer, who was sure to note that beginners shouldn't try intermittent fasting 7 days a week right away. He recommends starting with two or three days a week to see how your body reacts.
While it's no surprise that the "Outlander" star is dedicated to fitness, he revealed that he does eat candy occasionally. "I do eat chocolate and I actually started when I was here," he revealed while at the Cape Town gym. "Like dark chocolate. A little piece at nighttime, especially if you're fasting. You don't want to drink alcohol or eat dessert, but a little square of 90% dark chocolate [is great]."
He also indulges in the occasional adult beverage. Photos from the final scene filmed for "Outlander" Season 3 show Heughan and onscreen wife Caitriona Balfe enjoying beers to celebrate finishing the season.
"Outlander" Season 3 will premiere on Starz in September. An exact start date has yet to be revealed.
© Copyright IBTimes 2023. All rights reserved.