Pamela Mitzelfeld: Who Is 'Tall, Blonde, Stacked' Professor in Student's Sexually Suggestive Essay?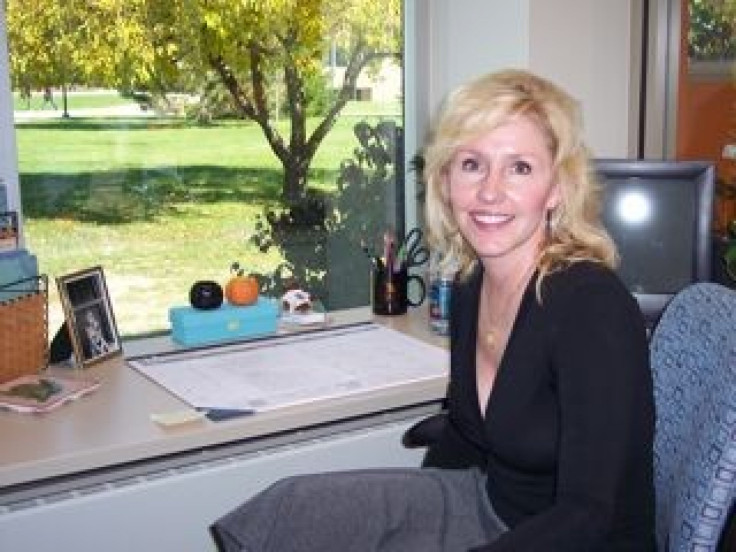 Pamela Mitzelfeld, an English professor at Oakland University, inspired the sexually suggestive journal entry of a 56-year-old student, Joseph Corlett, late last year, sparking a legal battle between Corlett and the Michigan-based university.
After submitting a journal entry in which he described Mitzelfeld as tall, blonde, stacked smart, articulate, Corlett was asked to leave campus. Corlett claims he was inspired by the 1984 Van Halen song Hot for Teacher and says that he was unaware that there were any limitations on the subject matters on which he could write about in his journal.
I asked [Mitzelfeld] on multiple occasions if there were topical restrictions on the daybooks, and on every occasion -- often in front of other students -- she told me no, Corlett told ABC News. In the entry, he also compared Mitzelfeld to Ginger from Gilligan's Island.
At the time of the controversy, the 56-year-old was pursuing a degree in writing and rhetoric at Oakland University. He works as a counter-top refinisher and has been married for over 30 years to his wife, Lynn. However, Corlett's life has become complicated after Oakland University charged him with intimidation for his sexually suggestive essay.
The questionable incident began in September when Corlett enrolled in Mitzelfeld's advanced English class. Professor Mitzelfeld requires students to keep a journal during their time in her course, which she refers to as a daybook. Corlett told ABC News that the students are encouraged to write their uncensored thoughts in the books, which can later be used to compose more polished essays.
When Mitzelfeld reviewed Corlett's daybook in November, problems began to arise. Corlett told ABC News that she initiated a university review of his conduct and gave him instructions to temporarily stay out of her class. When he returned one day, he was asked never to return again and was escorted out by campus police.
Oakland University initially pursued charges of intimidation and sexual harassment against Corlett. Although, the charges for sexual harassment were later dropped, Corlett was asked to leave campus when he was found guilty in a campus hearing for intimidation. According to ABC News, Corlett was suspended for three semesters and banned from returning to Oakland University until he seeks psychological counseling.
ABC News reports that Corlett has appealed the university's punishment, but Oakland University's response is still pending.
The real issue is the First Amendment, Corlett told ABC News. It's about academic freedom and about due process. These are the real issues of the case, and the sooner we can get past the titillation of it and see those issues, the better.
Corlett has hired legal assistance to fight Oakland University's charges.
I have no doubt in my mind that the university had no authority to boot him off campus, said Brian Vincent, a Michigan-based litigator working with Corlett to challenge Oakland University's rulings. His speech was completely protected, and the University of Oakland's actions at this point have been completely baseless and illegal.
Mitzelfeld and Oakland University have declined offers to comment to ABC News.
Mitzelfeld has tried to remain out of the media spotlight throughout the legal battle between Oakland University and Corlett. However, according to an email made public by the Foundation for Individual Rights in Education, Mitzelfeld wrote to the university that she was worried Corlett would bring a gun into her classroom.
Due to our recent discovery that Joseph Corlett has made his gun obsession obvious to other colleagues and has managed to make himself known in negative ways to so many other females on campus, I am feeling increasingly uncomfortable and unsafe, she wrote. As he has written letters to our school newspaper defending the right to carry concealed weapons on campus, I cannot feel safe knowing that he might have a weapon with him at any time.
Mitzelfeld is the assistant director of the Writing Center at Oakland University and also works as a professor in the English department and Honors College. She made it clear to the university in the fall that if Corlett were not removed from her classroom she would not continue to work as a teacher, the Huffington Post reports. Mitzelfeld has been teaching in the university's department for nearly twelve years.
I try to keep a good sense of humor about it, keep things as engaging as possible, and do my best to create a classroom community, Mitzelfeld told Oakland University journalism graduate student Jake Thielen. I like the fact that when students leave my classes they generally know people they didn't know when they first came into class and they've made some friends. That's important to me as well.
Although she graduated from Oakland University with a Master of Arts degree in English, she did not initially know she wanted to be a teacher. While waiting for a meeting with an advisor during her studies, she overheard him giving advice to another student.
I just thought at that moment that's what I'd like to do. I'd like to be able to work with students and help them, so teaching became the thing I wanted to do, Mitselfeld told Thielen.
It seems Mitzelfeld has succeeded in making an impact on her students. RateMyProfessors.com, a popular website used by college students to evaluate professors, gives Mitzelfeld a 4.9 out of 5 stars in overall quality. Students' comments indicate that Mitzelfeld is one of the best professors, extremely helpful, very helpful, passionate about English literature, and cool.
However, it also seems Corlett was not the only student to notice Mitzelfeld's looks. Students on RateMyProfessors.com repeatedly comment that Miztelfeld ishot and she has received a red hot chili for the hotness rating on the site.
© Copyright IBTimes 2023. All rights reserved.