Panetta's Visit To Asia Unlikely To Assuage Sino-Japanese Nationalist Anger
ANALYSIS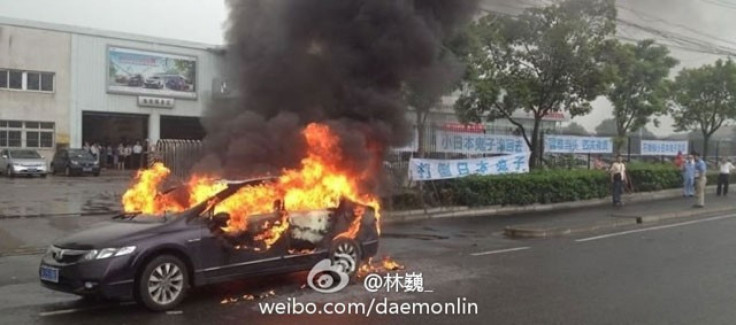 Anti-Japanese protests flaring up across China struck more than 50 cities in the country over the weekend. In some major cities, like Changsha, Qingdao, Xi'an, Shenzhen, and Shanghai, demonstrators vented their anger by smashing Japanese shops and department stores, burning flags, breaking electronics, or in other cases they overturning and burning cars.
In Beijing, protesters behaved with somewhat more self-restraint, simply pelting the Japanese Embassy with eggs and paint. But overall, the broad expressions of belligerence against things Japanese is creating concern that the displays of outrage may translate into physical attacks on Japanese residents.
The Japanese prime minister, Yoshihiko Noda called on the Chinese government on Sunday to protect and ensure the safety of Japanese citizens in China -- while Japanese diplomatic offices in the country have offered travel warnings and advisories.
The recent demonstrations in China have been sparked by the Japanese national government's formal purchase of three islands in what it calls the Senkaku Islands, from a private Japanese owner. China instead claims the group as the Diaoyu islands and opposes Tokyo's historical claims on the area as illegitimate.
The Japanese government's recent move, originally explained by Prime Minister Noda as a means to deflate rising tensions by preventing the purchase by the governorship of Tokyo, has backfired in a major way. Tokyo governor Shintaro Ishihara, noted in the region for his strong stance against Chinese and Korean nationalists, originally proposed the purchase during mid-April.
China is now coming to an end of a self-imposed voluntary summertime fishing prohibition in the East China Sea. Initially, China-watchers were concerned that as ships from the Chinese coast sailed out of harbors on Sunday, many would head into contested waters near the Senkaku/Diaoyu Islands.
Those concerns erupted in a major way on Monday, as prominent Chinese and Japanese media agencies announced what appeared to be an impromptu Chinese shipping fleet, some 1000-strong, now headed to the waters near the disputed sea zone and islets.
Already patrolling the area are coast guard vessels from Japan, mainland China, and Taiwan -- to variously show the flag and publicly display their claims on the islands.
The arrival of the Chinese fishing ships could force the Japanese coast guard to carry out arrests and boardings of Chinese vessels, though it seems doubtful that they would be able to do so against so many, especially while being occupied with Chinese maritime surveillance ships at the same time. Taipei, like Beijing, denies Tokyo has a legitimate claim to the islands and insists they belong to China (that is, the Republic of China, on Taiwan).
On Sunday, Japan's diplomatic community suffered other setbacks. A new ambassador to China, Shinichi Nishimiya, died suddenly and coincidentally in Tokyo, having just postponed his arrival to Beijing three days prior. Nishimiya was expected to replace outgoing ambassador, Uichiro Niwa, a former CEO of Itochu who was believed to have leveraged his business connections in China to improve relations between the two countries.
That's setting a precarious stage for U.S. Secretary of State Leon Panetta as he arrives in Beijing on Monday. Panetta, who has just finished finalizing a plan with Japan to help expand the missile defense shield shared by their alliance, is expected to face multiple pressures on his trip in China.
Whether Panetta will be able to assuage both or even either side may turn out to be overly optimistic. This was to be Panetta's first official trip to Beijing as defense secretary, coming after a year of what appeared to be improving military-to-military exchanges between China and the U.S. (earlier this year, Chinese Defense Minister Liang Guanglie visited U.S. defense institutions and centers across the U.S. in a goodwill trip).
In an interview with Foreign Policy Magazine before his departure, Panetta mentioned that the U.S. has "urged both China and Japan to do is to resolve these disputes as peacefully as possible."
But in a nod to just how difficult region relations were, Panetta noted that "there are a lot of concerns in that area, issues dealing with nuclear proliferation, issues dealing with the whole question of maritime navigation rights, issues dealing with trade that have to be dealt with."
Panetta added that taking on the role of an international mediator, the U.S. would urge China and others to "develop a mechanism that allows all of these countries... to come together in a peaceful way to try to resolve these challenges."
Panetta is expected to meet with Xi Jinping -- widely considered to become the next President of China -- who has been at the center of wide media speculation in the West due to an absence from public view over the past two weeks.
Analyst expected Panetta's visit with top ranking Chinese leaders to focus on setting the tone for future security engagement between the two countries, but it now appears that discussions about Japan will be unavoidable, not to mention China's other maritime tensions with respect to nations in the South China Sea.
The growing outbursts in China are already increasing fears that the row between China and Japan could translate into further escalations, perhaps in trade, perhaps -- unimaginably worse -- into open military conflict.
But the worst may be yet to come. Expectations are that major protests will flare up again on Tuesday September 18, a pivotal date in modern Sino-Japanese relations.
Eighty-one years ago on that day in 1931, the Japanese Imperial Army then posted to northeastern China engineered a fake attack on a Japanese-owned railway in the area as a pretext for the wholesale takeover of Manchuria (recognized as under Chinese sovereignty but not directly governed by the Chinese capital, then in Nanjing). The series of events, known popularly in China as the September 18 Incident, in Japan as the Manchurian Incident, and in the West as the Mukden Incident, is commonly seen in China as one major step among many in Japan's early 20th century designs to take over the country.
That historical setting means that as Chinese nationalists vent their displeasure at Japanese control of islands in the East China Sea, a reminder about differing interpretations of history in a region sensitive to past humiliation may set the tone for expanding demonstrations.
But China-watchers looking beyond the anti-Japanese dimension alone are quick to point out that the recent actions have at least something to do with general social frustrations (and the need for a public outburst) as much as they do with resentment towards Japan.
More sober-minded Chinese are criticizing the acts of violence against Japanese business and products, saying attacking Japanese goods are simply leading to damage against Chinese domestic business (which carry the products) or to Chinese stores, restaurants, and shops which simply offer services with a Japanese theme. Chinese companies, and even Japanese companies in China, have been quick to put up signs and Chinese flags, in an effort to convince attackers of their patriotic sentiments.
© Copyright IBTimes 2023. All rights reserved.