Paywalls, Profits And Pageview Journalism: Ethics In The Digital Age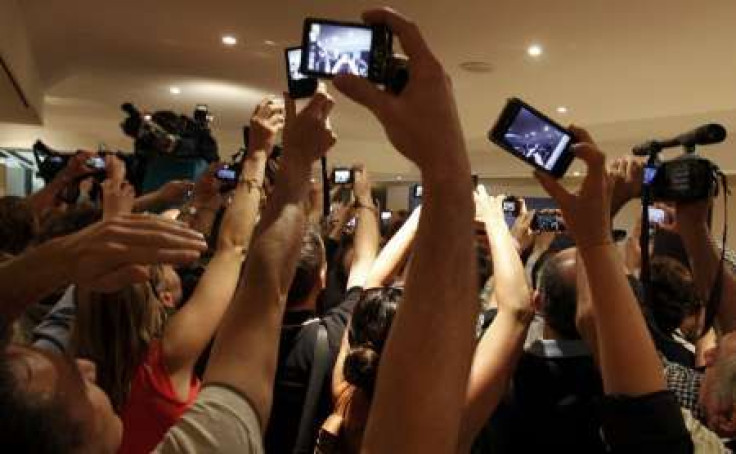 December was an unusually busy month for those whose job it is to debate media ethics. It began with a divisive New York Post cover photo of a man about to be killed by a subway train, intensified with the media-fueled Facebook outing of a misidentified school shooter, and came crashing to a close with the Journal News' publication of an interactive Google Map that contained all the names and addresses of pistol-permit holders in two New York counties.
Some see the ethical dustups as a symptom of an increasingly insatiable 24-hour news ecosphere, an endless cycle driven by social media and an ever-growing need for viewers and Web traffic. Others contend that sensationalism and knee-jerk reporting are as old as the news itself (revisit William Randolph Hearst, for argument's sake). The only thing that is getting worse, they say, is our collective memory, clinging to the deluded notion of journalism's nobler past.
Kevin Z. Smith, chairman of the Society of Professional Journalists' ethics committee, disagrees with those who believe there is nothing new about our sensationalist news atmosphere today. He said the ethics committee -- which fields phone calls via an ethics hotline -- received an "unprecedented" number of complaints this year from both journalists and the public. The most common charge, Smith said, was aimed at journalists with perceived conflicts of interest who show clear bias in their reporting.
"There is a growing concern that we are moving further away from strong ethical decision making," Smith said. "The year was highlighted by a national election, and it gave us a diet of biased reporting, political posturing and cheerleading by networks and their staffs, the likes [of which] we have never seen."
But some media professionals see turmoil in the industry not as a sign that journalism is moving away from ethics, but rather as evidence that digital tools such as social media are pushing the industry in a more positive direction. "What we're seeing is the rise of accountability in media," said Jeanne Brooks, digital director of the Online News Association. "Citizens have a more active voice in news production today. They have more of a connection to news, so I'm not surprised that the Society of Professional Journalists is receiving more complaints. It means that people are participating more."
Brooks doesn't view some of the recent media controversies as decisively unethical. For instance, in regard to the Journal News' decision to publish the names and addresses of law-abiding gun owners, she said that such incidents are often viewed differently in hindsight. In other words, many of the same critics who are instinctively wagging fingers at the newspaper for invading gun owners' privacy may eventually come to see that a public good has been served by publishing the information. "It's really too early to make a judgment," she said.
She may have a point. Consider that when the New York Times first published the "Pentagon Papers" in 1971, perceived security threats caused a huge public uproar and a legal fight between the Times and the U.S. government that made it all the way to the Supreme Court. But the decision to make classified documents about the Vietnam War public was a career-defining move for Arthur Ochs Sulzberger, one that ultimately shaped the direction of the Times, the war and journalism itself.
Whom Can You Trust?
It's been 37 years since Howard Beale delivered his "mad as hell" speech in the movie "Network;" distrust in the American media is not exactly new. And as news consumers have become savvier about the sometimes-shady inner workings of the media business -- allegiance to advertisers, the need for ratings -- that distrust has only grown. In September, an annual Gallup poll found that 60 percent of Americans have "little or no trust in the media's ability to report the news fully, accurately and fairly." It's the highest percentage since the poll began in 1997.
In digital media, distrust manifests itself instantly. Last month, when the viral news website BuzzFeed published a factually inaccurate feature story criticizing the online cartoonist Matthew Inman, it was the cartoonist himself who took to the Internet and publicly debunked the piece. "This is pageview journalism," Inman decried. "This is character assassination."
The implication was clear. BuzzFeed's article -- barely edited, rushed to publication and stuffed with keywords -- suffered from a terminal deference to the almighty click. The business model of online news is one that today's Web-dwellers are all too familiar with, and that fluency fuels a hive-mind mentality whose default setting is skepticism.
The Nonprofit Promise
But what if news sites operated under a different model, perhaps one that wasn't dependent on advertising? Could such a model rekindle the public's trust in the Fourth Estate? A few years ago, when the newspaper industry was collapsing in on itself, the concept of nonprofit journalism began igniting warm, tingly feelings in those looking for a way to preserve it. If journalism could be subsidized by, say, donations and government grants, it could make up the shortfall left by the hemorrhaging of ad revenue.
Soon, nonprofit online news websites such as Voice of San Diego and Minneapolis' MinnPost.com started making headlines for doing the kind of investigative, community-oriented reporting once done by local newspapers. Sara Libby, managing editor of the Voice of San Diego, told IBTimes that the nonprofit model has freed up her small team of reporters, allowing them to fulfill the role of community watchdog without having to yield to the whims of Twitter's trending sidebar.
"There is absolutely a freedom to cover the kinds of stories we think are important," she said in a phone interview. "Because we're not beholden to advertisers, we're not tethered to page views. Obviously we want our work to reach as many people as possible, but we don't feel pressure to add a Justin Bieber headline just for the traffic."
Before joining the Voice, Libby cut her teeth on more traditional, traffic-oriented websites such as Politico. She admits that, while the Voice of San Diego has built a strong bond with its readers, its nonprofit model hasn't eliminated public distrust or accusations of bias. "People are always wary," she said. "We have very large-dollar donors, so of course people are going to perceive conflicts of interest when we tell certain stories."
Nonprofit journalism is not a new idea. NPR is a nonprofit organization, as is PBS, two of the most trusted news sources in the country. But those are well-established exceptions. In order to qualify as a tax-exempt 501 (c)(3) under the federal tax code, an organization has to meet stringent criteria. Most nonprofits are religious, charitable or educational in nature. Journalistic endeavors, despite their First Amendment protections, are often seen as for-profit ventures that do not qualify. In the past, nonprofit news outlets have gotten around this stumbling block by publishing magazines under umbrella organizations with nonprofit missions. (To cite one example: Mother Jones, the left-leaning political magazine, is published by an educational nonprofit called Foundation for National Progress.)
But in the last few years, as more and more news companies have applied for nonprofit status, the government has gotten cagier about granting tax-exempt status to news outlets. Moreover, as the American Journalism Review's Jodi Enda pointed out in September, running a nonprofit is ultimately no easier than running a business, and in the years since the nonprofit-news model gained popularity, it has produced as many failures as successes.
Of course, it would be impossible to discuss alternative digital-news models without bringing up paywalls -- one of the most hotly debated topics on the Internet. Support them or not, paywalls on newspaper websites are skyrocketing, with about a third of all daily newspaper readers now being affected by them, according to Poynter. Most newspaper paywalls use the metered approach -- that is, they allow readers to access a certain number of free articles per month before prompting them to subscribe.
The model is proving successful for newspaper companies, at least in terms of bottom line. The Wall Street Journal reported in October that newspaper stocks are up 50 to 80 percent this year as investors have been encouraged by the new revenue brought in from subscriber fees. Conventional wisdom would suggest that paywalls could affect trustworthiness as well, as most of us would probably not want to pay for a news source unless we had some degree of faith in it. But with newspaper paywalls being such a new phenomenon, there is not a lot of hard data to back up this assumption.
The Future Is Now
If the foreseeable future of news is mostly for-profit, that means we're stuck with the dependence on advertising -- and all the sensationalism, bias, pandering and punditry that goes along with it. Where that will leave journalism ethics in the years to come depends on whom you ask. SPJ's Kevin Smith said that news outlets must continue to work extra hard toward rebuilding the public trust by striving for objectivity. "If 2013 moves us further down the road to this kind of journalism, we will spend another year undermining our collective reputations, credibility and integrity," he added. "The challenge is to be brave and bold to reverse this trend."
Jeanne Brooks made a more optimistic prediction about the coming year. "News and information are being influenced in a way that has never happened before," she said. "Internal policing, journalists calling each other out on Twitter -- I think there's the potential for our media to get better and better. We're already starting to see it."
© Copyright IBTimes 2023. All rights reserved.