NFL 2014: Peyton Manning, Eli Manning Lead Top Sports Family Dynasty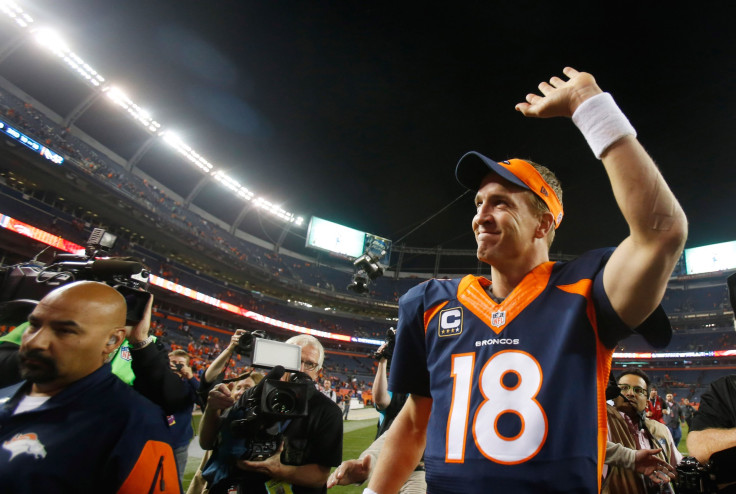 Peyton Manning has thrown 510 touchdown passes over the course of his illustrious NFL career, but few were more special than his third score in the Denver Broncos' win on Sunday night. The catch by Demaryius Thomas put Manning first in the record books, making him the all-time touchdown leader, surpassing Bret Favre.
Manning's 17 years of successes and failures in the league often lead to debates about his place in NFL history, but there's no denying that he's among the greatest players to ever step on a football field. He's a perennial winner, reaching the playoffs 13 times, and is likely to hold most major quarterbacks records when he's finally ready to retire.
As the top pick of the 1998 NFL Draft, Manning's accomplishments should come as no surprise. His pedigree is second to none, considering his father and brother have also had extended careers as NFL quarterbacks. Archie Manning, Peyton's father, was one of the league's best quarterbacks in the 1970's. Peyton's brother, Eli Manning, was taken with the No.1 overall draft pick in 2004, and he's in the middle of what has a chance to be a Hall of Fame career.
Neither Archie nor Eli has experienced the success of Peyton, but both have spent periods of time near the top of the sport. Archie never reach the playoffs, but he had strong individual seasons and was selected to two Pro Bowls. Eli has had his share of regular-season struggles, but he's become known as the ultimate winner, nabbing two Super Bowl MVP awards.
Cooper Manning could have been the third son of Archie's to play in the NFL, had it not been for a medical condition that forced him to quit playing football. He was set to play at Ole Miss in 1992, having been an all-state wide receiver in high school.
They've played for different NFL teams and went to different colleges, but Peyton and Eli have had similar careers in a lot of ways. At Tennessee, offensive coordinator and quarterbacks coach David Cutcliffe helped turned Peyton into the top pick in the draft. Soon after Peyton started his NFL career, Cutcliffe did the same for Eli as the head coach of Ole Miss.
Both quarterbacks had their own hurdles to overcome, prior to winning a Super Bowl and silencing many of their critics. Peyton's title in 2007 has put him in the conversation among the best to ever play the position, while Eli was considered a marginal starter before he was his first championship.
Together, all three quarterbacks have thrown for 127,641 yards and 878 touchdowns. While no family has matched the success of the Manning's in the NFL, others have come close in different sports.
In baseball, the Bonds and Griffey families might rank as the best in a sport that's filled with impressive father-son combos. Bobby Bonds was a three-time All-Star and hit 332 homers, while son Barry is the all-time leader in home runs (762), though his legacy has been criticized due to suspicions of using performance-enhancing drugs. Ken Griffey Sr. had an impressive career that spanned 18 years, as a three-time All-Star and two-time World Series champion. Two years before the outfielder retired, Ken Griffey Jr. burst onto the MLB scene and became, arguably, the greatest player of his generation. The Griffeys actually played on the Seattle Mariners at the same time.
The Barrys of the NBA might be the closest thing that any sport has to the Mannings. Rick Barry, who is one of the league's all-time great players, is the father to three sons who were talented enough to play in the pros. While the eldest brother, Scooter Barry, failed to play in the NBA, Jon Barry played from 1992 until 2006, while Brent Barry's career consisted of two NBA championships and a Slam Dunk Contest championship. Youngest son Drew Barry also played in the league, but he only competed in 60 games over three seasons.
Hockey is the least popular among the "Big Four" team sports, by the Hulls take a backseat to no sports family. Bobby Hull and son Brett Hull totaled 1,351 goals in the NHL, while Bobby's brother, Dennis Hull, added 303 goals of his own. Both Bobby and Brett are in the Hockey Hall of Fame.
Outside of team sports, the Andrettis might be the gold standard for families in sports. Led by Mario Andretti, the family once had four members race in the same series. The late Dale Earnhardt and son Dale Earnhardt Jr. have great success in NASCAR.
© Copyright IBTimes 2023. All rights reserved.
FOLLOW MORE IBT NEWS ON THE BELOW CHANNELS