Philadelphia Eagles News: Tim Tebow Gaining Ground On No.3 QB Spot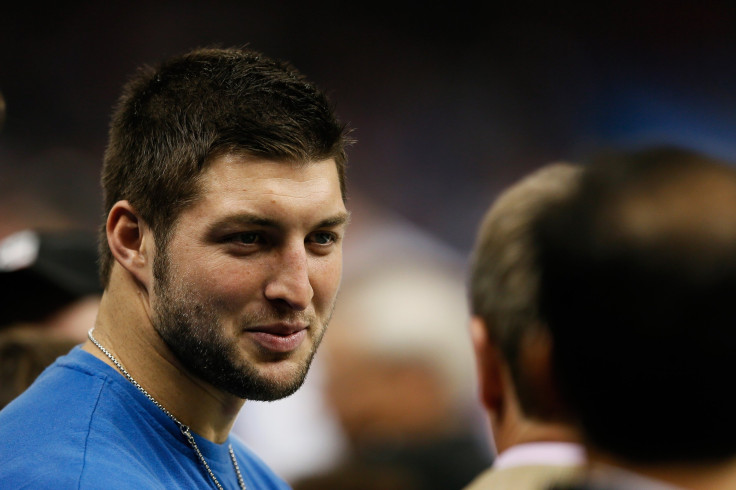 Tim Tebow, whose rise and fall have prompted numerous headlines since his NFL arrival in 2010, appears set to make the Philadelphia Eagles' 53-man roster. It's been more than two seasons since Tebow recorded a statistic, but the contentious quarterback has raised eyebrows in training camp with passes thrown with "uncharacteristic accuracy," according to the New York Post, and with Tebow receiving the bulk of third-team reps.
The Post reported that the 27-year-old completed about 11-of-14 passes and "carried the ball on several designed runs." It's a step in the right direction for the former Heisman Trophy winner, who is battling against plenty of competition.
Head coach Chip Kelly has four other quarterbacks under contract, with Sam Bradford and Mark Sanchez competing for the starting job, and Matt Barkley and G.J. Kinne in the mix with Tebow for the third-string job. While Bradford and Sanchez offer experience and a more polished passing game, the hard-running Tebow can provide Kelly with a possible dual threat in the hurry-up offense. Kelly isn't a conventional coach, and Tebow isn't a conventional player, making Tebow's prospects of seeing playing time all the better.
At the moment, Barkley is Tebow's top competition, but there is a decent chance that Barkley may be traded due to the logjam. In March, ESPN's Chris Mortensen posted on Twitter: "Matt Barkley can be had for late draft pick, though." Barkley also doesn't offer the Eagles much of a difference from Bradford and Sanchez, and was barely used in 2014.
Meanwhile, outside linebacker Brandon Graham recently offered positive comments about Tebow on Hot 107.5 in Detroit.
"I think Tim Tebow is going to shock a lot of people, because he's going to make the team, and I think he will play a lot," said Graham.
Graham's endorsement follow's Kelly assurances to the media that Tebow had made gains before minicamp.
"I have seen an improvement from Tim since the day we got him in terms of his knowledge of what we're doing, understanding where everybody is," Kelly told the Delaware County Times in June. "There's a whole process, and for him what we have done is different than what he's done anywhere else. So in terms of learning our terminology and how we do things, I think each week you've seen an incremental bump in him, so we're excited to see where that takes him and it'll be a good competition as we get into August."
It's been a long journey for Tebow. After being drafted by the Denver Broncos with the No. 25 pick in 2010 NFL Draft, he played two seasons in Denver and led the Broncos to a playoff win over the Pittsburgh Steelers after an 8-8 record in the 2011 regular season. Tebow would eventually move on to the New York Jets in 2012, where he failed to make an impact behind Sanchez and often played other roles outside of quarterback.
From there, Tebow sought to return to the NFL by working with quarterback gurus to improve his mechanics. There were reports that he made key strides, and was ready to join an NFL roster.
"Do I think he can play the quarterback position in the NFL? Yeah, no question," former NFL quarterback Chris Weinke told USA Today in June 2013, after working with Tebow. "Like I told Tim when I found out that he signed, 'You're locked and loaded, ready to go.'"
But Tebow failed to impress with teams, as the New England Patriots cut him before the start of the 2013 season and didn't get signed by a team in 2014. He would later accept a broadcasting position with the SEC Network before signing a one-year contract with the Eagles in April.
It hasn't all been positives for Tebow in 2015. He has reportedly had some sporadic passing troubles, and Eliot Shorr-Parks of NJ.com gave him a D+ grade for a training-camp practice on Sunday.
© Copyright IBTimes 2023. All rights reserved.
FOLLOW MORE IBT NEWS ON THE BELOW CHANNELS