Philip Morris International (PM) Wants Millennial Smokers, But Health Advocates Say Marlboro Ads Target Teenagers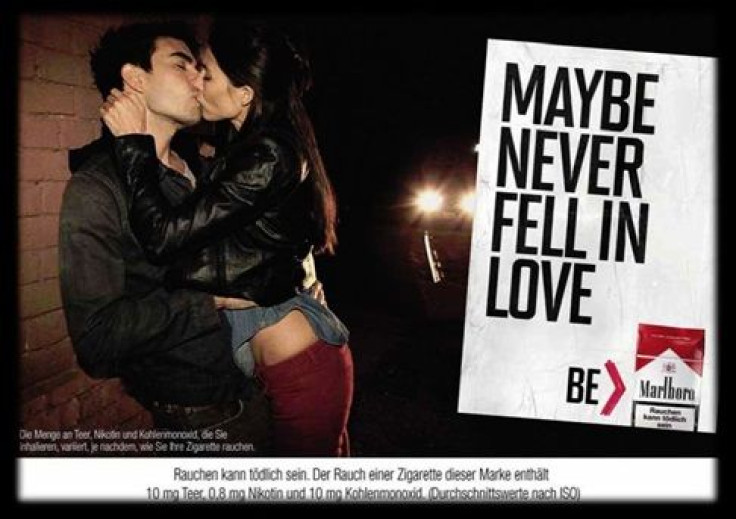 Where there's smoke, there's usually fire, but when Big Tobacco is involved, there's just more smoke. Such is the case with a multinational ad campaign for Marlboro cigarettes that appears to aggressively target teenagers and young people. Last week, a coalition of public-health groups released a report detailing the campaign, "Be Marlboro," and it called on Marlboro's parent company, Philip Morris International Inc. (NYSE:PM), to put an immediate end to it. Not likely. In response, the world's largest tobacco company has stuck to its long-standing mantra that it is not doing anything wrong.
Using billboards, print ads and commercial spots in countries throughout Europe and the developing world, the "Be Marlboro" campaign features an assortment of good-looking millennials engaged in an array of pleasurable pursuits -- from stage-diving at rock concerts to making out behind a brick wall. One commercial, produced in 2010 by Palermo Films in Buenos Aires, is essentially a techno-fueled montage of hedonism and half-naked bodies glistening off the flickering light of a beach-party bonfire. It ends, as do all the ads, with the catchphrase, "Be Marlboro."
The ads are particularly startling from the perspective of consumers in the United States, where tobacco ads have long been banned on television and billboards, and where youth-aimed cigarette advertising went up in a final plume of smoke in 1997 with the demise of Joe Camel. But health advocates say the "Be Marlboro" campaign offers a troubling glimpse at what tobacco advertising looks like in much of the world, particularly in countries like Indonesia and the Philippines, where regulations are few, enforcement is lax and rising populations of young people offer Big Tobacco the opportunity to reel in entire generations of new customers.
Cloe Franko, an international organizer at Corporate Accountability International, one of the groups that released the report, said the ads show the length to which tobacco giants will go to make their products attractive to young people, despite a 2003 World Health Organization treaty aimed in part at reining in cigarette marketing. She said it's up to local governments to intervene and institute bans on tobacco advertising, promotions and sponsorships. As for tobacco companies, Franko said they will clearly continue to act in their self-interests if left to their own devices.
"If this report is able to depict one thing it's that the tobacco industry absolutely cannot be trusted to self-regulate," Franko said in a phone interview. "The tobacco industry is built on a model that necessitates addicting new customers in order to replace those nearly 6 million smokers who die every year of smoking-related diseases."
Philip Morris, no stranger to criticism and typically unapologetic in the face of it, barely flinched before releasing a statement stressing that its Marlboro ads are both aimed at "adult smokers" and in full compliance with local laws. "Allegations to the contrary are unfounded and based on a subjective interpretation," the company said.
The company freely admits that is still using its marketing muscle to make its products appear attractive to consumers in parts of Europe and the developing world. "In those places where marketing and advertising is permitted, our campaigns are intended to inform current consumers of our brands in their choice and encourage smokers of competing brands to switch to our products," Iro Antoniadou, a Philip Morris spokesman, told IBTimes in an email.
It's not all going so swimmingly, however. In October, as the Local reported, officials in Germany banned the "Be Marlboro" commercials, citing a concern that they were too focused on getting young people hooked on cigarettes. Philip Morris challenged the ruling, saying it "lacks any basis in law and fact." A court case is ongoing.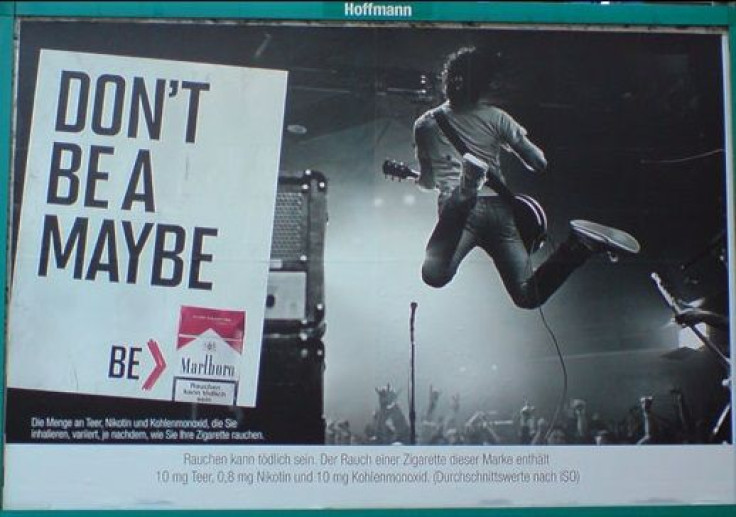 Jesse Bragg, Corporate Accountability International's press secretary, said the "Be Marlboro" campaign, which employs coercive slogans urging consumers to "be" the young-adult actors depicted in the ads, reeks of the same old youth-aimed tactics utilized by Philip Morris for decades. "This is just an updated 21st-century version of the Marlboro Man in a lot of ways, built for a global market as opposed to a U.S. market," he said.
In addition to Corporate Accountability International, the report, "You're the Target," was released by Campaign for Tobacco-Free Kids, Alliance for the Control of Tobacco Use Brazil, Framework Convention Alliance, InterAmerican Heart Foundation and Southeast Asia Tobacco Control Alliance. It's available online in four languages. Franko said the report has attracted an enormous amount of interest from advocates, consumers and the media. Asked whether there has been a backlash from smokers, she said "none whatsoever.
"In general, even smokers are in favor of stronger regulations," Franko said. "I think they recognize that they probably wouldn't be smoking themselves if they hadn't been targeted by such egregious advertising at a young age."
Got a news tip? Email me. Follow me on Twitter @christopherzara.
© Copyright IBTimes 2023. All rights reserved.