Pittsburgh Steelers vs. St. Louis Rams 2015: TV Channel, Start Time, Live Stream Info For Week 3 Game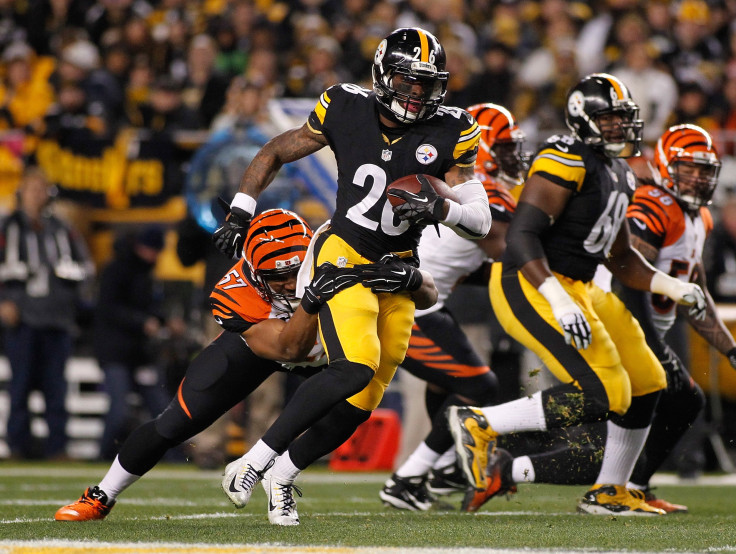 Heading into Week 3 of the 2015 NFL season, both the Pittsburgh Steelers and St. Louis Rams sit at 1-1. One of the two teams will move above .500 when they meet in St. Louis on Sunday afternoon.
Pittsburgh was unable to upset the defending Super Bowl champions in the season opener, but they dominated the San Francisco 49ers in Week 2. St. Louis upset the Seattle Seahawks in Week 1, but they lost by 14 points in their visit to Washington last week.
CBS will have the game at 1:00 p.m. ET, and fans who purchase NFLSUNDAYTICKET.TV can watch the game with a live stream online.
Returning Running Backs
The Steelers have been without Le'Veon Bell for the first two games because of a suspension, but the running back is set to make his return on Sunday. Rookie Todd Gurley missed the first two games because of a torn ACL he suffered last year, but wasn't listed on the injury report earlier this week and he's likely to make his NFL debut against Pittsburgh.
In Bell, Pittsburgh is getting back one of the NFL's most dynamic players. He ranked second in 2014 with 1,361 rushing yards,and his 83 catches were good enough for 19th in the league. Bell's 2,215 yards from scrimmage were the 22nd-most ever for one year, and he'll make an already explosive offense even tougher to defend.
Gurley has never played in an NFL game, and it's unknown what to expect from him in his debut. Gurley could split carries with Tre Mason, but the Rams could have a top rusher in Gurley going forward. Receiving a lot of praise as the best running back in the draft, Gurley ran for 911 yards in just six college football games last season.
A Tale of Two Offenses
Entering Week 3, Pittsburgh ranks No.1 in the NFL in total offense. If St. Louis pulls off the upset, it likely won't be in a shootout, considering only the Denver Broncos have fewer total yards.
Even without Bell, the Steelers have been able to move the ball easily in the first two games. De'Angelo Williams has been more than adequate, and his 204 rushing yards rank second in the league. Antonio Brown continues to be the NFL's top receiver, leading the league with 328 yards. Ben Roethlisberger led Pittsburgh to a 43-18 win in Week 2, and it will be difficult to keep the Steelers out of the end zone on the turf in St. Louis.
The Rams were one of the highest scoring teams in Week 1, putting up 34 points against the Seahawks. But one of those touchdowns came on a punt return, and they only rushed for 76 yards. Nick Foles followed up a solid game against Seattle with just 150 passing yards against Washington. Kenny Britt leads all St. Louis wide receivers with just four catches for 81 yards. Fortunately for the Rams, Steelers linebacker Ryan Shazier is out with an injury.
Top Defensive Line
The Rams might have to deal with the NFL's top offense, but the Steelers must contend with what might be the best defensive line in football. St. Louis' defense is led by their front four, and they'll do their best to disrupt Roethlisberger and Bell.
With eight sacks in two games, the Rams are tied for second in the NFL. The team's top pass rusher, Robert Quinn, has two sacks on the year. Aaron Donald has played as well as any defensive tackle, recording 2.5 sacks and 14 tackles. Before allowing the Redskins to have a big rushing game, the Rams limited Marshawn Lynch to 73 rushing yards.
Pittsburgh's offensive line has been terrific, allowing Williams to look like a top rusher for two weeks. Roethlisberger has only been sacked twice in 2015, and his mobility makes him difficult to bring down.
© Copyright IBTimes 2023. All rights reserved.