Police arrest five protesters in San Francisco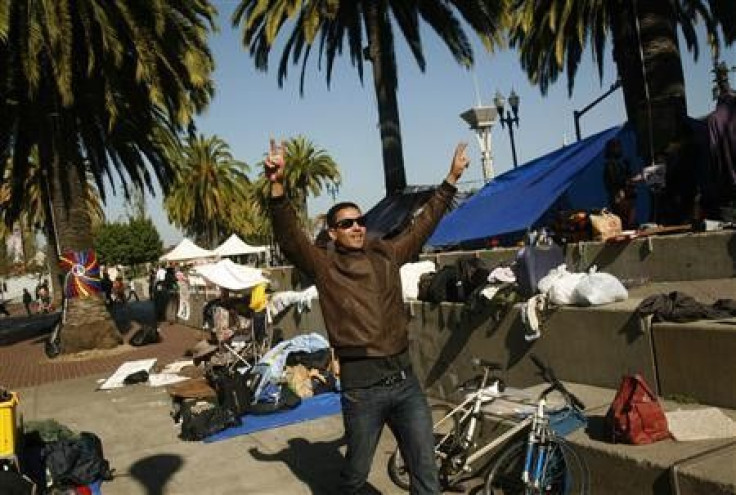 Five people protesting economic inequality were arrested in San Francisco on Sunday night for trying to stop the dismantling of their camp near the regional Federal Reserve building, police said.
Four protesters were charged with obstructing public works officials and a fifth was taken into custody for battery on a police officer, San Francisco police Sgt. Daryl Fong said.
Fong said police contacted protesters late on Sunday evening to request compliance with the parks code, which prohibits camping.
The issue was not them occupying the park, but rather the encampments, the camping tents and tarps, Fong said. We fully support them demonstrating and expressing their First Amendment rights.
When protesters refused the request and surrounded a public works vehicle summoned to haul away items, officers arrested them, he said.
They were warned to move or be arrested and the officers then took the enforcement action and took five into custody, Fong said.
One of the tires on the public works vehicle was slashed during the standoff, according to the sergeant.
Officers first noted camping paraphernalia on Saturday night, Fong said, as protesters moved from the sidewalk in front of the U.S. Federal Reserve building to a plaza.
No one was immediately available for comment from the protest group, whose website lists Justin Herman Plaza as the site of the camp.
The protests began in New York to highlight what demonstrators called Wall Street greed and economic inequality. They spread across the country over the last month and around the world over the weekend.
© Copyright Thomson Reuters 2023. All rights reserved.