Barack Obama Readies For Final TPP Push, Which Could Benefit Presidential Library Donors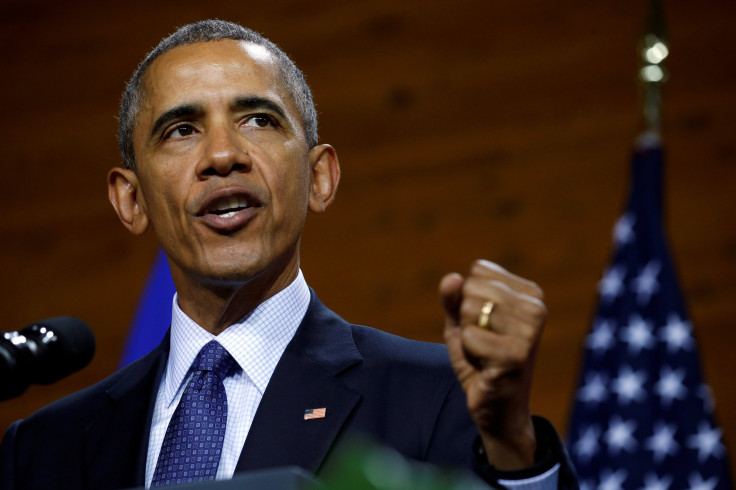 President Barack Obama last week renewed his push for the Trans-Pacific Partnership, suggesting that it will be easier to pass the deal after the elections are over. The idea is that lawmakers will then be more insulated from political influence.
Yet Obama has his own potential incentives to push for the TPP: His presidential foundation has been relying on support from industries that could profit from the agreement.
For instance, the TPP offers potential benefits to the finance sector, including expanded access to capital and investment opportunities in emerging markets, as well as what critics say are provisions that could dilute financial regulation in the United States. The progressive advocacy group Public Citizen says the deal "would undermine bans on particularly risky financial products" and "restrict capital controls, an essential policy tool to counter destabilizing flows of speculative money."
The same financial industry that could benefit from the TPP has forged deep ties to Obama's foundation. The organization's current president is J. Kevin Poorman, the CEO of investment firm PSP Capital Partners. PSP was founded by billionaire Penny Pritzker, daughter to a co-founder of Hyatt hotels, a longtime Obama ally and the current head of the U.S. Commerce Department. Other members of the foundation's leadership team include John Doerr of the venture capital firm Kleiner Perkins Caufield and Byers; Martin Nesbitt, co-founder of the private equity firm Vistria Group; John Rogers of the financial firm Ariel Investments; and Michael Sacks, chairman and CEO of the investment management firm GCM Grosvener. Doerr also serves on the board of directors for Google. In addition to helping steer the Obama Foundation, Sacks has given it somewhere between $500,000 and $1 million.
The foundation also reports that it has received somewhere between $500,000 and $1 million from Mark Gallogly, founder of the investment firm Centerbridge Partners and a former senior managing director at the Blackstone Group. The same goes for James Simons, founder of the investment management firm Renaissance Technologies LLC. Hedge fund founder David Shaw, former UBS President Robert Wolf and Tim Collins, CEO of the private equity firm Ripplewood Holdings, have each given between $250,000 and $500,000. Nicholas Aleskos of the private equity firm Madison Dearborn Partners has given up to $100,000.
Similarly, the TPP has been backed by the entertainment industry because of its stronger copyright protections. It has also been supported by producers of equipment for outdoor recreation, whose trade association said the deal's lower tariffs represent "substantial commercial benefits for outdoor product manufacturers and retailers."
Key figures in both of those industries are also major Obama Foundation donors: the foundation of director George Lucas recently donated between $500,000 and $1 million to the president's foundation, and Tom Campion, the co-founder of outdoor retailer Zumiez, gave between $250,000 and $500,000.
Good government activists have been sounding the alarm about presidential library fundraising for years. In a 2013 NBC News article about the George W. Bush library , Sunlight Foundation policy counsel Daniel Schuman described library contributions as "the wild, wild West of influence."
"Presidents often start raising money for these libraries while they're still in office, usually two or three years before they leave office, and money can come from anywhere — from foreign governments, from foreign officials, from lobbyists, from anywhere," he said.
Though few public officials will ever be in a position to launch a presidential library foundation, other politicians have nonprofits with similar disclosure rules and no limits on contributions. For example, Sen. John McCain, R-Ariz., has the McCain Institute Foundation, which in 2014 received $1 million from the government of Saudi Arabia.
By law, the Obama Foundation is not required to disclose all of its donors.
© Copyright IBTimes 2023. All rights reserved.