Business Groups Outraged By New Labor Regulations Expanding Paid Overtime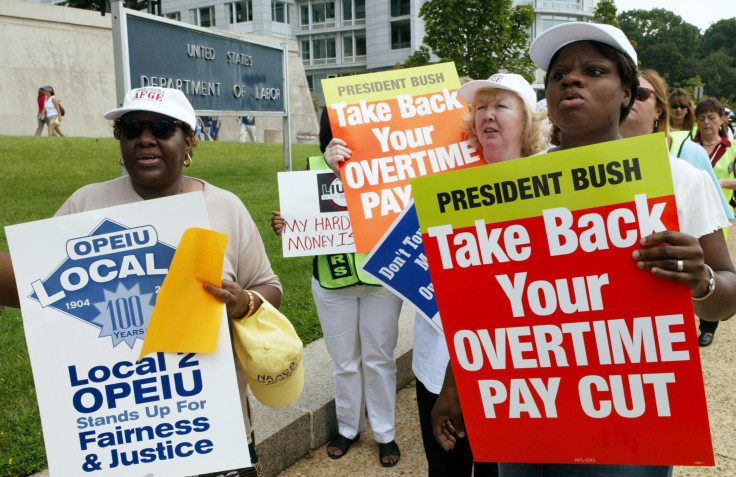 They knew it was coming, but that didn't make its arrival any less infuriating. On Tuesday, the Obama administration more than doubled the maximum salary a worker can earn while still being eligible for paid overtime — and many employers are mad.
Beginning Dec. 1, workers who earn a yearly income of $47,476 or less will be legally entitled to additional compensation any time they work more than 40 hours in one week. The previous threshold was $23,660 per year.
Industry groups have been lobbying against overtime expansion ever since the U.S. Department of Labor proposed an early version of the regulation last year. The powerful National Retail Federation has lobbied the Labor Department over the regulation in every filing quarter since it was first proposed, according to federal lobbying disclosures. The NRF has also lobbied Congress in support of the Protecting Workplace Advancement and Opportunity Act, legislation designed to thwart the overtime expansion.
In a Tuesday statement, NRF Senior Vice President David French denounced the final overtime rule as a "career killer."
"Most of the people impacted by this change will not see any additional pay. Instead, this sudden and extraordinary increase will mean more red tape and fewer advancement opportunities for salaried professionals," said French. "In the real world — as opposed to D.C. conference rooms filled with career bureaucrats and political appointees — employers and employees will suffer the consequences of a policy rooted in pure politics."
French also vowed that the aggressive lobbying against overtime expansion would persist. "NRF will continue to advocate alongside our congressional allies for realistic workplace policies," he said.
It wasn't just the retail industry. The National Association of Manufacturers put out a similarly worded statement on Tuesday morning, in which NAM Vice President Rosario Palmieri said the overtime expansion "is just the latest in what has been a deluge of regulations from this administration."
She's not wrong. While the overtime rule might be the most sweeping new labor regulation to come out of the Obama administration, it was preceded by a long succession of rules targeted at working conditions.
The department has stepped up its enforcement of wage and hour violations, while the National Labor Relations Board has sped up the process for holding union elections and expanded the liability that multinational corporations face for labor violations at their franchised locations. More recently, the Labor Department ruled that employers must disclose more information about their communications regarding employees' union drives.
Because these were administrative actions, the Obama administration was able to accomplish them without the assent of Congress. But it also makes these rules more fragile than acts of legislation: Future administrations wouldn't need congressional approval to undo or modify them.
© Copyright IBTimes 2023. All rights reserved.