Donald Trump Jr. May Have Broken Campaign Finance Laws. Did Clinton Backers Do The Same?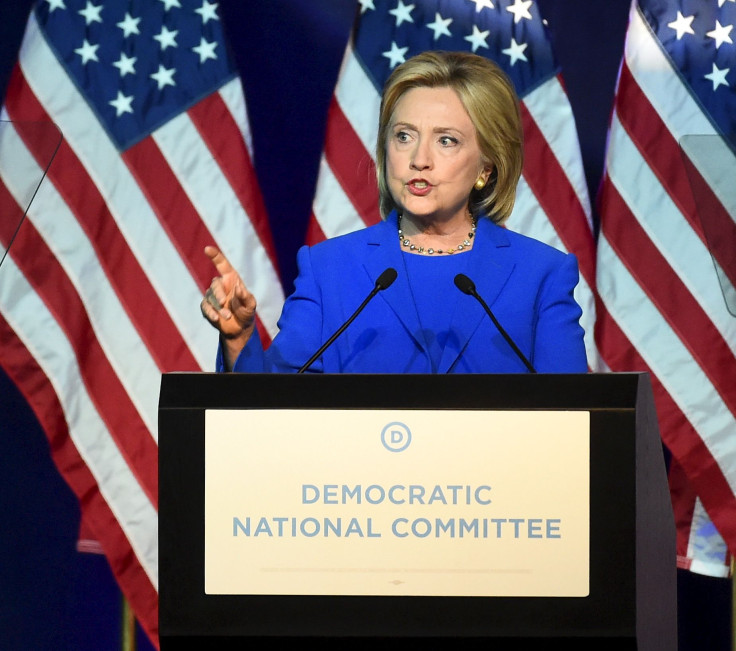 Defending Donald Trump Jr. against charges that he may have broken U.S. campaign finance law by meeting with a Russian lawyer in June 2016 to obtain damaging info about Hillary Clinton, some Trump supporters and conservative media outlets have argued that Democrats have done the same. They cite an instance last year when a Democratic National Committee (DNC) consultant collaborated with Ukrainian Embassy staff on opposition research into Trump's campaign manager, Paul Manafort — research that the consultant may have shared with the DNC and the Clinton campaign. Based on the available public information, however, it remains unclear whether or not the consultant's actions — and, by extension, those of the Clinton campaign — violated U.S. laws.
The Trump Jr. defenses often begin with assertions that Trump Jr. was merely looking for opposition research, which is perfectly normal behavior for campaign operatives. "Most people would have taken that meeting," President Trump told reporters in Paris Thursday. Opposition research is, indeed, very common. But it's illegal to solicit it, free of charge, from a foreigner — as Don Jr. may have done.
Typically, campaigns task one or two staffers with researching damaging information on opponents, as Henry Gomez at Buzzfeed has reported. Some may hire a full-time opposition researcher, and others might rely on outside political groups like super PACs or allied advocacy organizations to dig up the dirt. But before grabbing the Republican nomination, the Trump campaign had no research team.
Although less common, paying a foreign national to compile opposition research is perfectly legal. And a domestic individual may donate the research to a campaign, constituting an "in-kind" donation which is subject to the same contribution limits that govern cash donations.
Did the Clinton campaign and the DNC also solicit free opposition research from a foreign national? The answer to this question is more complex.
A Manafort Investigation
The DNC employed a staff member, who then became a consultant, who likely solicited damaging information from the Ukrainian Embassy on Paul Manafort, Trump's campaign manager as of June 2016. It's unclear whether she shared the information with the DNC and the Clinton campaign.
According to a January investigation by Politico, Alexandra Chalupa, who was reportedly hired by the DNC for outreach purposes, was independently researching the connections between Manafort, Viktor Yanukovych's Ukrainian government and Russian interests. Sometimes, according to Chalupa, she shared her findings with the DNC and with the Clinton campaign. Chalupa "traded" information with staff at the Ukrainian Embassy, and once, with the DNC's encouragement, attempted to set up an interview with current Ukrainian President Petro Poroshenko so he could describe Manafort's relationship with Yanukovych. (The embassy declined this request.)
In order to determine whether there was a violation of the law, "we'd want to know more information and the nature of the interaction between the DNC consultant and the Ukrainian embassy," Brendan Fischer, director of federal and FEC reform at the nonpartisan Campaign Legal Center, told International Business Times. "If Ukraine was spending money to conduct research on Paul Manafort for the purpose of influencing the U.S. election and provided that information to the DNC with the intent of influencing the election, it would be a violation of campaign finance law," he said. If, in her capacity as a DNC consultant, Chalupa solicited this research with the same intent, she would have violated that same law.
Breaking the law is contingent on the information being something "of value," making it a campaign donation. Experts have said that damaging opposition research likely qualifies. Soliciting a campaign donation from a foreign national is considered a felony.
Chalupa claimed the embassy was "very careful" because they were dealing with "a political issue, and they didn't want to get involved politically because they couldn't." However, a former political officer in the embassy told Politico that a top aide to the ambassador directed him to help Chalupa with the Manafort research. The embassy was "coordinating an investigation with the Hillary team on Paul Manafort with Alexandra Chalupa," he said. It "worked very closely with" Chalupa.
Chalupa planned to share her Manafort dirt, including "a big Trump component," according to a leaked email, with the DNC, although the DNC says she was a consultant paid for outreach and that she investigated Manafort on her own.
It's not clear whether the DNC or the Clinton campaign asked for this information, though the attempted Poroshenko interview may indicate that the DNC did seek it. If the DNC or the campaign knew the information came from a foreign national, that would be a violation.
The DNC did not return a request from IBT for comment. IBT was unable to reach Chalupa with questions. The DNC told Politico that it did not incorporate Chalupa's findings in its dossier on Trump, Manafort and Russia.
New York Times reporter Ken Vogel, who co-authored the Politico piece in January, tweeted Wednesday that it would be illegal for the DNC to accept opposition research from the Ukrainian government.
Without complete information, it's impossible to know whether Ukrainian nationals, Chalupa, the DNC and/or the Clinton campaign broke campaign finance laws, although that is a possibility.
The Dossier
Another allegation is that the Clinton campaign hired former British intelligence officer Christopher Steele to compile the controversial dossier on Trump and his alleged Russia connections — and that this was essentially the same thing that Trump Jr. did. These claims are false.
Initially, an unnamed Republican supporter hired a firm called Fusion GPS to conduct opposition research on Trump during the Republican primary election. Once Trump became the presumptive GOP nominee for president, that Republican stopped paying the firm, but some pro-Clinton Democrats — not the DNC or the Clinton campaign — began picking up the tab for more opposition research. Around that time, the firm enlisted Steele to conduct the research.
Unlike the dirt that Trump Jr. hoped to glean from the Russian lawyer, Steele's intel was paid research and it was conducted for private citizens and not political groups or campaigns (although who commissioned the research is legally irrelevant in this case). There is nothing illegal in this scenario. Steele, concerned with what he'd found about Trump and Russia, eventually shared much of his work with the Federal Bureau of Investigation.
Trump Jr.'s apparent attempt to solicit opposition research from the Kremlin to help his father win the presidency may be more significant than a DNC consultant sharing dirt, possibly partially compiled by Ukrainian Embassy staff, on Trump's campaign manager with the DNC or the Clinton campaign. But there is a real possibility that Chalupa, the DNC and the Clinton campaign may indeed have broken a campaign finance law.
FOR FREE to continue reading
✔️ Unlock the full content of International Business Times UK for free
offer available for a limited time only
✔️ Easily manage your Newsletters subscriptions and save your favourite articles
✔️ No payment method required
Already have an account?
Log in
© Copyright IBTimes 2023. All rights reserved.