Donald Trump's Labor Secretary Pick Andrew Puzder Owed Millions To UBS As Bank Seeks Waiver From Sanctions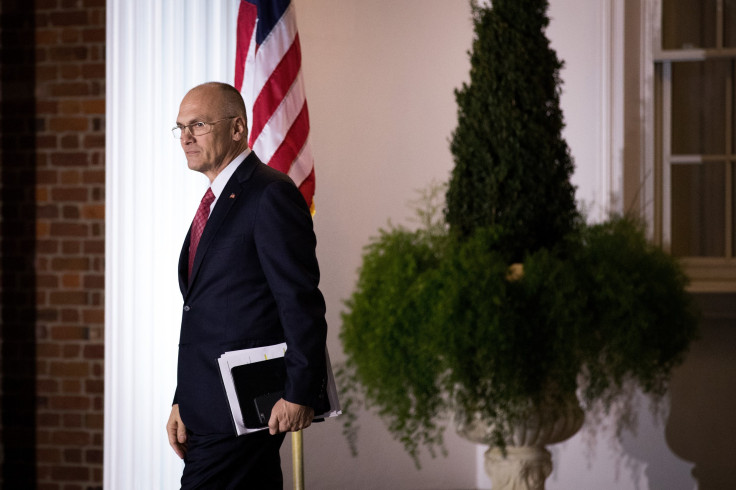 Update 2/12, 1:30 pm ET: After this story was published, Andrew Puzder spokesman George Thompson got back in touch with IBT to assert that, after the sale of his house, the Labor Secretary nominee currently has "a little more than $900,000" in debt to UBS, despite the financial disclosure forms that Puzder recently filed. The story has been updated to reflect the later assertion.
Original story: President Donald Trump's nominee to head the U.S. Department of Labor personally owed millions of dollars to a convicted bank that is relying on the same department to waive sanctions for its crimes, according to federal records. The ties between Trump's embattled appointee Andrew Puzder and the multinational bank UBS were listed in federal documents reviewed by International Business Times -- but they were not explicitly acknowledged in Puzder's ethics agreement with federal regulators.
"This was a very thorough process that closely analyzed every aspect of Mr. Puzder's holdings and satisfied the Office of Government Ethics' rigorous standards for resolving potential conflicts of interest," said George Thompson, a spokesperson for Puzder, in an email response to questions from IBT. "OGE has been intimately involved in the details of Mr. Puzder's financial disclosure report and his ethics agreement. If there were deficiencies or omissions in the information provided in the report, they would have been picked up by the OGE."
In financial disclosure forms published late last week, Puzder listed two mortgages and one line of credit with UBS Financial Services, an investment in UBS Dynamic Alpha Fund and 10 other accounts with UBS. In the weeks after he was nominated, Puzder listed a total of between $2.6 million and $11.5 million of investments and loans with UBS. That is in addition to the millions of dollars of assets in the 10 other UBS accounts held by Puzder. (See update above: Puzder's spokesman later said the Labor Secretary nominee's current UBS debt is "a little more than $900,000.")
In 2009, UBS admitted to the Justice Department that it had "participated in a scheme to defraud the United States" by helping customers evade taxes. In 2015, UBS plead guilty to manipulating interest rates in violation of a previous deferred prosecution agreement. The case -- in which prosecutors determined the bank engaged in " deceptive currency trading and sales practices" -- could trigger federal prohibitions designed to prevent convicted banks from managing billions of dollars of workers' pension money.
But if Puzder's nomination is confirmed by the U.S. Senate, he would head a Labor Department empowered to waive such punishments. The Department of Labor notes that the Secretary of Labor is the federal official who decides whether to grant companies the key designation -- and waivers -- they require to manage retirement assets.
"The Labor nominee's UBS holdings raise a trove of troubling questions of conflict," said Bart Naylor of the watchdog group Public Citizen, which has criticized the use of waivers from federal sanctions. "How can he referee its critical waiver from pension fund management penalties? Why does he omit UBS from his ethics statement [when] his investments are many?"
In his February 7th agreement with federal ethics officials, Puzder detailed the specific investments he promised to divest himself from and avoid as Labor Secretary. While he pledged to avoid participating in any matter "in which I know that I have a financial interest directly and predictably affected by the matter," he did not list his UBS holdings as among the 226 specific investments he pledged to divest from, nor did he explicitly say he would avoid the Labor Department's UBS-related business.
"Andy's ethics agreement expressly states that during his initial ethics briefing, he will work with the agency ethics officer to develop an effective recusal mechanism for particular matters," Thompson said. "Mr. Puzder is committed to ensuring that he fully satisfies the legal standard."
UBS's need for a waiver is no small-dollar matter: The bank manages more than $22 billion of retiree assets in private pensions and IRA accounts, according to federal documents. The waiver is necessary for it to continue managing those assets.
UBS's current waiver -- finalized in December -- is only temporary, and the Labor Department is considering granting it a full five-year waiver. Meanwhile, Trump's own business entities have $300 million of outstanding loans to Deustche Bank, which like UBS is relying on similar Labor Department waivers to continue managing workers' retirement savings.
In recent months, senior Democrats on the House Financial Services Committee cited UBS in their efforts to pressure the Department of Labor to stop giving waivers to convicted banks.
"We underscore the importance of bad actor disqualifications in the law to protect our nation's workers and retirees," wrote House Financial Services Committee ranking member Maxine Waters (D-CA), in a letter signed by ten of her congressional Democratic colleagues. "In particular, the Department's disqualification of qualified professional asset manager status is crucial, where, as here, banks guilty of criminal misdeeds lack the trust and integrity necessary to continue advising millions of Americans who are saving for retirement."
In general, financial firms are required to be designated by the Secretary of Labor as "qualified professional asset managers" (QPAM) in order to manage retirement funds. However the Labor Department notes that a company which might otherwise qualify is prevented from securing that designation if it has been convicted within the last decade. That prohibition can be waived if a firm receives a special "individual exemption issued by the Department," according to the agency. The waivers are issued by the Employee Benefits Security Administration, which is run by a federal official working under the Secretary of Labor.
Labor Department waivers for convicted banks have become increasingly controversial in recent years. In 2014, Pensions and Investments magazine reported that the agency had "granted waivers for all 23 firms seeking individual waivers since 1997." But under pressure from Democratic lawmakers, the agency in October denied a waiver to the Royal Bank of Scotland, which like UBS plead guilty to manipulating foreign exchange rates. The Labor Department in 2015 also sent letters to UBS and two other banks that were requesting waivers, saying there was a "failure to demonstrate that the exemptions would be in the interest of plan clients."
But ultimately, the department granted UBS and four other banks temporary waivers -- which now could come up for renewal under Puzder.
Puzder's nomination faces stiff opposition in the U.S. Senate and the prospects for his confirmation are far from clear.
"If he is confirmed, Secretary-designate Puzder should recuse himself from the department's decisions about UBS's QPAM and any other matter affecting UBS," Seth Harris, a former acting Secretary of Labor under President Obama, told IBT. "At a minimum, his sizable personal credit line with UBS requires it. QPAM waivers for banks caught up in criminal matters are highly controversial, but the Secretary doesn't typically decide which banks do or don't get waivers. Secretary-designate Puzder should leave these decisions to the experts in the department and avoid even the appearance that he will intervene, particularly if that intervention might help a bank with which he does business."
Waivers from sanctions would not be the only UBS-related business before Puzder as he holds investments and loans with the bank: Under a recent Trump directive, he would also be charged with deciding whether to implement or undermine a federal financial rule compelling financial advisers to act in the best interests of their clients. That rule could affect the business of UBS and other financial firms such as Blackstone and KKR in which Puzder holds stakes.
FOR FREE to continue reading
✔️ Unlock the full content of International Business Times UK for free
offer available for a limited time only
✔️ Easily manage your Newsletters subscriptions and save your favourite articles
✔️ No payment method required
Already have an account?
Log in
© Copyright IBTimes 2023. All rights reserved.