Donald Trump's Money: Is He Really Rich? And Seven Other Questions Raised By His Campaign Finances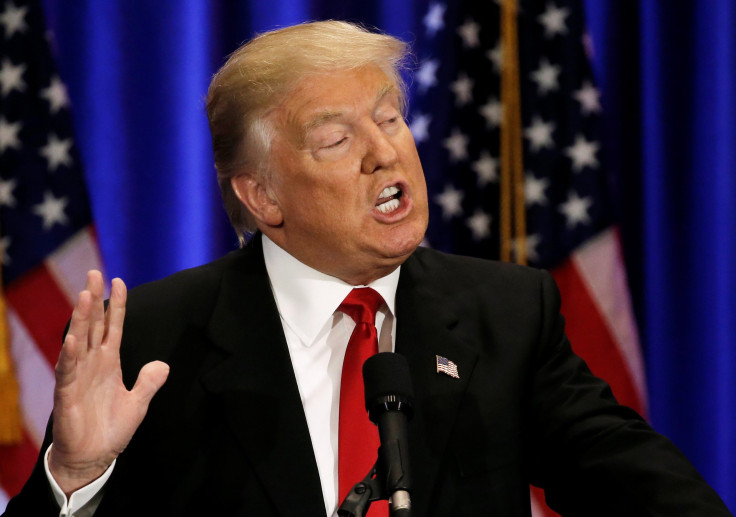 At times, Donald Trump's presidential campaign resembles an optical illusion: The longer you stare at it, the more you start to wonder exactly what you're looking at. His campaign's latest financial disclosure filing drove this point home when it became public Monday.
As journalists pored over the data contained in that Federal Election Commission filing, they uncovered head-scratcher after head-scratcher regarding the state of Trump's candidacy. But all these little questions add up to a single big one: What sort of nominee did the Republicans choose? What's going on here?
Below are some of the mysteries from Trump's latest FEC filing. We passed these questions along to the Trump campaign, but they did not return our request for comment.
1. Just how rich is Donald Trump, really?
Trump's net worth is a subject of constant speculation. The real estate magnate has claimed to be worth approximately $10 billion, but it's hard to say whether he's being truthful when he has yet to release his tax returns. In the meantime, his campaign is engaging in behaviors that cast doubt on the $10 billion figure, such as apparently reimbursing him and his children for travel expenses.
Eric Trump, Donald Trump Jr., and even Donald Sr. all have documented travel reimbursements in the latest FEC filing. When his own campaign is so strapped for cash, what sort of billionaire feels compelled to demand that it comp him $3,000 in travel expenses?
2. What is Draper Sterling?
The most inexplicable disbursement in Trump's latest filings was the $35,000 his campaign paid out to a New Hampshire firm called Draper Sterling (as in Don Draper and Roger Sterling, two of the principal characters on the hit AMC ad-biz-themed drama "Mad Men"). The campaign documents say Draper Sterling was paid in exchange for "web advertising," but it's unclear what exactly the firm does.
Think Progress investigated and found the company has previously been accused of being a scam. But other than that, very little is known about the firm.
3. Was Trump's ex-campaign manager up to something?
As the aforementioned Think Progress piece notes, the Trump campaign is now reportedly doing a "forensic audit" on campaign spending connected to former campaign manager Corey Lewandowski.
Lewandowski — who became famous after he was accused of physically assaulting a journalist in March — was abruptly forced out of the Trump campaign earlier this week.
4. Why does Trump pay consulting fees to his own staff?
Spokesperson Hope Hicks, the subject of a recent GQ profile, apparently received $5,000 in consulting fees from the campaign during the month of May. That's more than a little curious because she's not just a consultant; she's a member of the staff.
Citizens for Responsibility and Ethics in Washington spokesperson Jordan Libowitz told International Business Times the payments were "very unusual."
"I can't say I've ever seen someone listed as both payroll and consulting in the same disclosure before," said Libowitz in an email.
5. Why is so much campaign money going to Trump's other ventures?
Last month, an estimated one-fifth of the Trump campaign's total spending went back into various arms of the Trump business empire. For example, the Trump Payroll Corporation, which handles payroll services for the campaign, received more than $100,000. Trump Restaurants took in nearly $138,000 in campaign funds, while Eric Trump Wine Manufacturing received a little less than $5,000.
6. What's with the hats?
Over the course of one month, the Trump campaign spent approximately $208,000 on hats. That's nearly twice as much as it spent on advertising.
7. Is Trump going to damage the GOP's finances?
As of last month, presumptive Democratic nominee Hillary Clinton had $42 million in cash on hand and $1.2 million in campaign debt. Trump's campaign, on the other hand, has just $1.3 million in the bank and more than $45 million in debt.
Trump's weak fundraising figures aren't just bad for him; they also put a strain on the Republican National Committee, which relies on its presidential candidate to help raise money through a joint fundraising committee. Republicans have spent months fretting in both public and private that Trump could hurt candidates in down-ballot races; now it looks like he could be a drag on the party's overall fundraising efforts as well.
8. Is there any way his campaign can recover?
Things are so bad that rumors are once again swirling of a last-ditch effort to unseat Trump as the nominee. Even if the attempted coup fizzles out — and past experience suggests it probably will — then Trump will be staggering into the general election with a mountain of debt, very little cash, and a badly fractured party behind him. The road to November will be rough. But at least they'll have all those hats.
UPDATE: 1:46 p.m. EDT -- This story has been updated to note that the Trump campaign has not commented on these questions.
© Copyright IBTimes 2023. All rights reserved.