GOP Debate: On Immigration, Ted Cruz Ignores President Obama's Record Of Deporting Undocumented Immigrants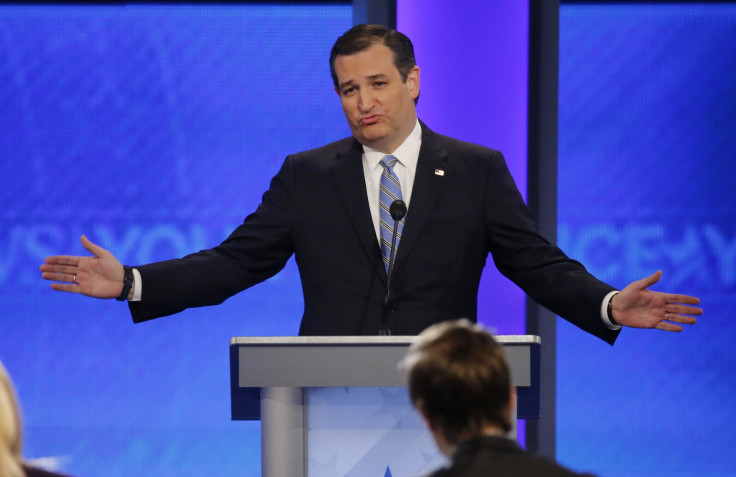 Ted Cruz praised Bill Clinton and George W. Bush's records of deporting undocumented immigrants in Saturday night's Republican presidential debate. But the Texas senator overstated the number of people sent home during those administrations, and ignored President Barack Obama's own record on deportations.
Asked by ABC moderator David Muir how he would go about deporting undocumented immigrants, Cruz responded: "What you do is you enforce the law. Under the Constitution, the president has an obligation to 'take care that the laws be faithfully executed.' Federal immigration law provides if someone is here illegally and apprehended, they are to be deported."
"I will enforce the law," Cruz continued. "And for everyone who says you can't possibly do that, I would note that in eight years, Bill Clinton deported 12 million people. In eight years, George W. Bush deported 10 million people. Enforcing the law, we can do it. What is missing is the political will."
In December, the Washington Post fact-checked Cruz's deportation numbers and found the "figures aren't accurate." Roughly 870,000 people were deported during the Clinton administration, according to the paper, while 11.4 million undocumented immigrants returned home, but those returns were "not based on an order of removal." More than 2 million people were deported under Bush, with 8.3 million returning home.
Under Obama, more than 2.5 million undocumented immigrants have been removed, Fusion reported last month. Deportations have decreased in recent years, from a record-high of 409,000 in 2012.
Republicans have frequently criticized Obama's executive actions on immigration, specifically his efforts to prevent the deportation of millions of parents whose children are in the United States legally, and the removal of children who came to America illegally. At the same time, he has faced condemnation from some Democrats and immigrants rights organizations for deporting more people than his predecessors. In 2014, the president of the National Council of La Raza called Obama the "deporter in chief." Last month, the Obama administration began raids to deport Central American migrants, many of whom fled violence in their countries in recent years.
© Copyright IBTimes 2023. All rights reserved.