Money In Politics: Connecticut Gov. Malloy Met With Cigna And Anthem CEOs During Merger Review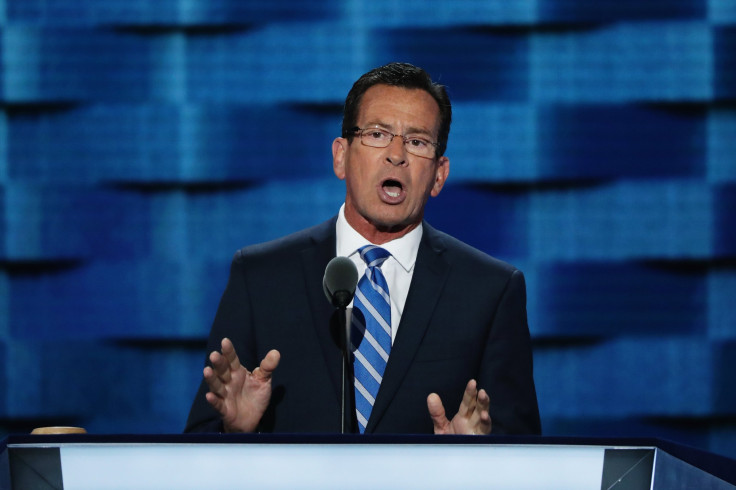 Facing criticism over his decision to appoint a former Cigna lobbyist to a position regulating Cigna's controversial merger, Connecticut Governor Dan Malloy has sought to distance himself from the merger review. The regulator in question, Katharine Wade, has said she followed all applicable conflict-of-interest rules. But newly unearthed documents detail Malloy's meetings with company officials and with Wade — and also raise new questions about Wade's financial connections to Cigna.
The emails were released to International Business Times in response to a series of open records requests amid a state ethics probe that has helped throw the colossal Cigna-Anthem deal into turmoil. Connecticut has been leading the multistate regulatory review of the deal, which physicians and consumer groups say could raise healthcare premiums for up to 53 million Americans across the country. Soon after the launch of the ethics probe about whether Wade must recuse herself from the regulatory review, the Department of Justice filed a lawsuit aimed at blocking the transaction. Connecticut's ethics office is expected to rule on the Wade controversy in the coming weeks.
Malloy has maintained that his state's merger approval is "an independent decision" by his insurance department and that he has not been involved in the merger review. The documents, though, shed new light on his contacts with the companies and his regulator while that review was proceeding.
One set of documents shows that the governor met with Anthem CEO Joseph Swedish on August 28, 2015. That was two days after Anthem and Cigna executives met with Wade's agency specifically about Connecticut's merger review, and the same day Anthem donated $25,000 to the Democratic Governors Association, which backed Malloy's closely contested election campaigns. At the time, Malloy was already gearing up to lead the DGA in 2016.
Emails previously obtained by IBT show that Malloy spoke with Swedish and Cigna CEO David Cordani the night before the merger was announced. They also show that Malloy's top economic development official told Cordani the governor's administration would help Cigna if the company pursued the merger. Calendar items just obtained by IBT show Malloy later met with Cordani in the governor's office in June of 2016 — three days after Connecticut Common Cause called for the ethics probe of Wade over her ties to Cigna.
While pushing the merger, Swedish and Cordani's companies have in the 2016 election cycle delivered more than $1.1 million to the DGA, which Malloy now chairs. In fact, Anthem is now the single largest donor to the Malloy-run organization. Documents previously obtained by IBT show that under Malloy, the group has promised donors access to governors' policy meetings in exchange for large contributions.
Cigna Corporation (CI) Stock Price - 90 Days | FindTheCompany
Asked whether Malloy discussed the merger with the CEOs, Malloy spokesperson Chris McClure told IBT in a written statement: "Governor Malloy fights for each and every job, and he believes in cultivating quality relationships with our employers — which our residents expect of us. We do not comment on the specifics of the Governor's private conversations and, as we have always said, the Governor has no role in the merger review process. What he does do, however, is fight aggressively to ensure that we grow jobs, support companies that already call Connecticut home, and attract new ones."
Another set of documents shows that Malloy met with Wade a few weeks after Anthem announced its bid to merge with Cigna and just days before the transaction was cemented. Malloy met with Wade two more times as the merger progressed. Immediately after one such meeting, Insurance Department visitor logs show Wade met with Amy Lazzaro — Cigna's lobbyist in Hartford who had previously served as the Connecticut Insurance Department's chief of staff.
Malloy's office declined to reveal whether or not the governor has spoken with Wade about the merger review. When asked specifically about that, McClure told IBT: "The Governor has no role in the merger review process."
Investigation Focusing On Conflict-of-Interest Rules At Wade's Agency
Connecticut has suspended its review of the merger, pending the outcome of the federal lawsuit against Cigna and Anthem. But because that case could be settled and the merger could still go forward, ethics regulators decided to continue their review of Wade: She is a former Cigna vice president whose husband works at the company and whose father-in-law has been listed as a company attorney. Emails obtained by IBT suggest that their inquiry into whether Wade must recuse herself from the merger review is focusing specifically on her own agency's strict conflict-of-interest rules.
In a June 29th email, the general counsel of the Connecticut Office of State Ethics, Barbara Housen, emailed Wade with questions about the Connecticut Insurance Department's policy on employees owning securities. Housen honed in on provisions dealing with those employees' spouses. She noted that the policy "prohibits ownership by a spouse of any security, stock option, etc., in a company conducting business regulated by the Insurance Department, except where ownership is a part of a compensation package."
Housen also pointed out that if the exception applies, the policy says "the employee shall excuse … herself from reviewing any matter involving the company in which … her spouse … owns stock or has stock options."
Wade has refused to recuse herself. In a July response to Housen's questions, Wade's attorney, Kimberly Knox, asserted that under insurance department policy, "Commissioner Wade is not prohibited from reviewing Cigna matters because her husband does not 'own' any security in Cigna." That statement echoed one from Wade in September of 2015, when she told the State Ethics Office: "I hold no shares of Cigna stock, having divested my interests on April 15. 2014."
Anthem Inc. Executives | FindTheCompany
However, on April 30, 2015, Wade filed financial disclosure forms with that same state ethics office saying that she in fact directly owned Cigna stock, as did her husband. In February of 2016, she also emailed ethics officials informing them that her husband would be selling Cigna stock that he owned — and though Wade's agency was leading the review of Cigna's merger, she asserted in that email that "presently, there are no Cigna matters before me."
A few months later, in May, Wade filed another financial disclosure form saying that while her own Cigna stock had been put into a blind trust, her husband still directly owned Cigna stock. Wade's attorney, Kimberly Knox, also told ethics regulators in August that Wade's husband's "unvested stock and options will next vest in approximately the last week of February/first week of March 2017, 2018, and 2019."
Knox, though, asserted that Wade's husband does not currently own any Cigna stock, and that for purposes of the ethics laws, "It is speculative to assume that he will own stock or options in the future as such compensation is tied to his continued employment. Until such time as the unvested stock and options vest, there is no legal basis upon which to determine any conflict of interest."
That legal argument butts up against a state ethics ruling in 1997 involving then-Insurance Commissioner George Rieder, a former Aetna official who had stock options coming due to him around the time his agency was reviewing a proposed Aetna merger. Back then, ethics regulators declared that even though Rieder did not at that very moment own the stock, "it is reasonable to assume that a decision by the Insurance Commissioner to reject the acquisition would have a near term negative impact on the value" of the stock that was coming to him in the future. Therefore, they said, "a conflict of interests exists under the provisions of the Code of Ethics for Public Officials."
In a letter obtained by IBT, ethics regulators have recently asked Wade to disclose how many shares of Cigna stock her husband is slated to receive in the coming months. Wade's attorney rejected that request, arguing that it "impermissibly seeks information not required" under state law.
"Commissioner Wade has consistently adhered to the requirements of the state ethics law, taking all appropriate, legal steps to avoid potential conflicts of interest with Cigna," said Wade's spokesperson Donna Tommelleo in a statement emailed to IBT.
"Commissioner Wade's statements of financial interest, which included her holdings for 2014 when she was not a state employee, are not inconsistent on the subject of the Cigna securities ownership. Rather, as required by the statement, each filing accurately records her and her husband's Cigna securities ownership 'at any time' during the year that preceded the filing. Any apparent inconsistency likely arises by virtue of the statement format not providing a mechanism to track intervening securities transaction, i.e, sales of securities."
The Connecticut Office of State Ethics is scheduled to meet in mid-September. It is expected to consider a draft ruling on whether Wade must recuse herself from Cigna-related matters.
© Copyright IBTimes 2023. All rights reserved.
FOLLOW MORE IBT NEWS ON THE BELOW CHANNELS